Of all the small places in the world, one is very much an area where if you are a citizen of the country, you do not have to pay taxes. And if you can do this, you though, cannot walk into a casino and indulge like a James Bond sort of guy and gamble.
This is Monaco, and despite it is a small principality, where if you are a fast walker, can go from one side of the country to another, has never had a famous athlete of any sort, among the area. It does have its famous football team, known as AS Monaco, who competes in the French First Division, known to many as Ligue 1. In addition, Monaco also hosts a tennis tournament, Formula E e-prix, a grand prix and even a yacht race during the season.
But there is also their famous son, Charles Leclerc, who was one of those who cannot walk into a casino. The Monegasque grew up in the principality as one of the famous "middle child's" who had a Father Herve, who also was a racer. The elder Leclerc died at age 54, when Leclerc was beginning to involve himself in a racing career.
Leclerc proved the right way that he can race and beat the best. He won the PACA karting championship three times, and moved up the ladder from there, participating in Formula Renault, Formula Three and GP3, moving on in 2017 to win the Formula 2 championship, in which during this time joined the Ferrari academy and tested not only the Scuderia car, but in addition, drove at times the Haas entry.
But the big break came a year later, when he drove for another Ferrari sponsored team, Sauber, and stayed there for one season before he signed for Ferrari, replacing Kimi Raikkonen, who at this point is Scuderia's last world champion.
From that moment on, Leclerc improved and even won the home Italian Grand Prix from pole, which was the first time that a Ferrari driver won the race since Fernando Alonso in 2010. Throughout the next few seasons, Leclerc showed promise. But in 2022, it might have been too much for him, as many times Leclerc won pole, but in the race, it seemed that the tension became too much and the loss of concentration showed more obvious than what occurred at the French Grand Prix at Paul Ricard, when Leclerc looked certain of winning a race next to his home one in Monaco, before spinning out and hitting the wall, ruining his chances for an easy victory. Many more times this has occurred, and this season, despite the fact the Ferrari cannot compete with the dominating Red Bull car and the Aston Martin entry, it must be said: it is the car or even Leclerc?
One thing is for certain: Leclerc certainly has talent, and he can even be seen as high as third in qualifying. But on race day, the car seems to fizzle out, and there is no Leclerc anywhere. Just recently at the Monaco Grand Prix, his home race, Leclerc was never in the fight with the top contenders and finished in sixth. The only highlight this season was at Azerbaijan when Leclerc was on pole, but as was mentioned, the race had him never in the fight with others.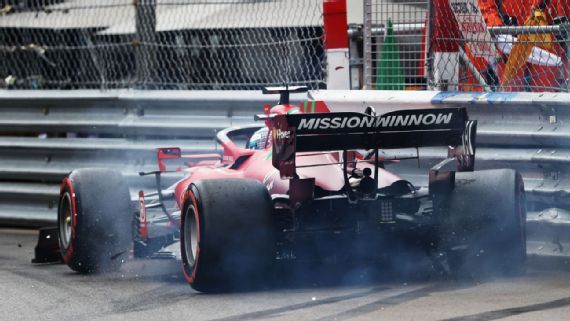 Leclerc only has one more season left on his Ferrari contract which runs out in 2024, so will Leclerc stay if things can get better? Or will he have to go to another rival team, to even break his bad luck? Mercedes is one choice, but it seems that with a possible Hamilton extension, there may never be an opportunity. Aston Martin is an idea, but if Alonso is happy placing and maybe even winning one day, and the president of the company has his son there racing, it won't happen there either.
Alpine might be a factor, since it is a French team and this is very close to Leclerc coming from Monaco, this could only happen if one of the current drivers, Esteban Ocon or Pierre Gasly leave. But both are doing well, and even if Ocon might have a shot at Mercedes, since he is sponsored there, his recent result of third in Monaco might have Alpine wanting to keep him. Leclerc knows both drivers personally as well, so it could be interesting if Leclerc goes there or where could it be?
One way or another, Leclerc needs to have confidence in making either Ferrari or his future team win more races. Because he is only 25, he  is one of the future drivers who could make an impact on winning a world championship that his talent certainly can prove to others.
By Mark Gero