With the third round of the formula 1 world championship coming up this weekend in Australia, it is the first time in quite a while where there are so many controversies in a sport next to world football, which is the most popular sport on Earth.
We can really begin at the top, where many figured at the beginning of the season that Red Bull Racing would suffer from having limited time in their wind tunnel, the result being penalized from overspending a couple of seasons ago. But now, it does not seem to matter in this case as the team and both of their drivers, defending two-time world champion Max Verstappen, and his Mexican teammate, Sergio Perez, have very much dominated the first two races of the season, with both winning one race each.
However, there have been a couple of times in the last two decades of this sport, where two teammates, who have dominated the season, have nothing to do except to battle against one another. The famous duels between Ayrton Senna and Alain Prost at McLaren, along with a second one on the same team, that included Lewis Hamilton and Fernando Alonso, could start to pop up again.
This can be explained at the last round in Saudi Arabia, when Perez handled the race like a true champion, while Verstappen, who began the race in 15th and worked his way to second, showed a little grin, but his father, the famous Jos, did not display and emotion or even respect towards Perez. Verstappen later mentioned that he "Does not race to be second", prompted the idea that maybe there might be more problems between the two Red Bull drivers if Perez begins to get stronger.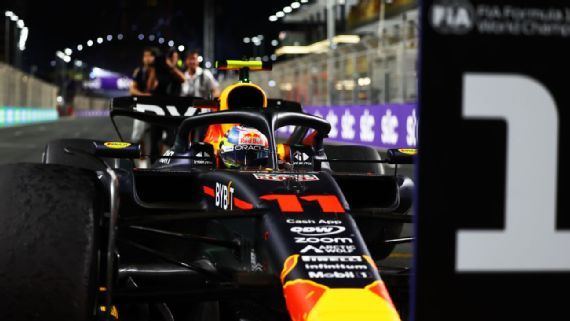 While Red Bull has drivers that are battling against one another with a strong and dominating car, Ferrari are being disappointed not with the teammates, but a non-competitive car. Both Carlos Sainz and Charles Leclerc were never in battle with the top drivers at the last race,  settling for a sixth and seventh place finish, respectively, which in the minds of the tifosi, was not expected. Mercedes was even more disappointing, realizing that the wonder years of winning championships ended on that November evening in 2021 at Abu Dhabi. George Russell has been a great addition to the team and showed his talent last season by winning in Brazil. But so far, nothing has improved, but it is still a long way to go before the end of the season. Hamilton on the other hand, is beginning to get impatient with the organization, and it might be noted that he is looking for a good amount of money for a contract extension, that the team now is beginning to look at possible replacements for the future. Where the seven-time world champion is headed to is uncertain if this happens.
The rest of the grid cannot be any better with improvements, with McLaren dropping down in performance, and with the addition of Oscar Piastri, it might be noted that even Damon Hill, the former world champion, feels that the Australian might have made a mistake by not taking the seat at Alpine that was offered to him. As for the French team, if it wasn't for that move, Pierre Gasly might not have ever had his career improve. Along with teammate and fellow countryman and former friend, Esteban Ocon, the team has not been bad, or even good, but pretty stable to the point where it could remain a solid fourth or fifth in the constructor's championship. For teams like Alfa Romeo Sauber and Haas F1, the chances are good to move up to a high place as far as sixth, but it all depends on how the others are improving. For Williams, an improvement is possible , but it could come very slightly.
However, the team that could surprise many is Aston Martin. The team has placed Alonso up with two consecutive third place finishes, and although it might be too soon to predict how it could go, the team has certainly improved from not having any point at this time last season, to now having tied for second with Mercedes, something that nobody could ever believe. Alonso might have made the right decision to join Aston Martin, and it might be soon before the strength of middle age could make news before too long. Finally, there is Alpha Tauri, and at this point, Team Manager Franz Tost is not trusting his engineers, which makes all the stories about selling the team more obvious, although Tost himself says that the team is "Not for sale". But can this change?? It would be more settling if Andretti, who are looking for a position in the sport, can benefit from just taking over a team, which is based in Italy. This could be a good position for that name with the same heritage. But for the moment this team and others will have to wait.
The season is just getting started, but the news about what has happened with these events will certainly be completed by the time the season comes to a close later on.
By Mark Gero