MARINA BAY CIRCUIT, Singapore—Carlos Sainz took his second pole in a row Saturday night as the Spaniard recorded a 1:30:984 ahead of the Mercedes of George Russell, with the second Ferrari of Charles Leclerc finishing in third.
But the biggest shock of the evening was the Red Bull team, with both Sergio Perez and Max Verstappen failing to qualify for the final session. This was the first time that this had occurred in over five years.
"A bit like in Monza really hitting the ground running from FP1 and feeling very confident all through the sessions and putting it together in Q3, focusing on not doing any mistakes in that lap and keeping it clean." Commented Sainz about his lap.
We have a very good car in certain tracks and certain conditions and like one lap, and this sort of short exits and quick changes in direction our car seems to be very good this weekend, like in Monza we know our weakness is always the race pace and we always pay a price but everyone has been doing a great job over the last couple of weekends to understand the package and understand the car and I think we are definitely making a bit of progress.
Race pace is a bit of a question mark, it's not like in Friday you can learn much but Mercedes is always a bit quicker than us come race day, they have a bit of a different strategy with tyres that we will have to keep an eye on."
Sainz, along with three other drivers, had the best chance of taking the pole. One by one each of the favourites had a quick time. But Sainz made his time stay permanent as McLaren's Lando Norris, followed by Leclerc and Russell failed to take the top position in the final attempts.
Alpha Tauri's Yuki Tsunoda gave everyone a big surprise when he took the quickest time in the opening session, as only with a few seconds left, Aston Martin's Lance Stroll struck a curb in the final corner and crashed at 150 miles an hour into the barriers. A quick red flag was issued as the Canadian easily stepped out of the car unhurt. But debris was all over the track and the barriers themselves had to be repaired. The repairs themselves took 20 minutes before the next session could be resumed as the second McLaren of Oscar Piastri had to slow down after he got near to Stroll's accident and was out of the first session, along with the Alfa Romeo pair of Zhou Gunayu and Valtteri Bottas, Williams Logan Sargant and Stroll.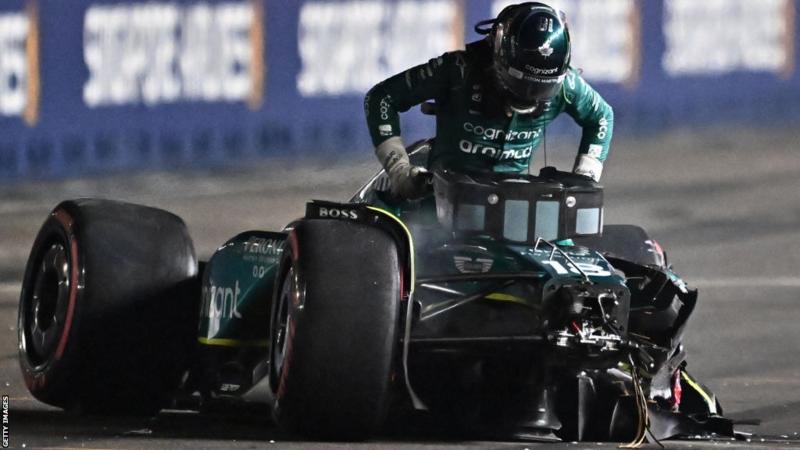 Sainz brought the surprises back down to normal as he set the best time in the second session as Tsunoda failed to advance, along with Williams Alex Albon, Alpine's Pierre Gasly, and try as they could, Perez, who spun just before the main straight, losing his chances in addition to Verstappen, who could do no better than 11th, as the Dutchman complained as he did all weekend, of the back sliding too much, as both were out of qualifying .
For the top ten, Norris finished in fourth, with the second Mercedes of Lewis Hamilton in fifth. Haas F1 had their best performance in qualifying, placing Kevin Magnussen in sixth and Nico Hulkenberg ninth. Fernando Alonso was disappointing in his Aston Martin, taking seventh, with the Alpine of Esteban Ocon eighth. Alpha Tauri's Liam Lawson, only in the third grand prix, rounded out the top ten.
Although Singapore is a difficult circuit to pass on, Sainz believes that the car can improve and that they can defeat the best team.
"That would feel amazing and that's the target to try and get the win tomorrow, I'm going to give it everything like I did in Monza and hopefully tomorrow is enough."
By Mark Gero