MARINA BAY CIRCUIT, Singapore—After 15 races this formula 1 season, Red Bull's streak has come to an end.
Ferrari's Carlos Sainz led all the Singapore Grand Prix Sunday evening and with both of his front tyres worn out, managed to hold of McLaren's Lando Norris and Mercedes Lewis Hamilton to win his second career victory.
"An incredible feeling, an incredible weekend, I want to thank everyone at Ferrari and managing to win after a tricky beginning, but we now nailed the weekend, we nailed the race and we did everything we had to do, and we did it perfect." Beamed Sainz afterwards. "We brought home P1 and I'm sure the whole of Italy and the whole of Ferrari are going to be proud and happy today.
It was all about keeping our limitations with tyre wear and degradation and all about managing the stints to make sure I made it to the target laps we wanted to do in each compound. Obviously, a safety car caused us to pit even earlier than we wanted, and I knew it was going to be a long stint on hard."
Sainz began the race with a brilliant start, as he held off Mercedes George Russell and took the lead for most of the first 20 laps. But a safety car came out on that same lap when Williams Logan Sargant clipped one of the barriers and lost his front wing, which was enough for the American to slowly return to the pits for another replacement. This gave Sainz and the other drivers a chance to pit for the only one time for the race.
Sainz remained ahead when a virtual safety car was issued when Alpine's Esteban Ocon encountered a gearbox issue and pulled his car in a vulnerable position. When the race restarted, it gave Norris and the two Mercedes drivers time to catch Sainz, who was beginning to lose traction. With only a few laps to go, Sainz was still holding off Norris along with Russell and Hamilton. But on the final lap, Russell hit the wall and crashed into the barriers, giving Hamilton the chance to take third. Sainz held off both challengers to win his first grand prix since he won at Silverstone last year.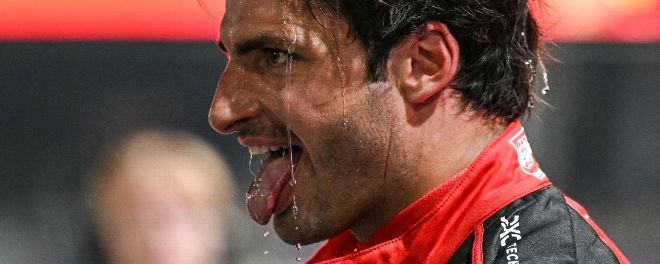 Besides Ocon and Russell, two more cars retired from the race, with Yuki Tsunoda puncturing one of his tyres on his Alpha Tauri on the opening lap, while Alfa Romeo's Valtteri Bottas pulled his Alfa Romeo off the circuit on the last lap.
Ferrari's Charles Leclerc, with bad tyre issues, just managed to hold off Red Bull's Max Verstappen for fourth, while Alpine's Pierre Gasly took sixth. The second McLaren of Oscar Piastri started the race from 17thand ended up a deserving seventh. Sergio Perez was disappointing once again in his Red Bull in eighth, as Alpha Tauri's Laim Lawson finished his best result in ninth in driving only four races. Kevin Magnussen finished in tenth, giving his Haas F1 team their first points in quite a while.
For Sainz, who also took pole the previous evening, it was a joy to win but it was not easy.
"I felt under control to be honest, I always felt like I had the head-space and the pace in hand to do whatever I wanted to do and I'm not going to lie you are under pressure obviously you are very close to making any kind of mistake but I felt under control and that I could manage well." Sainz added. "We brought it home and that's the best feeling, I'm over the moon right now."
And that was in the evening.
By Mark Gero