SAKIR, Bahrain—Max Verstappen had no trouble Sunday evening as the Dutchman managed to pick up from last season in Abu Dhabi by taking a 11.9 second victory over Red Bull teammate Sergio Perez at the Grand Prix of Bahrain with the hero of the evening, Aston martin's Fernando Alonso, in his first drive for the team, finished on the podium in third.
Verstappen took the lead right from the beginning, and with a pit stop that gave the lead temporarily to Perez, regained the lead again after lap 26, and never had any additional threats.
"It was very very good first stint where I made my gap." Verstappen said. "From there, it was all about looking after tyres. You never know what's going to happen later on the race. We just wanted to make sure we have the right tyres and in good condition as well.
But the action took place mainly further back on the grid, as Alonso, who was touched by teammate Lance Stroll, nearly had his rear right tyre deflated when the Canadian struck him on the opening lap. But the tyre held on and the Spaniard, who is the oldest driver on the grid, took his aggressive nature later in the race by passing Lewis Hamilton and laps from the finish, Ferrari's Carlos Sainz, who had moved up to third, following the retirement of teammate Charles Leclerc, who on lap 41 had to stop due to an engine failure.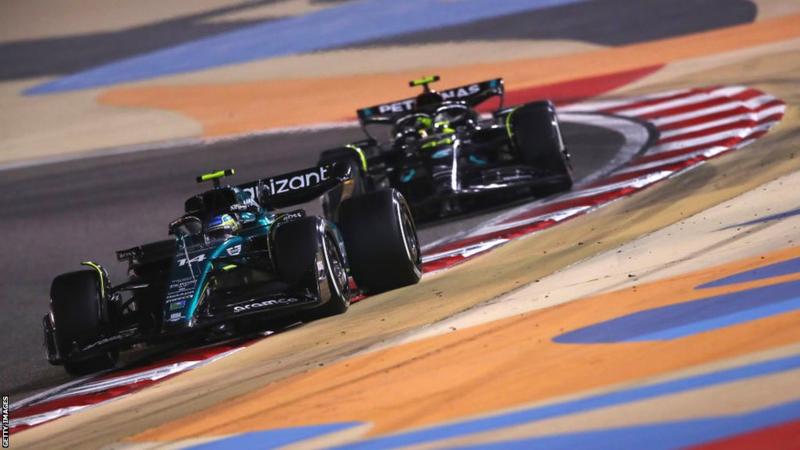 Sainz ended up in fourth, with Hamilton finishing right behind him in fifth. Stroll had a fine placing as well and took sixth, considering that he had pins in his wrist and feet, due to a mountain bike accident just before the start of the season.
George Russell in the second Mercedes, finished a quiet seventh, and Valtteri Bottas, had also a fine start in his Alfa Romeo Sauber, finished in the points in eighth. Pierre Gasly began the race in 20thand last, but moved up the grid, almost taking the fastest lap of the race, finished ninth in his Alpine. Williams Alex Albon in addition, had a good start and held onto the last point position in tenth.
Besides Leclerc, two other drivers retired from the race with McLaren rookie Oscar Piastri having electrical problems early in the race and Alpine's Esteban Ocon, who retired his car on lap 43 following three penalties for being in the wrong grid position at the start, serving his penalty incorrectly and speeding in the pit lane.
It might have been another win for Verstappen, but it was the first win of his career at this circuit.
"I'm very happy to finally win a race here in Bahrain." Verstappen concluded.
Formula one will now move next door to Saudi Arabia, where the street circuit in Jeddah, also run at night, will occur in another two weeks.
By Mark Gero