MONTE CARLO, Monaco—Even with a late threat of rain Sunday afternoon at the Grand Prix of Monaco, Max Verstappen had no difficulties in taking his second win in a row at the principality, with a 27 second victory over Aston Martin's Fernando Alonso with Alpine's Esteban Ocon becoming the first Frenchman to finish on the podium since Olivier Panis some 27 years before, by taking third.
"It was quite a difficult one as we were on the mediums initially, and of course Fernando was on the hard tyres." Commented Verstappen. "We didn't want to go out that long, but we had to, rain was coming, so we didn't really know what was going on.
The tyres were graining and took a few laps to get through that graining phase and the pace picked up a little bit. But it was still very tricky to drive. Then it started to rain a bit more. so, we had to make the call to go onto the inters, but it was incredibly slippery. When you are that far in the lead you don't want to push too hard, but you also don't want to lose too much time, so it's quite difficult in that scenario."
Verstappen took the lead right from the start and opened a gap of 7.3 seconds ahead of Alonso even though 21 laps later a sudden rainfall gave the drivers a chance to change the order of the race. Many had to drive slowly to return to the pits to come in for intermediate tyres, but Verstappen had too much of a gap to worry about any potential threat from Alonso.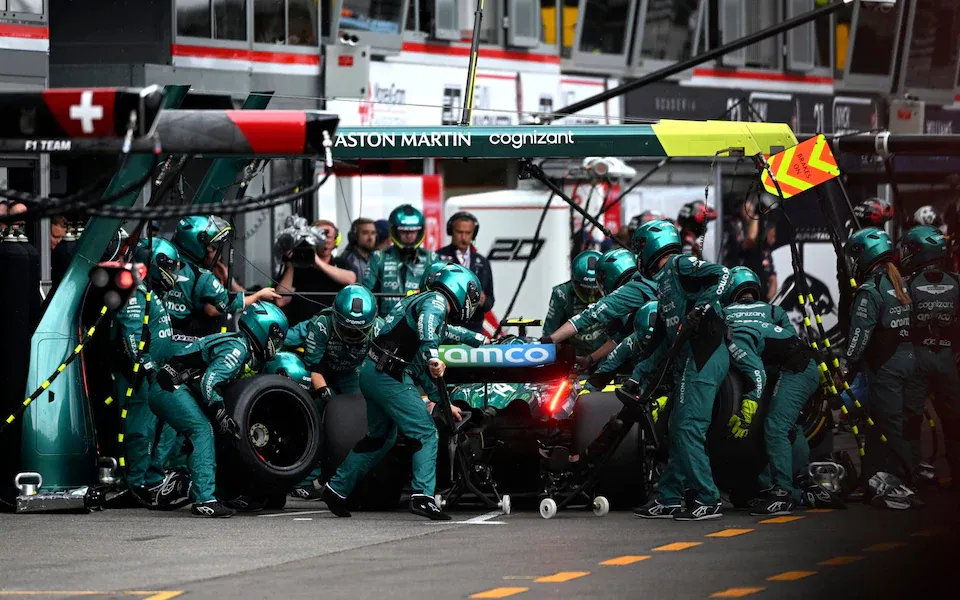 The remaining wet track kept Ocon from any threat from Mercedes driver Lewis Hamilton, as the Normand held off his British rival by just over one second as Hamilton's teammate, George Russell finished in fifth. A trio of cars followed, as Ferrari's Charles Leclerc, Alpine's Pierre Gasly and the second Ferrari of Carlos Sainz took sixth through eighth, respectively. Finishing off the top ten were the McLaren duo of Lando Norris and Oscar Piastri.
Only two retirements occurred during the race, with Aston Martin's Lance Stroll striking the barriers twice and Haas F1's Kevin Magnussen made a bad decision to change to full wets as both drivers suffered too much damage to continue.
Verstappen now leads his Red Bull teammate Sergio Perez by 39 points after seven rounds, with Alonso closing in third, 12 points behind Perez. Verstappen was satisfied with the victory but was a little concerned about the weather that could have changed the outcome of the race.
"It's super nice to win it in the way we did today with the weather and everything to stay calm and bring it home and again a lot of points for the team as well, which is great." Verstappen concluded.
Formula 1 does not have too much time to rest, as the drivers move on to Barcelona, Spain at the Circuit de Catalunya next weekend.
By Mark Gero