MONTMELLO, Spain—Max Verstappen dominated both Friday practices for this weekend's Spanish Grand Prix by taking the fastest time of the day, with a 1:13:907 quickest lap in the afternoon, ahead by one tenth of a second in front of Aston Martin's Fernando Alonso, who is racing in front of his home fans. Third was the Haas F1 of Nico Hulkenberg, who was running an upgraded front wing.
Verstappen took the best time, with many other drivers never getting close. However, many drivers were testing the new upgraded Pirelli tyre, which will make its debut this July in Silverstone, at the British Grand Prix.
Sergio Perez, who is falling behind in the championship driver standings, held his own as the Red Bull driver finished behind Hulkenberg in fourth, while Esteban Ocon, fresh off his podium place at the last race in Monaco took fifth in his Alpine. Sixth and seventh respectively, were the Ferrari's of Charles Leclerc and Carlos Sainz, like Alonso, driving on his home circuit, who held the early lead in the second session, before falling back.
The lone Mercedes of George Russell came next, taking eighth, with Valtteri Bottas in ninth with his Alfa Romeo.  Pierre Gasly finished out the top ten in the second Alpine.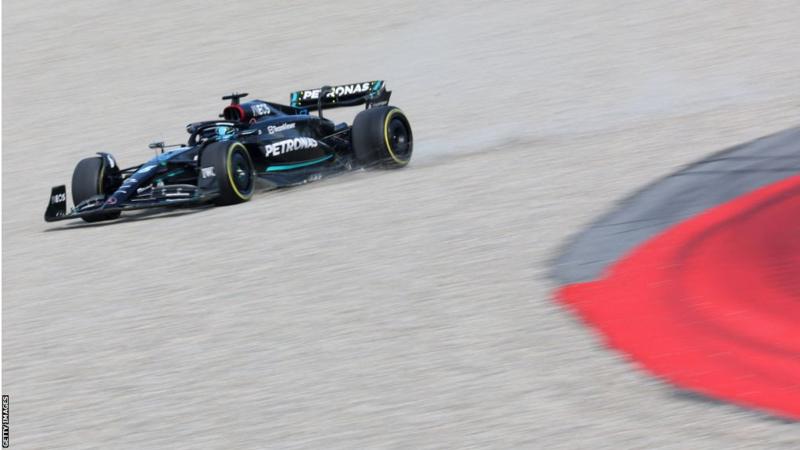 It was a quiet day without any major incidents as the circuit changed in the last corner, from a chicane that had been run for many years, to a sweeping right hander that no driver was brave enough to take flat out. Some of the real issues came from the fact that there was still a little bit of bouncing that the drivers experience in some parts of the circuit, known as porpoising, that was a problem that was supposed to be solved last season and now, it is returning at a slight level, at least on parts of this circuit.
The drivers will continue Saturday with free practice three, followed by qualifying and the race on Sunday, which expects to be with good weather for all the drivers.
By Mark Gero