MONTMELO, Spain—Sebastian Vettel, Michael Schumacher, Lewis Hamilton. These three have in the past dominated the formula 1 racing world.
And on Sunday at the Circuit de Catalunya, Max Verstappen might begin to add his name to this list as the Dutchman took the Spanish Grand Prix with a lights to checkered flag 24 second victory over the Mercedes duo of Lewis Hamilton and George Russell, which was for the first time this season that the Silver Arrows have had two car finishing atop the podium.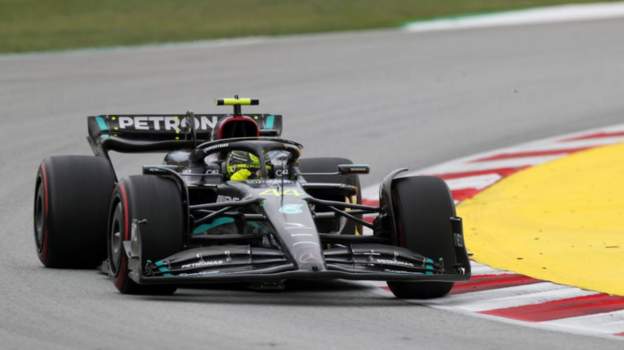 ‌                                                                    
"It's a big pleasure to drive with a car like this and it showed again today, we had quite a lot of different tyre strategies today." Said Verstappen.
"I knew the start was going to be a bit tricky going into turn one but luckily nothing happened.
We had another strong weekend and that's what I like to see for myself in the weekend and hopefully we keep that up for the year."
Verstappen had a challenge from Carlos Sainz in his Ferrari, but the Red Bull driver had no trouble getting by the hometown Spaniard, and quickly established a lead of seven seconds by the time he came into the pits for his first stop for tyres. But for the rest of the afternoon, Verstappen was never having any difficulties, even doing as much as lapping almost the entire field before the end of the race, even being so quiet of a domination that he was warned by officials of going over the limit lines at least three times.
Sergio Perez might have had a bad qualifying run, but the Red Bull driver moved up the grid but was short of passing Russell and had to settle for fourth, while Sainz finished fifth. Aston Martin had the toughest day of the season so far, but finished Lance Stroll and Fernando Alonso sixth and seventh, respectively. Esteban Ocon put his Alpine in the points again, this time in eighth, while Alpha Tauri's Yuki Tsunoda and Alfa Romeo's Zhou Guanyu took the last two-point positions.
Verstappen now commands a 53-point lead in the driver's championship after eight rounds, while Mercedes with their double points finish, passes Aston Martin for second in the constructors, leading the Silverstone, England unit by 18 points with the next race across the pond in Canada for one round on June 18th.
By Mark Gero