SPA- FRANCHORCHAMPS, Belgium—Following a delay of an half an hour because of a storm cell that passed through the circuit, Max Verstappen might have pitted late for new tyres at the start of Saturday's Sprint race for the Belgian Grand Prix, but the Dutchman found his stride and passed McLaren rookie Oscar Piastri halfway through the race to take the victory, with Alpine's Pierre Gasly taking third just ahead of Mercedes Lewis Hamilton.
"No I think it was just a safer call, I could come in first but then I might be blocked by other cars." Said Verstappen afterwards about his late pit stop. "There might be a safety car then you lose out massively so I didn't mind to stay out I mean we lost one position but we know we are quick and you could see that when we put the inter tyres on we were flying so it was ok."
The sprint began for four laps under the safety car and when the circuit began to dry, the grid started with a rolling version, as half of the grid went in to change tyres to a lesser compound of intermediates. But Verstappen stayed out, and despite his lead, only a couple of laps later had to also pit as the Red Bull driver began to lose time to the rest of the grid.
This gave Piastri the lead, but as Verstappen pitted, he returned into second place, and by lap five, Verstappen was even with Piastri and at Kemmel, the Dutchman passed Piastri and took the lead for good. Back in the field, Hamilton had already overtaken Sergio Perez in his Red Bull, who eventually lost a large amount of grip and became the second driver to retire from the race, following Aston Martin's Fernando Alonso, who had earlier spun off at Puchon on lap four. Verstappen had no problems after passing Piastri and took the victory.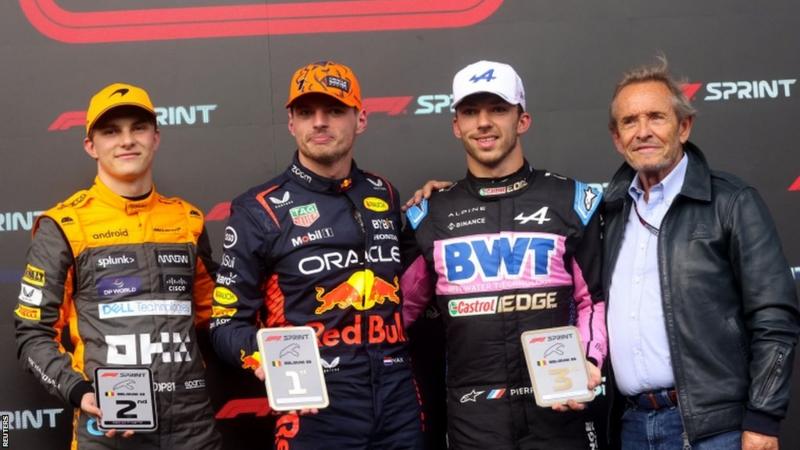 Carlos Sainz and Charles Leclerc finished fourth and fifth for Ferrari, while McLaren's Lando Norris finished in sixth, giving McLaren double points for the day. Hamilton took fourth, but a five second penalty for causing a collision with Perez earlier dropped him to seventh. His Mercedes teammate George Russell finished in the last sprint point position in eighth.
Verstappen will start Sunday's race in sixth, following a penalty for overuse of components. But the start is what seems to worry him.
"I don't know I need to pass a few cars, so I think the biggest risk is just Lap One," he added. "Turn One, it's always very tricky there so as long as we stay out of trouble, I think we will have a quick car."
By Mark Gero