ZANDVOORT, The Netherlands – It might have been a wet circuit Saturday afternoon for all 20 formula 1 drivers, but it was the home hero, Max Verstappen, who clocked a 1:10:567 on a drying track to set the quickest time at the last moment for Sunday's Dutch Grand Prix, just ahead of McLaren's Lando Norris with Mercedes George Russell taking third.
"It was a very tricky qualifying starting of course on the intermediates but of course the track surface is quite slippery with the new tarmac, so it was all about putting your laps in and staying out of trouble." Said Verstappen after taking his third pole at this circuit. "I think we managed that quite well but also the end when we could go onto the slick tyres there was one dry line in some places and we had to risk it a bit but the last lap was very enjoyable."
All the top ten final qualifiers survived the first two sessions using intermediate tyres as the morning rains subsided, but the circuit remained wet. However, in the final session, the track finally was dry enough for the drivers to switch to slick tyres which made the times drop considerably. Williams Alex Albon had the lead when this occurred, but many began to better his time. But it was the two McLaren's of Norris and his teammate, Oscar Piastri who looked with only a few minutes to go in the final session like they would take the front row. But as would have been expected, Verstappen had plenty of space to take advantage of a dry track at the last minute and set the quickest lap, where no other driver could match. Norris stayed second on his final flying lap, and Russell was one of the last cars to finish, grabbing third.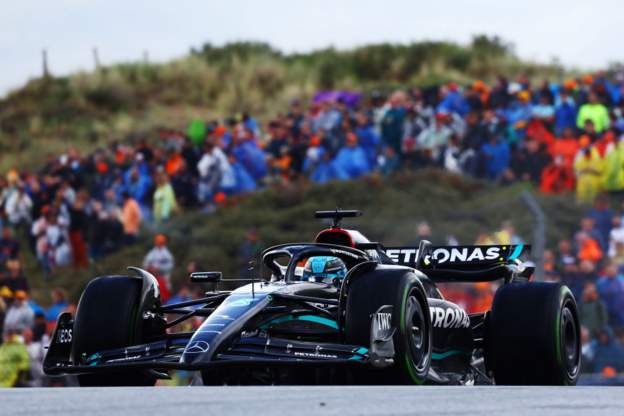 The whole qualifying sessions were non -stop action, but the final session saw two red flags which delayed the finish of the event. Logan Sargant became the first American to reach the last session since Michal Andretti did it in Italy back in 1993. But unfortunately, Sargant struck a patch of wet line and spun his Williams into the barriers at turn two. For Ferrari's Charles Leclerc, misjudging turn nine got him also into the barriers, which brought out the second and final red flag. It was only with four minutes to go did the drivers finally managed to complete a final flying lap.
Alfa Romeo's Zhou Guanyu and Valtteri Bottas, Alpine's Esteban Ocon, Haas F1's Kevin Magnussen, Alpha Tauri's Liam Lawson, substituting for Daniel Ricciardo, who broke his hand Friday in practice, exited the first session, while Aston martins Lance Stroll, Alpine's Pierre Gasly, Alpha Tauri's Yuki Tsunoda, Haas F1 's Nico Hulkenberg and a surprising Mercedes of Lewis Hamilton, failed to make it to the final session.
Albon ended up fourth, while the second Aston Martin of Fernando Alonso finished fifth. Carlos Sainz was sixth, with Red Bull's Sergio Perez disappointing again in seventh. Piastri dropped down the order late but finished eighth, as both Leclerc and Sargant, despite their accidents, took ninth and tenth, respectively.
Verstappen at one point went out on intermediates when the track was beginning to dry, but the Dutchman knew when it was time to change tyres when he needed slicks to drive.
"I mean we've been to some other places where we've had wet races and I think this is the first time we came here with these kind of conditions so I think we under estimated a little bit with the wind as well and the sun coming out how quickly it dried." Verstappen added. "Again, it's all about experience and lessons you take forward but at the end of the day it didn't matter we still did the right thing."
By Mark Gero