MONTE CARLO, Monaco—Max Verstappen might have been a little quiet in Friday practice for this weekend's Grand Prix of Monaco, but the series leader and defending world champion proved that his Red Bull could even handle the streets of the principality by taking the best time of the day in the second practice, with a 1:12: 462 quickest time ahead of both Ferrari's of Charles Leclerc and Carlos Sainz.
Verstappen did not take long as the Dutchman managed to set the quickest time during the middle of the afternoon session. Many other drivers such as former world champions as Lewis Hamilton and Fernando Alonso took the lead in the session for a small amount of time, but Verstappen took the top spot afterwards and never lost it.
There were a couple of moments when the practices had to be stopped, and this occurred as Williams Alex Albon found out in the morning as the Thai driver lost his rear end and smashed into the wall at St Devote. The accident had Albon wait most of the afternoon session as his mechanics fixed his damaged car, eventually getting Albon out with only a few moments to spare. But it did not do much good as Albon did not have enough time to get a good flying lap. Albon only managed to finish in 19th place out of 20, only bettering his American teammate, Logan Sargant.
The other incident happened with just over 16 minutes left in the afternoon session when Sainz clipped his right front tyre just before the Piscine, hitting the wall in the same section and coming to a stop. At this point, Sainz was already in third, and even before this, the Spaniard took the quickest time in the morning session. However, the mechanics will have to work overnight to get the car ready for the next morning's third practice session.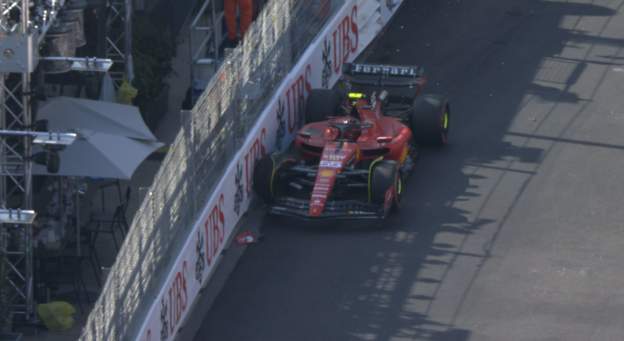 Alonso ended up in fourth with his Aston Martin, while McLaren's Lando Norris was slow getting underway, but had a good enough lap to take fifth. Sixth went to Hamilton in his Mercedes, as Red Bull's second driver Sergio Perez ended up in a quiet and lonely seventh. Alfa Romeo's Valtteri Bottas was next in a very satisfying eighth with the top ten positions ending with both Pierre Gasly and his Alpine teammate, Esteban Ocon, finishing ninth and tenth, respectively.
The race in Monaco will conclude on Sunday, with another event in Barcelona, Spain, coming up next weekend.
By Mark Gero