MONTREAL, Canada—Max Verstappen took the Canadian Grand Prix Sunday at the Gilles Villeneuve Circuit by leading the race from start to finish, winning his sixth seasonal victory and 41st career triumph, in addition giving his Red Bull Racing Team their 100th team victory, ahead of Aston Martin's Fernando Alonso and Mercedes Lewis Hamilton.
"Of course, very happy right now it was not a very straight forward race because the tyres were not getting into their window, it was very cold today compared to Friday and we were sliding around quite a bit but we made it work and to win again today and to win the 100th Grand Prix for the team that's incredible." Commented Verstappen.
Verstappen took the lead ahead of Alonso at the beginning, with the Spaniard moving up to the front row, due to the penalty imposed on Haas F1's Nico Hulkenberg during qualifying. But Alonso got off to a good start, but the power of the car was not good enough and was passed by Hamilton. After a few rounds of pit stops, Alonso found himself ahead of Hamilton, who put himself just three seconds behind Alonso near the end of the race.
But Alonso's rear brakes too getting too hot, and the Aston Martin driver could no more than lift and coast to the finish line, although he found himself just a couple of seconds behind Verstappen by lap 59. The chance of forcing the car to challenge the Dutchman could not happen, and Verstappen increased his lead to four seconds, before the Red Bull driver ended up winning the race by nine and a half seconds.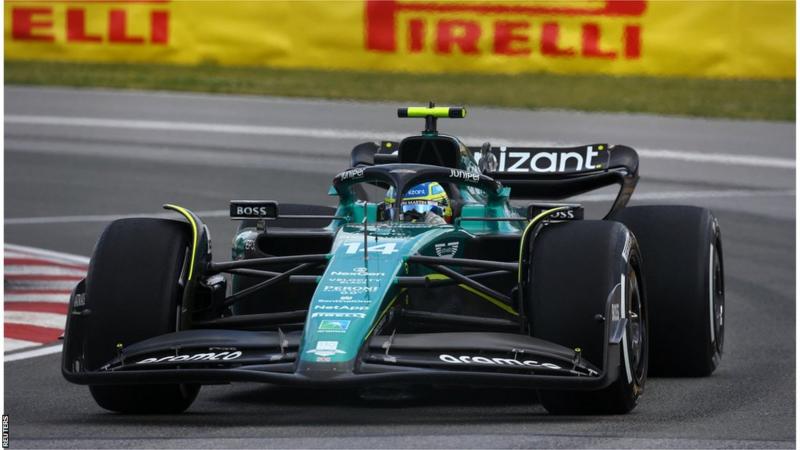 The race only had two retirements all day, with Williams Logan Sargant stopping his car with an engine problem on lap eight, while Mercedes George Russell quit the race on lap 55 after damaging the car early on lap 12.
The Ferraris of Charles Leclerc and Carlos Sainz finished fourth and fifth, respectively, while Red Bull's Sergio Perez continued his unfortunate luck by taking sixth. Williams Alex Albon was picked by race fans as the driver of the day, and the Thai/Briton deserved it by holding off Alpine's Esteban Ocon, McLaren's Lando Norris, the second Aston Martin of Lance Stroll and Alfa Romeo's Valtteri Bottas. Norris, despite his efforts to pass Ocon, ended up 13th overall by being penalized for unsportsmanlike conduct.
Verstappen now equals the late Ayrton Senna's winning record of 41, to go with the 100th's team victory, which the Red Bull driver really appreciates.
"It's amazing," added Verstappen." I mean I never expected to be on these numbers myself, so you know we keep enjoying working hard, and today has been a great day as well.
The racing will continue back to Europe with Red Bull's home circuit, the Red Bull Ring, for the Austrian Grand Prix in two weeks from now.
By Mark Gero