MIAMI, Florida, U.S.A.—In a race that had all 20 entries finish the race, Max Verstappen began Sunday's Miami Grand Prix at the Miami International Autodrome in ninth position, feeling that second would be the best he could do. But the Dutchman passed teammate and pole sitter Sergio Perez on lap 48 to take his second straight win at this street circuit with Aston Martin's Fernando Alonso receiving his third podium in four rounds of the championship.
It was the first time since 1984 at the Dijon circuit in France when the late Niki Lauda had to come from that position to win the race, but Verstappen afterwards felt that patience was the virtue to winning this race.
"It was a good race." Said Verstappen. "I stayed out of trouble at the beginning, and I just had a clean race and picked the cars off one by one. I stayed out really long on the hard tyres and I think that's what made the difference and then a good little battle with Checo (Perez) at the end.
Yesterday was of course a bit of a set-back but today we kept it calm, kept it clean and for sure winning a race from P9 is very satisfying.
We started talking about (the tyre strategy) yesterday. We didn't know what the weather would do and whether it would pay off and luckily it did today."
While Perez received a clear start in the race, pulling away from Alonso early, Verstappen made his way up the grid quickly, going from 9th to second place by lap 16, trailing his Red Bull teammate by only three seconds. A regular round of pit stops got Verstappen into the lead, and with fresher tyres, took advantage of his better grip to pass Perez on lap 48 and took the victory by only a couple of seconds, never to be challenged again.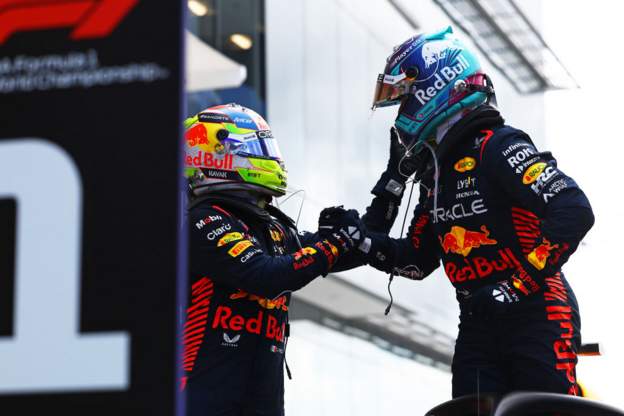 The rest of remaining seven drivers finishing in the top ten consisted of three teams, as Mercedes finished George Russell fourth and Lewis Hamilton sixth; while the Scuderia had Carlos Sainz and Charles Leclerc take fifth and seventh. The French Alpine team had their countrymen take ninth and tenth, respectively, with Kevin Magnussen placing his Haas F1 car in tenth.
Verstappen now leads Perez in the drivers' standings by 14 points going into a week off before heading into a triple header, which will include the circuits at Imola, Italy, the streets of Monaco and the Circuit de Catalunya in Barcelona, Spain.
By Mark Gero