MONZA, Italy- Certain records are meant to be broken, and on Sunday at the Italian Grand Prix, Max Verstappen won his 10thand record braking win in a row by just over seven seconds ahead of teammate Sergio Perez, giving the Red Bull team another 1-2, their sixth of the season. The home tifosi crowd did not get a victory, but the crowd were delighted nevertheless as Ferrari's Carlos Sainz brought home third.
The team also became the first squad in formula 1 history to win 15 races as a constructor.
Despite Verstappen's win, the two-time world champion knew there would be a challenge from the Scuderia.
"They (Ferrari) had a lot of top speed and it was so hard to get close and get a move on into turn one." Said Verstappen. "I had to force him into a mistake and luckily it came at some point where he locked and then I had better traction. From there on, we could do our own race."
The race itself was held up for 20 minutes as Alpha Tauri's Yuki Tsunoda encountered engine issues and had to pull his car off the track just before Curva Albereto, bringing out a restart. Once the race finally got underway, Verstappen took the lead on lap 15 from Sainz after the Spaniard had battled his rival right from the beginning. Sainz held off the Dutchman until Verstappen overtook the Ferrari at Curva Grande when Sainz locked up his wheels at the first chicane. From that moment on, Verstappen had no trouble keeping the lead, even after coming in for pit stops. Most of the battles in the race took place behind him, as Perez, Sainz and Charles Leclerc held the next three positions. Perez managed to pass both Ferrari's and continued, while both Scuderia drivers went wheel to wheel right until the last lap, where Sainz barely held off Leclerc, who had to settle for fourth.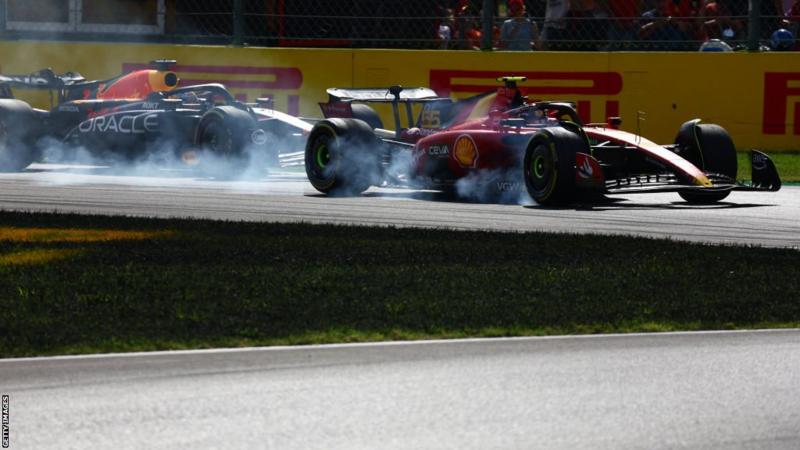 Both George Russell and Lewis Hamilton placed fifth and sixth for Mercedes, while Williams Alex Albon drove a magnificent race, finishing in seventh. McLaren's Lando Norris was eighth, with Fernando Alonso ninth in his Aston Martin. Alfa Romeo's Valtteri Bottas rounded out the point scorers in tenth.
Besides Tsunoda, the only other retirement of the race was Alpine's Esteban Ocon.
Verstappen also knew during the race that Sainz was beginning to struggle with his tyres, and when the chance came, he took advantage of it.
"I was trying to stay patient" added Verstappen. "It's a very long race, I could see they were struggling with their rear tyres so I just had to pick my moment."
By Mark Gero