SPIELBERG, Austria—Max Verstappen could not have had more of a better weekend in his racing career. Taking qualifying, sprint race shootout, the sprint race and on Sunday in addition to the fastest lap of the race, capped off a perfect weekend by taking the Austrian Grand Prix at the home sponsored Red Bull Ring with a 5.1 second victory over Ferrari's Charles Leclerc, with Sergio Perez, who started the race from 15th, ending up on the podium in third, completing a double podium for the Austrian Manufacturer.
"I think most important to me was of course lap one to stay in front after that we could do our own race." Said Verstappen. "Of course, we opted not to box during the virtual safety car and just follow our normal strategy and I think that worked out really well. The tyre life was not that high around here and I think our stints were perfect so a great day, I enjoyed it a lot.
I mean I could see already a few laps before the virtual safety car we were pulling out quite a gap so I knew I would get it back eventually, just following our own plan at the time was the best way forward."
Verstappen took the lead right from the start, and regained the lead quickly when Alpha Tauri's Yuki Tsunoda went off the circuit at turn four, bringing out a safety car for the only time of the day, as the marshals cleared up the front wing debris that the Japanese driver had distributed all over the track. Only a couple of laps later did Verstappen regained the lead again, which helped on lap 14, when Haas F1's Nico Hulkenberg became the only retirement of the race, with an engine failure. Verstappen stayed out as a virtual safety car came into effect, with Leclerc and teammate Carlos Sainz locked in a battle for second.
Verstappen led the race by 16 seconds over the two Ferraris by lap 25, when the Dutchman for the first time lost his lead after dominating first place for 249 laps before, as his pit stop gave the Ferrari a 1-2 advantage. But Verstappen found his form quickly and got out ahead of Sainz, passing him and only ten laps later, overtook Leclerc, staying out in front for good, highlighting a 24 second win, which now puts him 81 points ahead of Perez in the drivers' championship.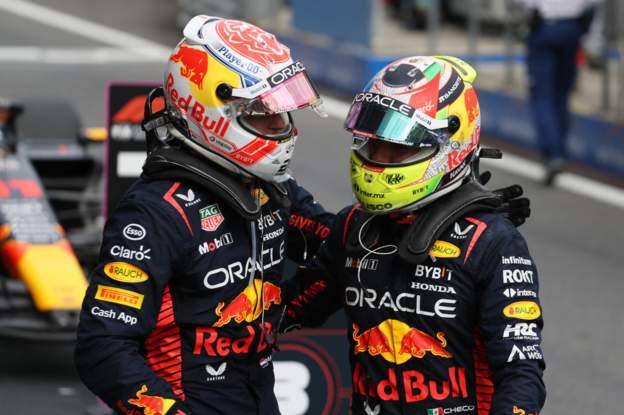 But it was not really the domination of Verstappen that made the headlines at the end of the day, it was how many drivers served penalties for track limits. The list was long for those five second servers, and besides Sainz, Mercedes Lewis Hamilton, Alpine's Esteban Ocon, and his teammate Pierre Gasly, Alpha Tauri's Nyck De Vries, Tsunoda, Williams Logan Sargant, and Hass F1's Kevin Magnussen were just a few that were penalized, mainly for overshooting turn ten.
After all the confusion, Sainz ended up fourth, after having an interesting battle with Perez; McLaren's Lando Norris had a fantastic day taking fifth, while Aston Martin had a double points finish, with Fernando Alonso sixth and Lance Stroll tenth. Mercedes also achieved double points with Hamilton and George Russell seventh and eighth, respectively. Gasly gave his team a couple of points by finishing in ninth.
With another race next weekend in Great Britain at the famous Silverstone circuit, Verstappen has won five races in a row and is looking for more. But one thing that is not on his mind is the thinking that the Dutchman is now closing in on his third world championship in a row.
"I don't like to think about that yet." Verstappen added. "I'm just enjoying the moment driving this car, working with the team, I think the whole weekend we have done a really good job, the sprint weekend is always very hectic, and a lot of things can go wrong and luckily a lot of things went right for us this weekend."
By Mark Gero