BRACKLEY, England—For the first time in two seasons, the AMG Mercedes Formula One Team launched their challenger with an all- black colour , which states reducing the weight of the car as a significant project.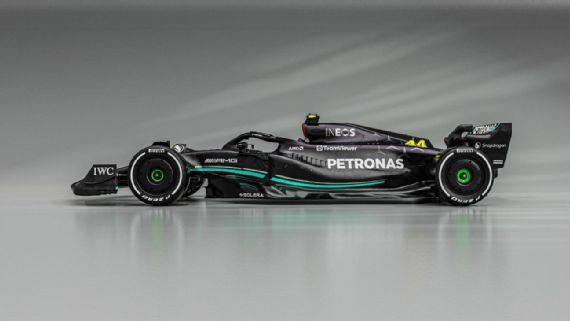 The team is looking for a chance to recover from their disappointing season, in which seven-time world champion Lewis Hamilton failed to win one race. His teammate for the second year, George Russell, had one victory in Brazil, which was the only highlight of the season.
As far as the technical side of the car is concerned, the aggressive "zero pod" design remains, which last season was unique to most teams. Mercedes themselves commented that the car, which is continued on its naming conventions, dubbed the W 14, "Will bring bold solutions to the learnings from last year."
For Hamilton, he will be hoping that this car will bring something that he wants very badly; his eighth and record braking world championship.
"I have been a part of this team for over a decade and the efforts of everyone never cease to amaze me," Lewis commented. "I find it inspiring how diligently and passionately each person approaches their work.
I'm excited to go racing again. I feel calm, energised, and have my focus sharpened. I'm ready to do what's necessary to win."
As for Russell, the younger Briton did not hold back about the car and is looking forward to the shakedown scheduled for the Silverstone Circuit in a few hours.
"I'm really excited to drive the car for the first time," he said. "You see it come to life and it's such a proud moment, we both jumped in the car a few days ago for the seat fit.
We're going to go out today, make sure it's working properly ahead of the test next week."
As for Team Principal Toto Wolff, the disappointments of last season can be changed, and hopefully the changes that are made on the car can produce better results.
"We were overweight last year," Wolff said. "This year we have tried to figure out where we can squeeze out every single gram. So now, history repeats itself.
You will see that the car has some raw carbon bits, along with some that are painted matte black. Of course, when we changed the livery in 2020 the main driving factor was to support the diversity and equality causes which are always close to our heart. The colour black became part of our DNA at that point, so we are pleased to return to it."
One thing has not changed at all is Hamilton's number 44 will be in yellow, while Russell's will be in lime green in the number of 63 that will match perfectly with the new colour of the car.
By Mark Gero