QUALIFYING:
OMAN RACING WITH TF SPORT AND BARWELL LOCK OUT THE FRONT ROW IN GT3 FOR RACE 1 AND ITS CLOSE BETWEEN LIND AND BUURMAN FOR RACE 2.
GT3 Q1:
After two mostly wet practice sessions, the sun finally came out and dried the track just in time for qualifying.
At the start of the session it was Michael Igoe in the #18 WPI Motorsport Lamborghini who went top, but was soon replaced by Andrew Howard in the #7 Beechdean Aston Martin, but that didn't last long as Adam Balon  in the #1 Barwell Motorsport Lamborghini went quick to go top.
Ahmad Al Harthy making his first British GT appearance since 2015, set a time of 1m50s flat and  then went even quicker and with it showed the rest of the GT3 field that they are gonna take some beating in qualifying.
But no one could beat their time as the attention shifted to who would be joining them on the front row of the grid.
Kelvin Fletcher in the #11 Paddock Motorsport Bentley looked set to secure a front row start on his second flying lap, but for his time was beaten by Balon's Barwell Lamborghini.
But Fletcher returned to the track in his Bentley and this time he wasn't to be denied as he snatched second on the grid.
Morgan Tillbrook in the #77 Enduro Motorsport McLaren was also in the mix for a front row start, but just wasn't quick enough.
Balon had to settle for fourth ahead of Igoes Lamborghini and the Beechdean Aston Martin of Howard who had his fastest lap removed for a track limits infringement.
Championship leader Leo Machitski shares the fourth row with title rival Ian Loggie.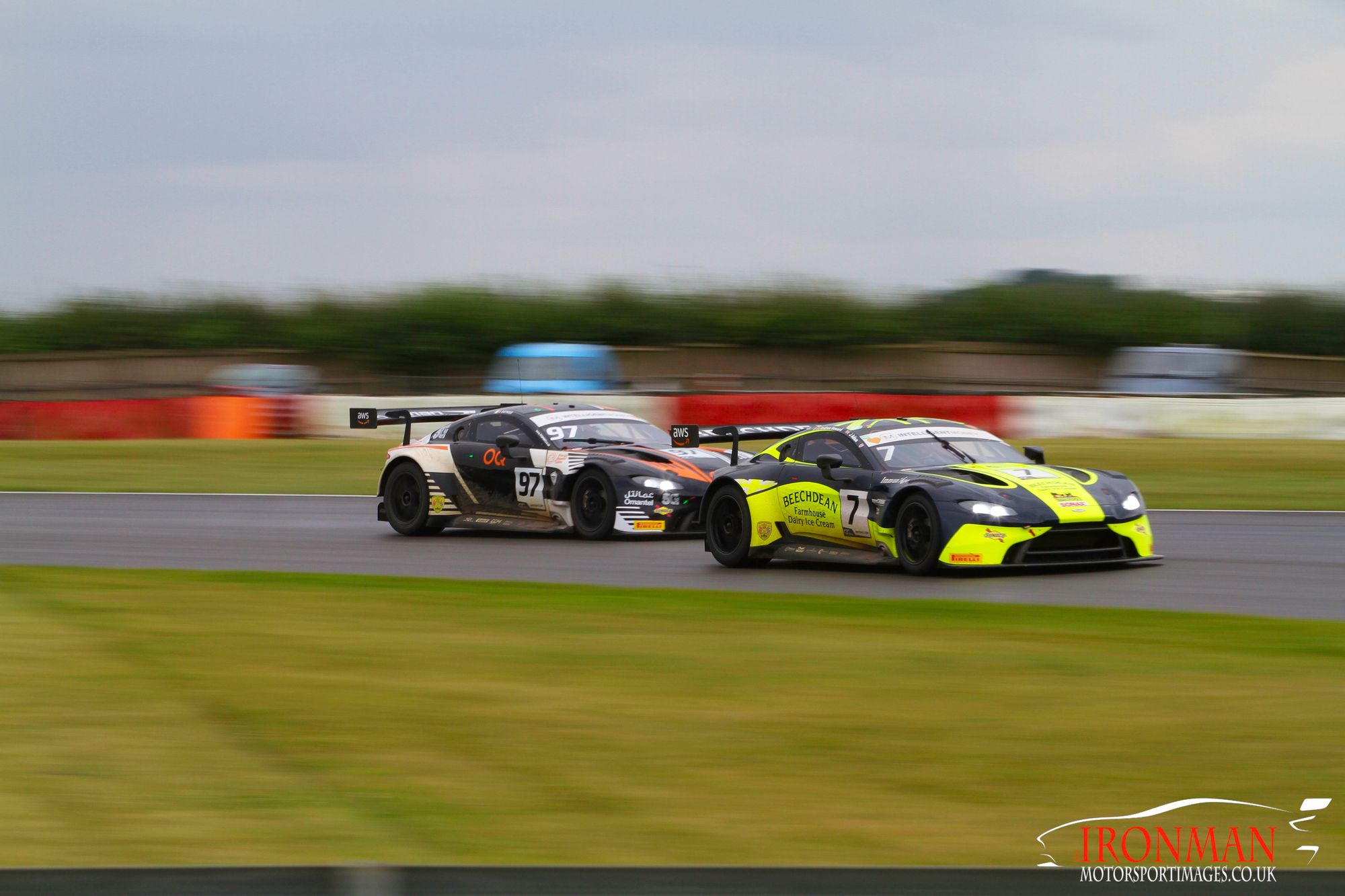 GT3 Q2:
Phil Keen in the WPI Motorsport Lamborghini and Marcus Clutton in the Enduro Motorsport McLaren were both setting the early pace before Jonny Adam ended  the first runs top of the timings courtesy of his and Beechdean Aston Martin's 1m47.8s.
The #1 Barwell Motorsport Lamborghini of Sandy Mitchell briefly joined the Aston Martin on the front row, before seconds after cross the line the sister Barwell Lamborghini of Dennis Lind went a tenth quicker than Adam to take over at the top.
It was job done for Dennis Lind at the top of the top of the timings, but he was given a scare from the Ram Racing Mercedes of Yelmer Buurman who just missed out on pole by 0.005s.
Adam and Mitchell kept hold of their places on the second row, whilst Clutton and Charlie Eastwood in the Oman Racing with TF Sport Aston Martin start from the third row.
Phil Keen in the WPI Lamborghini and Martin Plowman in the Paddock Motorsport's Bentley complete the top eight.
The Balfe Motorsport McLaren of Lewis Proctor was unable to set a time due to a gear selection issue.
VALENTE AND ROBERTSON ARE IN A LEAGUE OF THEIR OWN OUT FRONT!!
GT4 Q1:
Alain Valente produced a dominate display to secure a maiden British GT GT4  pole position for himself and Team Rocket RJN.
The three Team Rocket RJN McLarens showed some great pace during the practice sessions, but with the track now dry for qualifying it was hard to predict who would come out on top.
On his first run Valente laid down a marker by going half a second quicker than anyone else, as it became clear that he was gonna take some stopping in his quest for the GT4 pole and he went even quicker on his final run to stretch his advantage to nearly a full second.
Century Motorsport's championship leading BMW M4 driven by Will Burns was the closest challenger but was a massive 0.8s down on the fastest time.
Will Moore put the Academy Motorsport Ford Mustang on the second row on the grid in third ahead of James Kell in the #2 Team Rocket RJN McLaren in fourth.
Spa winner Jack Brown starts fifth on the grid but must serve the maximum success penalty, whilst Katie Milner starts sixth and made it four McLarens in the top six.
GT4 Q2:
Thing were different in Q2 where Charlie Robertson in the Assetto Motorsport Ginetta G56 produced two great timed laps good enough to secure pole position.
Whilst Michael Benyahia put the #3 Team Rocket RJN McLaren had gone top early on but was soon displaced by Gus Burton in the #57 Century BMW, but then Robertson pipped everyone by just over a tenth and then extended his advantage to 0.04s on his second run.
Burton had looked set for second on the grid, but during the final laps Darren Turner in the Newbridge Aston Martin went quicker to take second, followed by Jordan Collards #2 Team Rocket RJN McLaren who recovered from a mistake on his first run to take third.
Points leader Burton will start fourth in his BMW just ahead of Benyahia and Scott McKenna in the Toyota Gazoo Racing UK's Supra.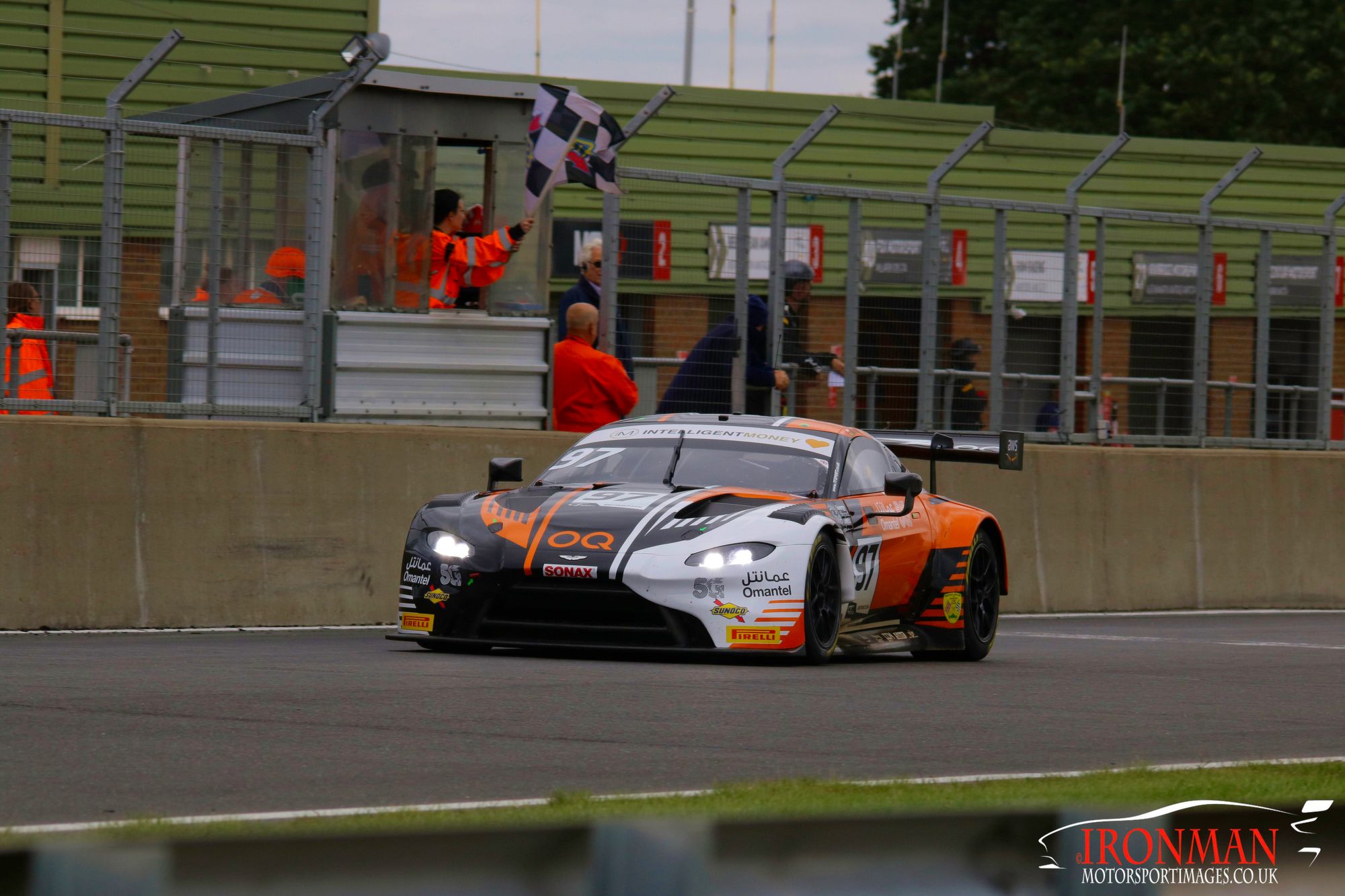 OMAN RACING WITH TF SPORT WIN'S FROM POLE IN GT3.
GT3 RACE 1:
Ahmad Al Harthy claimed his first British GT win since 2014 and Charlie Eastwood record his maiden triumph, as Oman Racing make's a return to the series.
With pole position and no Success Penalty meant that this was TF Sport-run Aston Martin's race to lose, but it enjoyed a dominate 60 minutes display in which Al Harthy first broke away form the chasing pack and then handed Charlie Eastwood a comfortable advantage when it came to the pit stops.
All thoughts turned to who would join them on the podium.
Kelvin Fletcher's career best qualifying see's the Paddock Motorsport starting from second on the grid and it maintained that position throughout the opening stint, whilst Michael Igoe's opening stint saw him move up third and kept Fletcher on his toes, but things got a bit too close when the WPI Lamborghini ran into the Bentley just before the pit window.
Both cars were able to continue in second and third, but the WPI Lamborghini was given a 10s stop-go penalty for causing a collision + the seven second success penalty put them out of contention.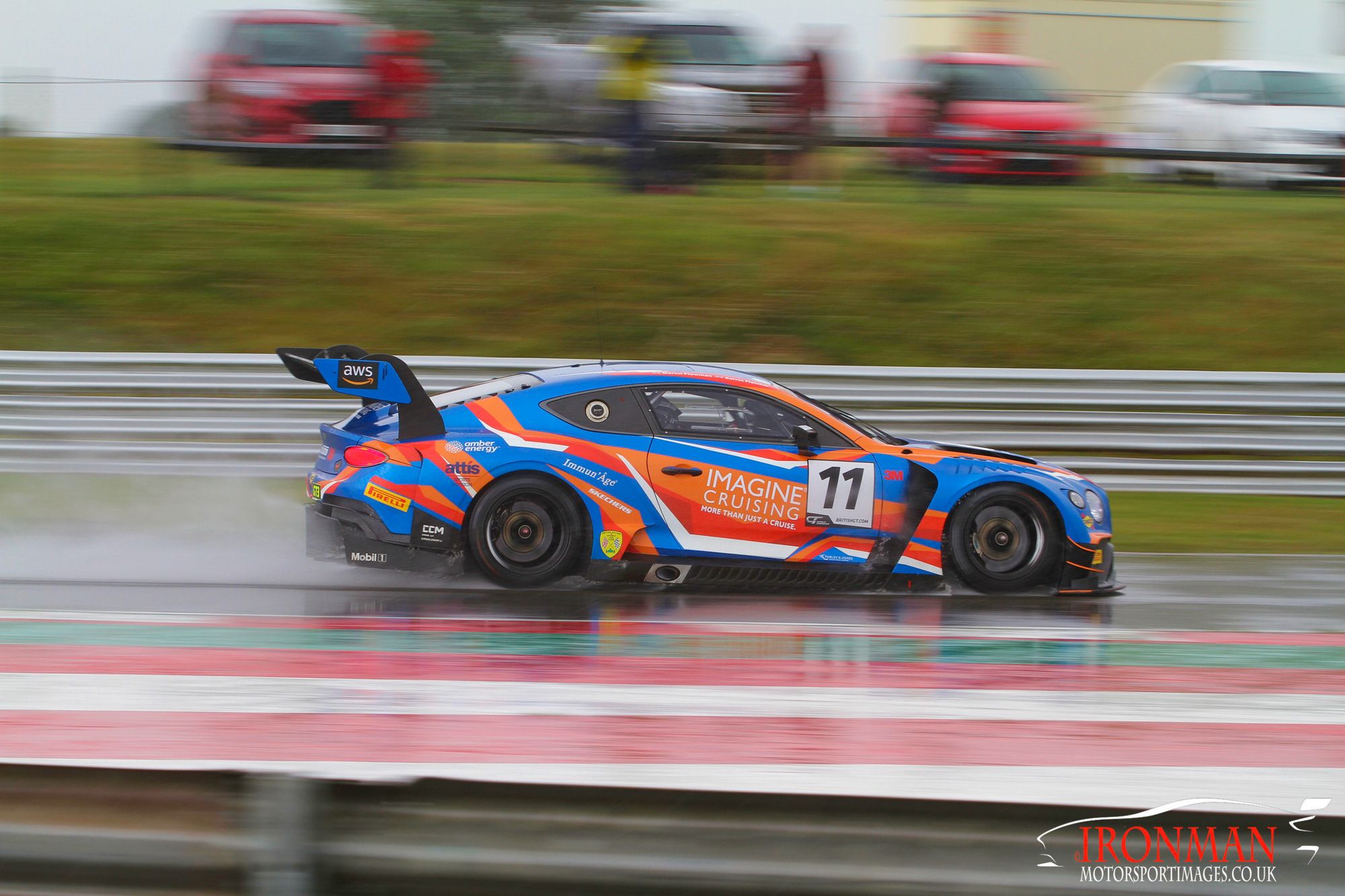 THINGS LOOKING GOOD FOR PADDOCK MOTORSPORT.
After the stops Martin Plowman had a slight cushion over the Enduro Motorsport's pursuing McLaren, which then became comfortable when the McLaren was blacked flagged for failing to serve a drive-through penalty incurred following a pitstop infringement.
The maximum success penalty for the #63 Barwell Lamborghini of Leo Machitski and Dennis Lind seemingly dropped them out of contention, but nobody told Lind who was flying and he posted his fourth fastest lap in five races while chasing Yelmer Buurman and Sandy Mitchell.
A puncture for the Ram Racing Mercedes-AMG and a brake issue for Mitchell helped Lind nip past at Wilson and next up was the Beechdean Aston Martin of Jonny Adam, who defended his third place right up until the last lap when he got caught up in GT4 traffic and that was the opportunity Lind was waiting for and on he took to take the final podium stop.
Lind ran out of time to attack Plowman's Bentley as he crossed the line just 0.03s behind ahead of Jonny Adam's Aston Martin.
Mitchell and Balon came home in fifth ahead of the Balfe Motorsport McLaren of Lewis and Stuart Proctor completed the top six.
WPI finished seventh ahead of the puncture hit Ram Racing Mercedes-AMG and G-Cat Racing's Porsche.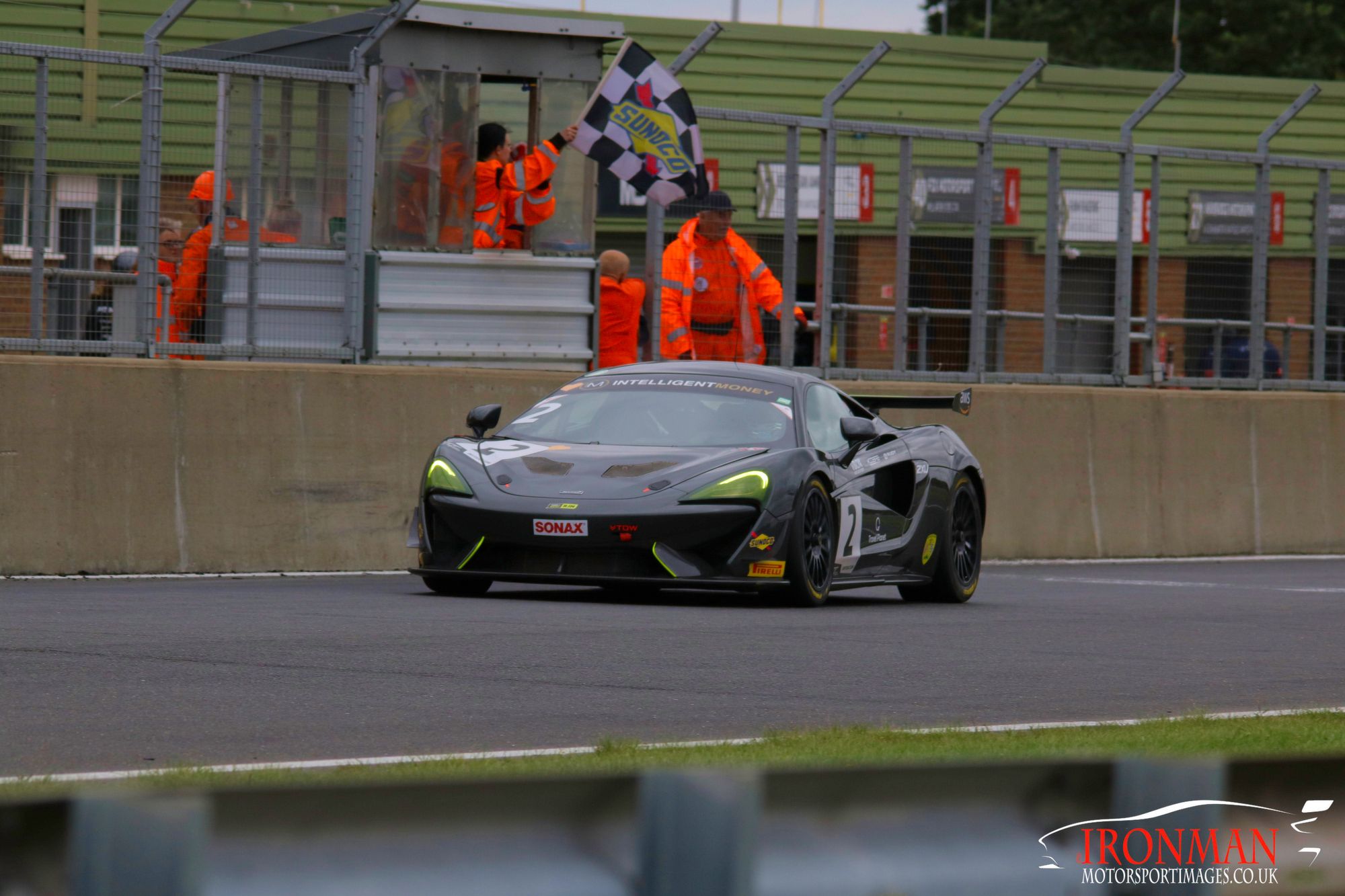 LUCK IS FINALLY WITH TEAM ROCKET RJN!!
GT4 RACE 1:
Starting from fourth on the grid James Kell had a strong opening lap and took Will Moore's Ford Mustang to go third and then after 15 minutes when a front left puncture for Alain Valente cost him the race lead.
Century's #57 BMW initially inherit top spot thanks to Valente's misfortune, but with Will Burn's and Gus Burton's five seconds extra in the pits as 'reward' for their Spa podium helped Kell and Collard come out of the pits with a three second advantage, which was extended to an impressive 21s at the chequered flag.
With Collard way ahead up front, the fight turned to who else would finish on the podium.
Burton resumed in second but was soon under pressure from a four-car train and Scott McKenna charged up the order in the Toyota Gazoo Racing UK's Supra after taking over from John Ferguson and he pulled a fantastic move on Harry Hayek's #4 McLaren around the outside of Coram to take third and then began to close on Burton for second.
Great defensive work from Burton in the Century Motorsport BMW saw him manage to just keep a hold of second ahead of McKenna in third, Hayek fourth and Charlie Robertson fifth in his Ginetta.
Matt Cowley in the Ford Mustang came home in sixth, but that could of been higher if he hadn't been pushed wide whilst in traffic.
Spa winners Jack Brown and Ashley Marshall were seventh in the #90 Balfe Motorsport McLaren and Fox Motorsport's Nick Halstead and Jamie Stanley came home in eighth.
Newbridge Motorsport's Matt Topham and Darren Turner crossed the line in ninth but received a 40s post-race penalty for causing a collision with the Steller Motorsport Audi.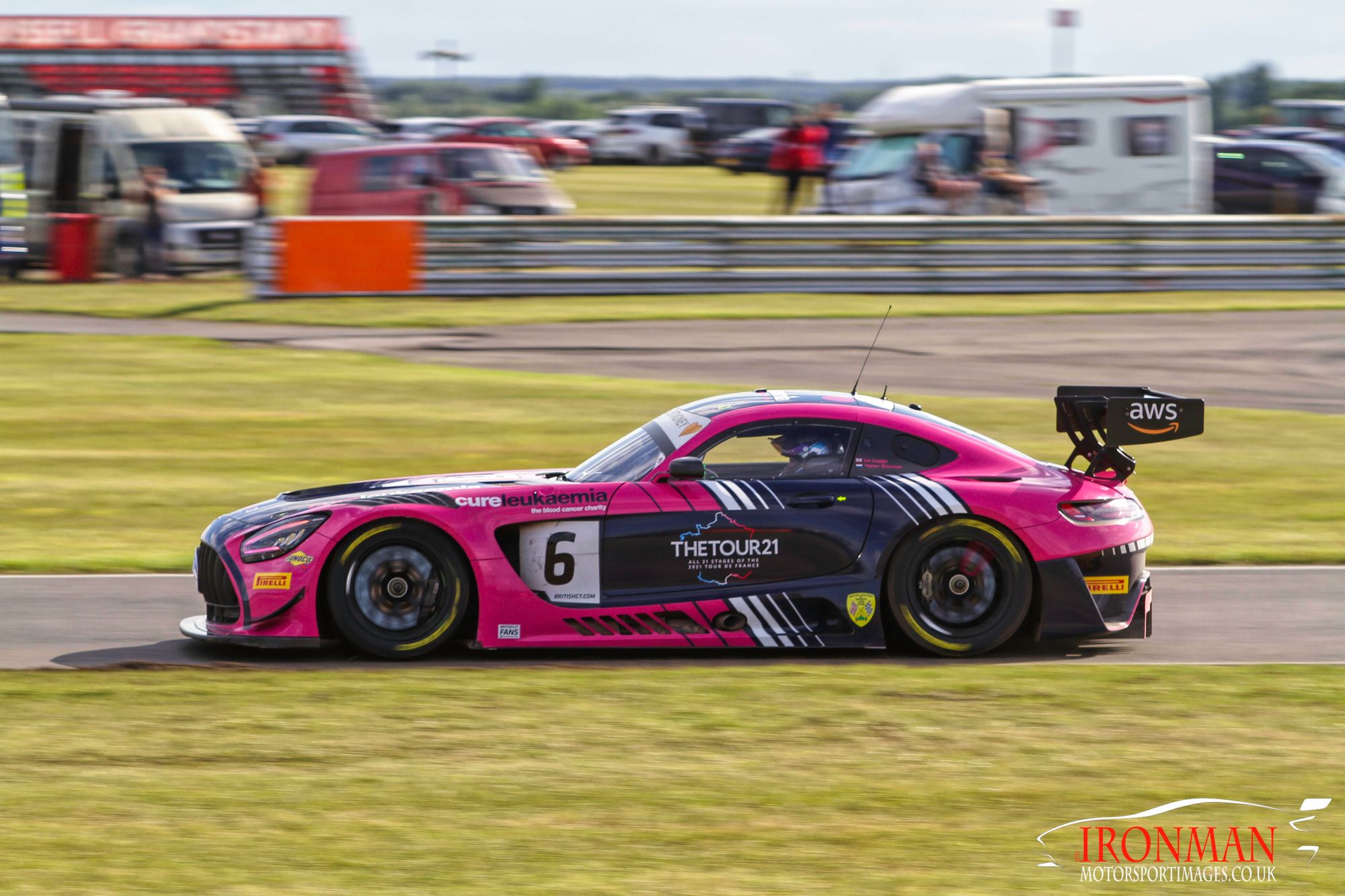 BUURMAN AND LOGGIE WIN FOR RAM RACING IN TRICKY CONDITIONS
GT3 RACE 2:
Heavy rain soaked the track just before the drivers headed out onto the grid.
This time the pros started where they qualified and Dennis Lind was unable to keep hold of his lead at the start, where Yelmer Buurman swept around the outside of the Barwell Lamborghini at Riches to take the lead.
The safety car was out early to recover the stranded Assetto Motorsport Ginetta and when Darren Turner's delayed Aston Martin found itself between the leaders at the restart and that played out in Ram's favour.
Unable to to overtake before the start/finish line, Lind was unable to prevent Buurman streaking away at the front and come the pitstops Buurman's lead was up to 8s.
It was Barwell's other Lamborghini that held second place after Lind dropped behind Charlie Eastwood and Sandy Mitchell at the restart.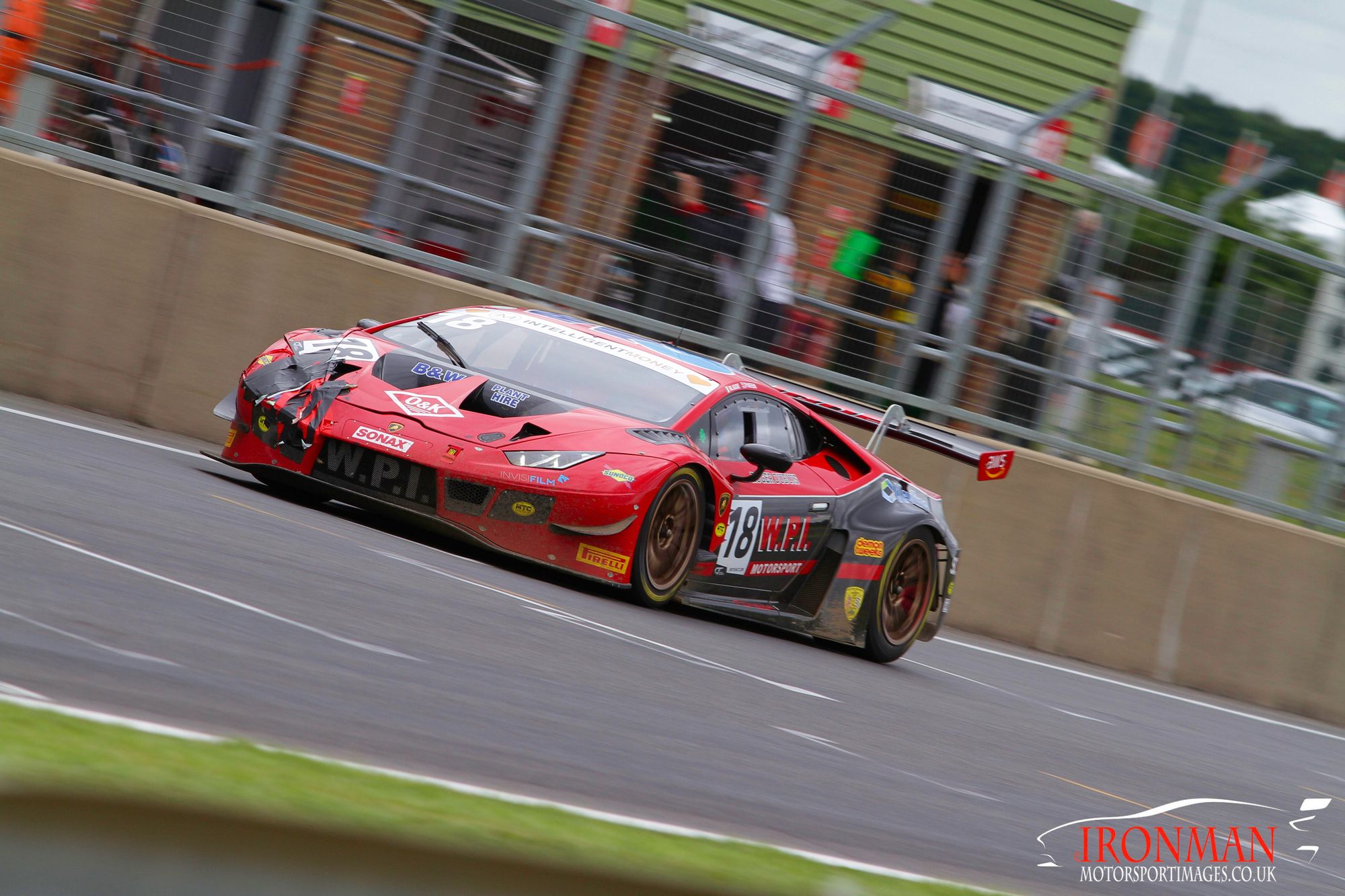 The race-1 winning Aston Martin couldn't match the pace of the Lamborghini's and dropped to fourth before the pit window opened.
With the top two not having to serve a success penalty at their stops, Ian Loggie and Adam Balon re-joined on the same lap, but Loggie still had that 8s advantage, but Balon halved the deficit before Loggie settled down and got up to speed and soon had that 8s gap again, but as the track dried Balon began to close again but it was little too late as Loggies took the chequered flag to win by 4.6s.
Balon was being caught by the WPI Lamborghini, which stopped a lap earlier than the other GT3 front runners.
Phil Keen was having a good battle with Jonny Adam in the opening stint in fifth and sixth, but that extra lap meant that Michael Igoe was fully up to speed when Andrew Howard exited the pitlane ahead and it wasn't long before Igoe made his move on the run up to Wilson and soon relieved Leo Machitski of third.
With Eastwood serving a maximum success penalty, it dropped the newly installed Ahmad Al Harthy from third to sixth, but after some stunning moves around the outside of Howard and Machitski on successive laps at Coram helped the TF sport-run Aston Martin move back up to fourth.
Igoe was setting multiple fastest laps in his quest to close on Balon and Loggie whose advantage dropped from 24s to 8s over the final 25 minutes.
Al Hartly came home a lonely fourth place ahead of Machitski in fifth and Howard in sixth.
Stewart and Lewis Proctor came home in seventh in the Balfe McLaren ahead of the Paddock Motorsport Bentley in eighth after being given a penalty for stopping when the window was closed.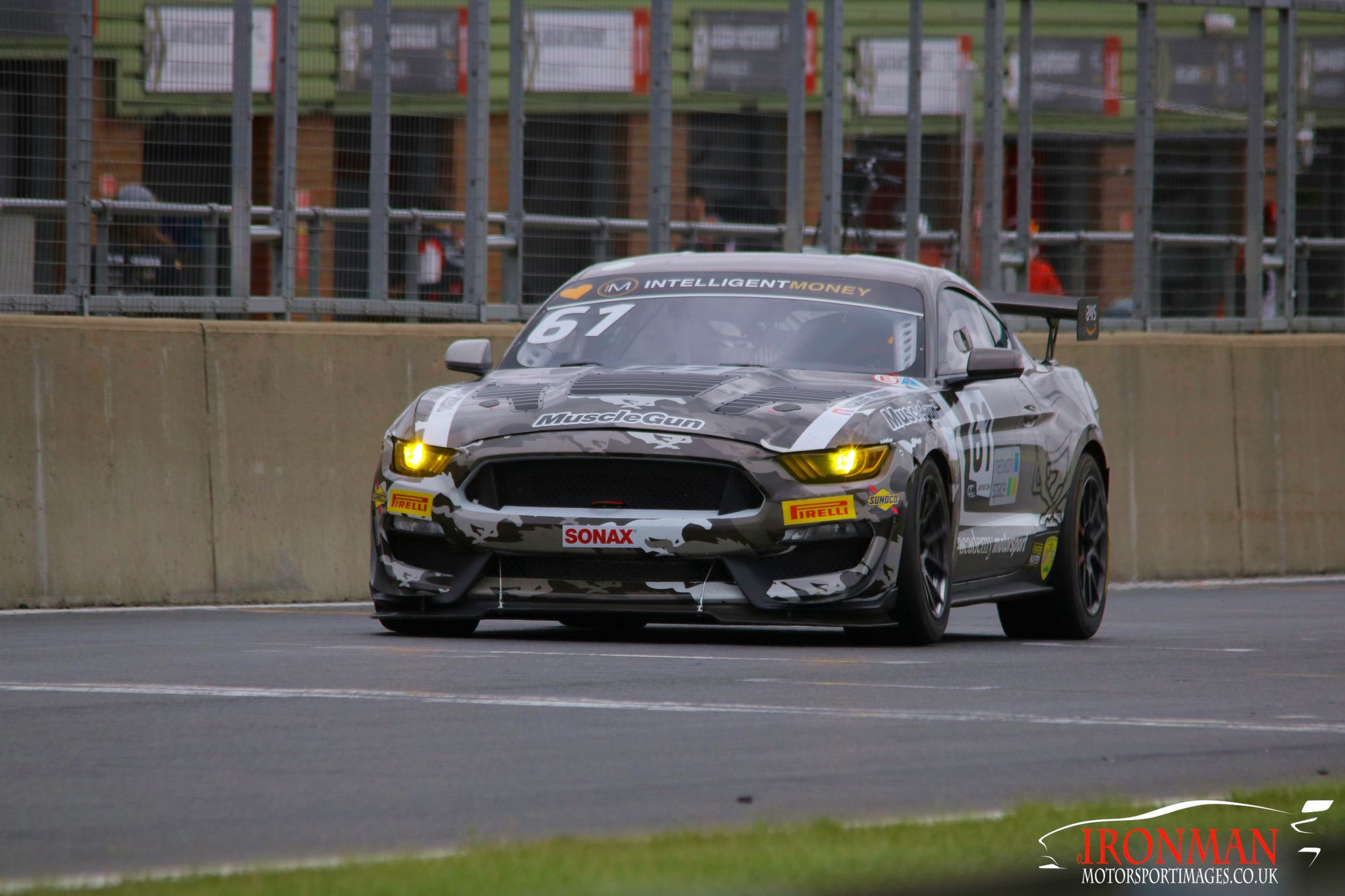 MOORE AND COWLEY ON TOP FOR ACADEMY MOTORSPORT!!
GT4 RACE 2:
Assetto Motorsport's Ginetta started the race form pole, but was soon in trouble with several other victory contenders on lap one after Charlie Robertson came together with the Century Motorsport #57 BMW, Ciceley's Merecdes-AMG, Newbridge Aston Martin and the Toyota Gazoo Racing uk's Supra on the run out of Wilson hairpin.
That brought out the Safety Car to recover the stranded Ginetta.
when the order had settled down behind the safety car it was the #2 McLaren of Jordan Collard who emerged in front, whilst Gus Burton was lucky to escape contact with Robertson to slot into second ahead of Cowley.
Things almost went wrong for Cowley when he had a grassy moment entering Palmer which dropped him to sixth before the pit window opened.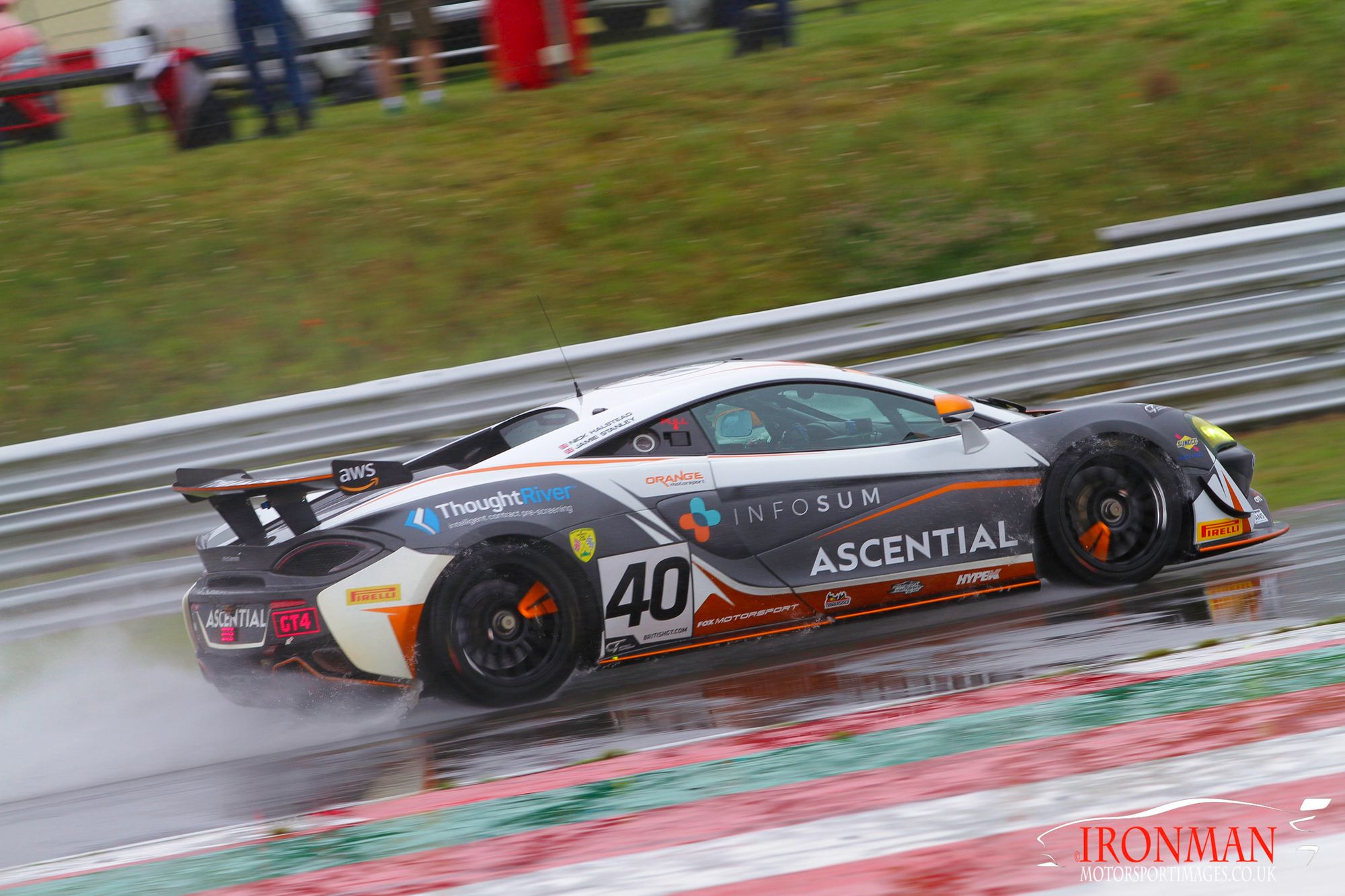 FOX MOTORSPORT LEAD.
Shorter pitstop for Fox Motorsport saw Nick Halstead initially lead after the pitstops had been completed, but soon a gaggle of cars on his tail, led by Will Burns who dived for the lead at Agostini, but as soon as the move was made they were hit with a stop-go penalty for a short pitstop.
That left Halstead and Moore fighting for the lead and it wasn't long before Moore slid by and took the lead and went on to take the chequered flag.
Halstead put up a spirited fight but was unable to provent Chris Salkeld's #9 Century Motorsport's BMW from passing.
Alain Valente and Michael Benyahia's #3 Team Rocket RJN McLaren completed the podium and James Kell and Jordan Collard came home in fourth.
Burns/Burton recovered well to finish fifth ahead of the third team Rocket RJN McLaren in sixth and the Balfe Motorsport McLaren in seventh.
Halstead and Jamie Stanley's McLaren did finish in the top six but for a 40s post-race penalty for a pitstop infringement saw them drop down to eighth, but they still took the Pro-Am victory.
THE NEXT ROUNDS OF THE BRITISH GT CHAMPIONSHIP IS AT OULTON PARK ON SEPTEMBER 11-12.