It seems like if you were an employee of the F.I.A., which runs formula 1 as much as other racing series, you would be under a lot of tension, especially in the top tier of motorsports. Over the last few weeks, the Paris, France based unit has had many protests, on driving with an unsafe car, to becoming an unsafe driver.
However, the F.I.A themselves are facing the harshest decision on whether three teams are in violation of overspending costs that were supposed to be curtailed in a deal that was approved a few years ago.
Aston Martin, Red Bull Racing and Williams are in violation of this rule, and for some reason, the F.I.A. are going very slow to hand out the final verdict on either team to what penalties are going to be enforced on either of them.
Aston Martin for one, are in final discussions to come to a decision of more of a tax issue which could be solved very shortly. For Williams, the Grove, England, based unit already have been fined this past June of their financial breach of $ 25, 000 US Dollars and more could occur if they are found overspending again.
But the real issue is of Red Bull, who just won their second consecutive world drivers' championship with Max Verstappen, and their first constructor's title since 2013. The breach of regulations could be even more severe if it wasn't for the F.I.A. being too slow to react in what they need to finally decide.
Red Bull have already stated in their Twitter account that their 2021 cost cap limit was below what had to be spent and believe that they were disappointed with the findings of what the F.I.A have found. The verdict does not give Red Bull many fellow teams much support either.
McLaren CEO Zak Brown felt that this was "Cheating" and that penalties on Red Bull should be enforced, but what will these penalties be if the F.I.A. are taking so long?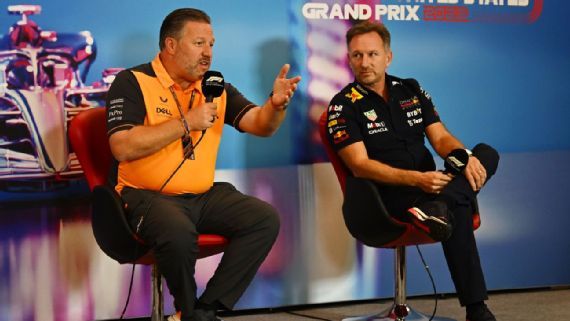 It can be explained very clearly and understood that the recent passing of Dietrich Mateschitz did delay the proceedings, but once they get underway again, what will the penalties be?
There are many guesses if you want to be precise, but the toughest one could come down to paying back the F.I.A what they overspent, to stripping either Verstappen or Red Bull of their titles that they have just won. If the 2021 title is to be taken from Verstappen, then it would be possibly noted that Lewis Hamilton could take his record breaking eighth title, would be very harsh to accomplish, especially if your victory would come by the other driver losing by default.
So, everyone will have to wait for the F.I.A. to decide what the outcome will be. And the way Red Bull has dominated the scene this season, it would be interesting to find out what could be lost or what others could gain. This will be the turning point of this sport, which has gained popularity and is the most watched form of motorsport in the world. It will also be whether the system can have success with the decision or do other things will have to change for the good of the sport that come with it.
By Mark Gero