BIKES/QUADS
Joan Berreda stays out in P1 and seems to be really enjoying the pace of this years rally . "It was another good stage. I started very far back because of my result yesterday, but that's the way it is in this Dakar, you're either at the front or far back. We need to keep it up. I've used three tyres so far. I think the one I used today is quite worn, but I was supposed to use it for three days, so it's not great news. But we'll see what we can do in the coming days." He said, in very windy conditions.
Danial Sanders took a tumble in the dunes but still finished very strong on the KTM Factory Team bike, with a P2 on stage 4.
The Rally Raid Husqvarna Racing team bikes ridden by the Frenchman "De Soultrait" is winning overall by 15 seconds from Berreda.
Stage ranking - Bikes :
1 - JOAN BARREDA BORT (MONSTER ENERGY HONDA TEAM 2021)
2 - DANIEL SANDERS (KTM FACTORY TEAM)
3 - LUCIANO BENAVIDES (ROCKSTAR ENERGY HUSQVARNA FACTORY RACING)
Stage ranking - Quads :
1 - MANUEL ANDUJAR (7240 TEAM)
2 - NICOLAS CAVIGLIASSO (DRAG'ON RALLY TEAM)
3 - ALEXANDRE GIROUD (TEAM GIROUD)
CARS
Nani Roma, team mate to Sebastien Loeb in the new Prodrive vehicle has changed co drivers, which is having some effect on his race performance.
Carlos Sainz had to fight hard to gain pressure time lost in stage 3 yesterday but the veteran driver knows a few tricks and is clawing back into the top of the list.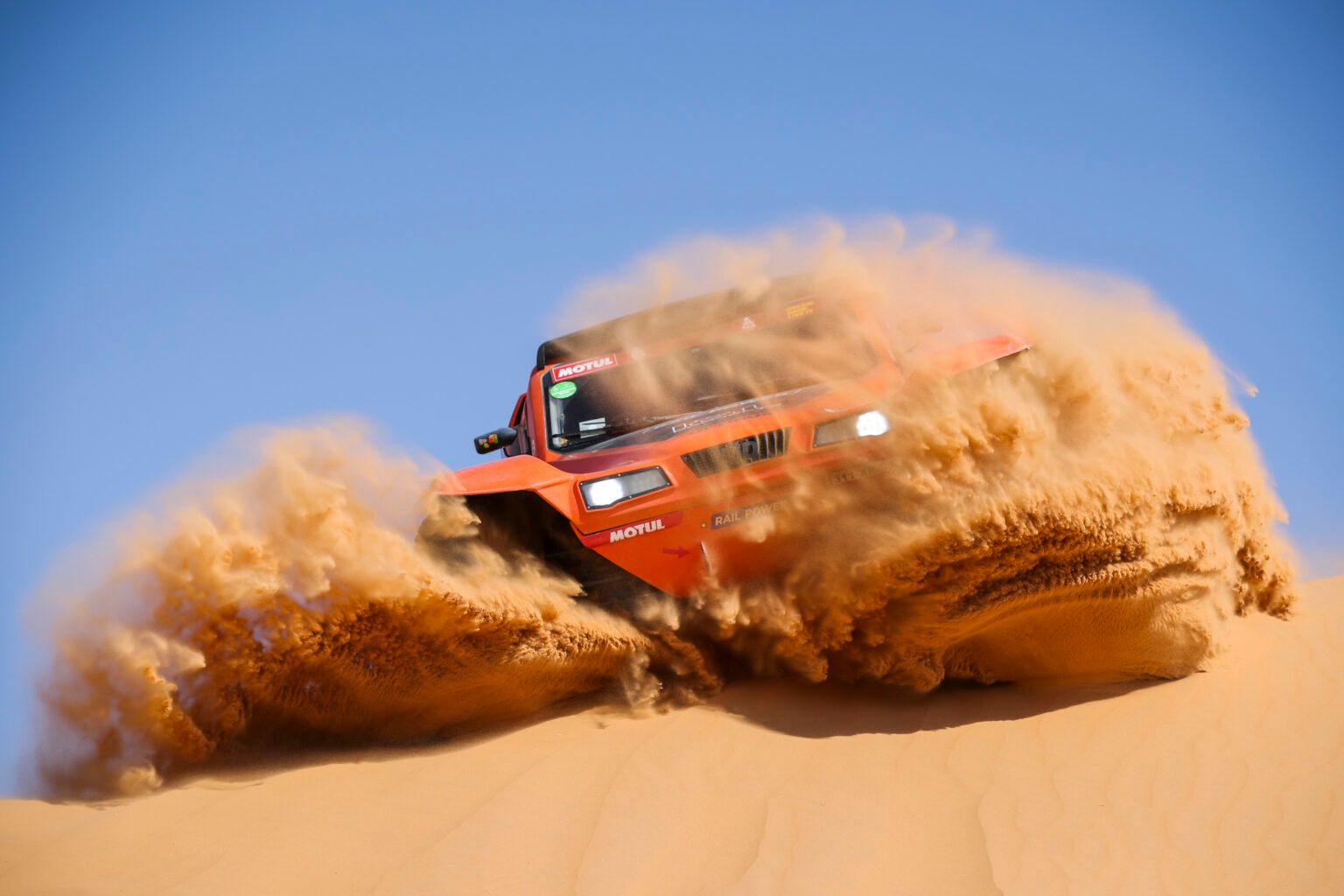 Stage ranking - Cars :
1 - NASSER AL-ATTIYAH / MATTHIEU BAUMEL (TOYOTA GAZOO RACING)
2 - STÉPHANE PETERHANSEL / EDOUARD BOULANGER (X-RAID MINI JCW TEAM)
3 - HENK LATEGAN / BRETT CUMMINGS (TOYOTA GAZOO RACING)
TRUCKS
Russia's Dmitry Sotnikov sailed through to yet another victory in stage 3 and to watch him fly past the bikers, like they were parked, really puts things in perspective as these huge vehicles race through the desert at breakneck speeds.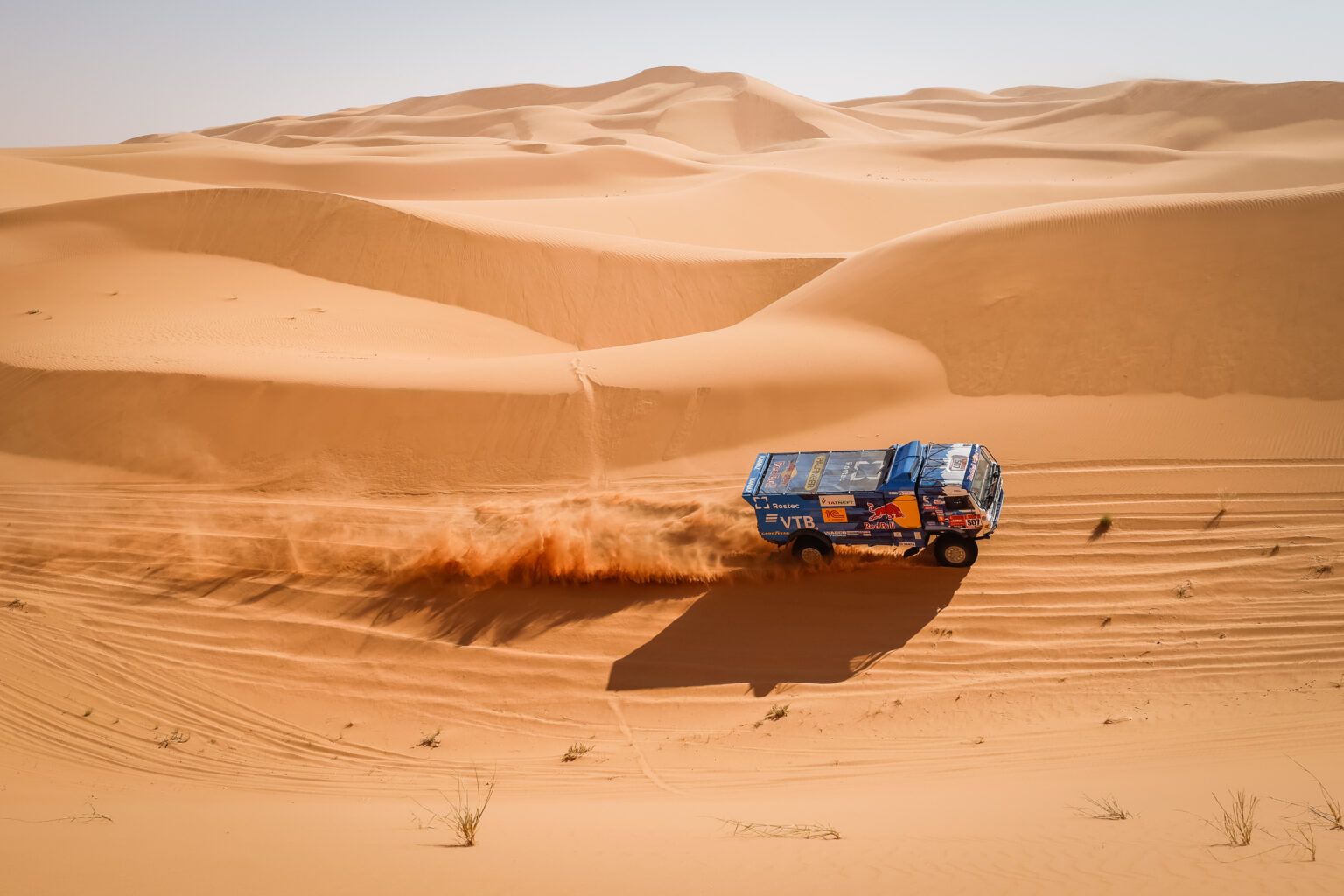 Stage ranking - Trucks :
1 - DMITRY SOTNIKOV / RUSLAN AKHMADEEV / ILGIZ AKHMETZIANOV (KAMAZ - MASTER )
2 - ANDREY KARGINOV / ANDREY MOKEEV / IGOR LEONOV (KAMAZ - MASTER )
3 - ALIAKSEI VISHNEUSKI / MAKSIM NOVIKAU / SIARHEI SACHUK (MAZ-SPORTAUTO)
DAKAR CLASSICS
30-odd vehicles are taking part in the inaugural edition of the Dakar Classic, a regularity race for cars and trucks from the 1980s and 1990s. From now on, the passionate fans of historic vehicles will be part of the adventure too, while new images of a spectacular Buggy Sunhill and genuine Range Rover V8s criss-crossing the desert will be a throwback to a bygone age.
We don't know about you but we all get a warm feeling to see a VW Beetle take part in such an amazing event. Good luck to these old timers.. !!!