29 March 2021, London: Saudi Arabia is set to host Extreme E's first ever race, the Desert X Prix, on April 3 and 4 at the breath-taking destination of AlUla. Organisers today revealed the reasons behind their choice to launch the first ever season of the series from Saudi Arabia, highlighting its aim to address global issues such as desertification and sustainability.
Alejandro Agag, Founder and CEO of Extreme E said: "Extreme E is a much anticipated racing series being launched to showcase the uncompromising ability of environmentally friendly technology to power automobiles across the most challenging terrains worldwide.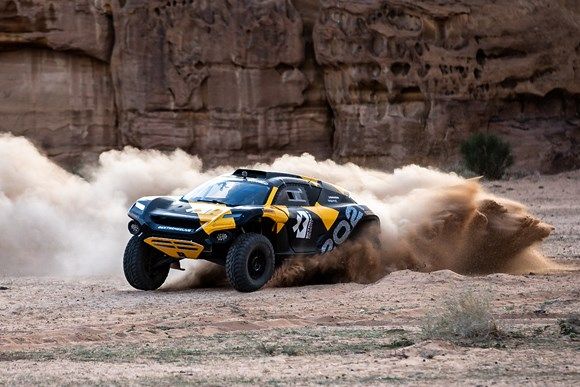 "We chose to organise our first ever race in AlUla, with the aim to shed light on the threats presented by desertification. The magnificent sand dunes and breath-taking views of AlUla will represent the perfect backdrop to showcase the exploits of the innovative engineering masterpieces and the world class driving capabilities taking part in the competition."
The upcoming race in AlUla will be Extreme E's first ever outing after years in the planning and will feature big name drivers including the likes of Jenson Button and Carlos Sainz amongst its field of world-class male and female competitors.
The leading objective of Extreme E is to highlight the climate change challenges faced by different ecosystems around the world, whilst showcasing the performance of all-electric SUVs in extreme conditions.
The impact of climate change, such as increasing temperatures and more frequent and longer periods of drought, alongside human actions such as deforestation, overgrazing, unsustainable water use and agricultural practices all contribute to the degradation of environments and productivity. This is desertification. Around 12 million hectares of productive land become barren every year as a result of desertification and drought alone.
Over the next few decades, the average water availability in some regions is projected to decrease by 10-30 per cent, meaning 2.4 billion people across the world will be living in areas subject to periods of intense water scarcity, displacing as many as 700 million people. Challenges exacerbated by climate change in the desert include water scarcity and potentially hundreds of millions of climate refugees.
Deserts are regions in which more water evaporates from the ground than is replaced by precipitation. They are characterised by extremely harsh conditions, scarce water and barren landscapes. Far from being wastelands, deserts are biologically rich ecosystems, with a vast array of plants and animals adapted to their harsh conditions.
As part of the commitments set by the Saudi Vision 2030, the country will seek to safeguard its environment by increasing the efficiency of waste management, establishing comprehensive recycling projects, reducing all types of pollution and fighting desertification. The country plans to promote the optimal use of water resources by reducing consumption and utilising treated and renewable water.
Prince Khalid Bin Sultan Al-Abdullah Al-Faisal, chairman of the Saudi Automobile and Motorcycle Federation (SAMF) who are organising the race with Extreme E, said: "Saudi Arabia is a country that has hosted desert rallies for more than half a century and is home of the world's largest continuous sand desert, so it presents the ideal setting for Extreme E to highlight challenges presented by desertification. The terrain in AlUla is stunning and unforgiving. There is no question that the winning combination of driver and machine will be a deserving one.
"Extreme E represents a natural partner for Saudi Arabia when it comes to raising awareness around the need to adopt environmentally friendly means of energy production. The Kingdom is placing significant resources to build its renewable energy sector as part of its Vision 2030 and as demonstrated by projects such as the forthcoming launch of the King Salman Renewable Energy Initiative."
Phillip Jones, Chief Management and Marketing Officer, Royal Commission for AlUla, said: "Anyone who has been to AlUla knows that it is a place of exceptional natural beauty and deep history with incredible landscapes. Visitors can explore ancients cities with elaborate monuments built out of sandstone mountains, visit our Old Town with its labyrinth of mudbrick houses or do an adventure or wellness activity in the oasis or desert.
"It's a truly special place and at the RCU we are focused on safeguarding the natural and cultural landscape, sustaining eco-systems and wildlife and developing light-touch tourism experiences that hero the landscape.
"Extreme E offers an invaluable opportunity to communicate the extraordinary heritage and cultural significance of AlUla as well as our efforts to future proof the destination for the enjoyment of future generations of visitors."
As part of Vision 2030, Saudi Arabia is also looking to build upon its impressive natural potential for solar and wind power. An initial target of generating 9.5 gigawatts of renewable energy by year 2030 was set and the King Salman Renewable Energy Initiative is a project that puts the country on track to achieve this goal. Saudi Arabia is looking to leverage the extensive expertise of Saudi companies in the Energy sector to make huge strides in this field and is providing all the necessary incentives for the private sector to offer its contribution in the field.
The Desert X Prix, AlUla, gets underway on Saturday April 3rd with the qualification rounds, and the final plays out 24 hours later. Extreme E X Prixs are not open to fans to attend in person, but qualifications will be shown live on the Extreme E website, with the live Finals aired on variety of broadcasters including ITV, BBC, BT Sport and Sky Sports in the UK, FOX Sports in the USA and Eurosport across Europe.
To learn more about Extreme E, visit - www.Extreme-E.com