• Victorian motoring icon to celebrate public freedom in symbolic style
• Unique Salvesen Steam Car to blow its top at Syon Park
• Lighting up the event's central 'Evolution of Design' theme
• Advance tickets on sale offering significant savings for those buying now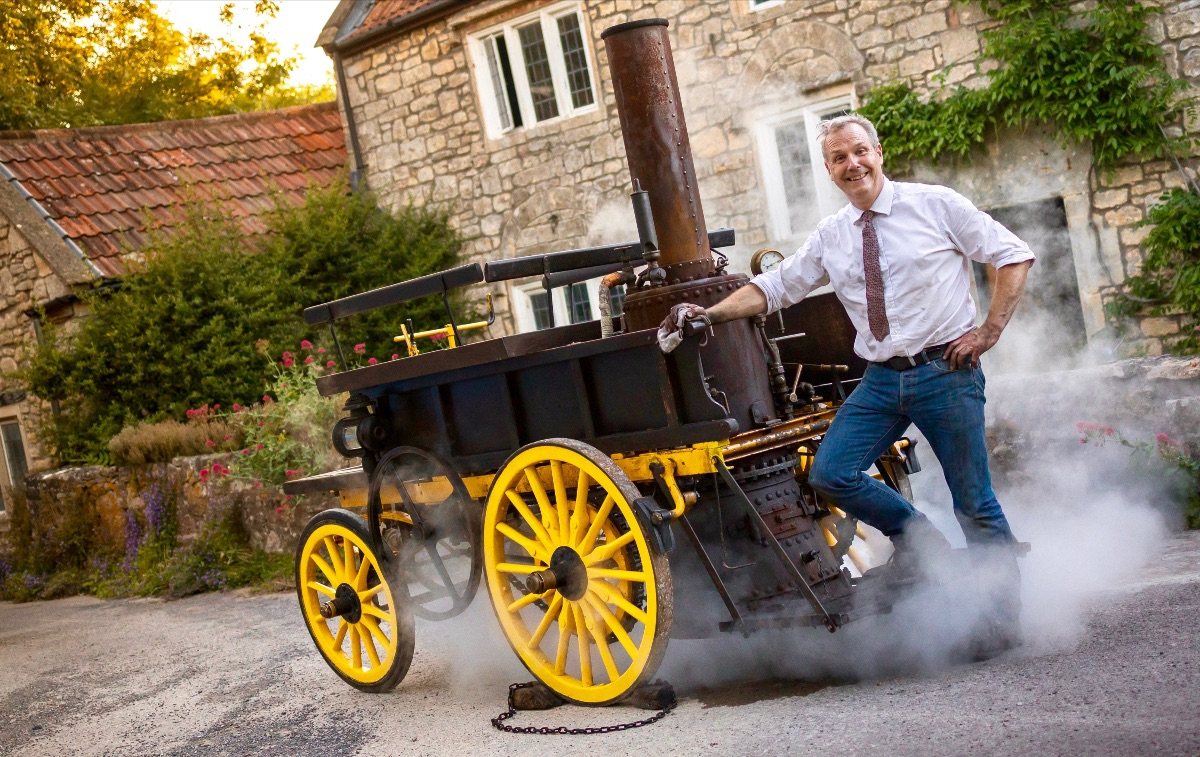 Coming just days after the planned lifting of all lockdown restrictions, The London Classic Car Show (25-27 June) will be the perfect opportunity for all those attending to let off a little steam… and none more so than Duncan Pittaway (photo below top), the renowned collector, restorer and racer of extraordinary vintage machinery.

To symbolise the occasion, Pittaway is bringing his astonishing 1893 Salvesen Steam Car to Syon Park for the capital city's premier celebration of car culture. Featuring a blazing coal-burning furnace, a high-pressure hot water boiler, solid iron tyres, a tall smoking chimney and ear-piercing tooting steam whistle, the utterly unique and rarely seen Salvesen is basically an early steam railway locomotive adapted for driving on the open road.

"It's the only car I know that can simultaneously toast waffles and brew tea," joked Pittaway, who is promising to fire up his mind-blowing Victorian artefact to the certain delight and astonishment of all those attending the eagerly anticipated three-day event in its new, open air Thames-side venue.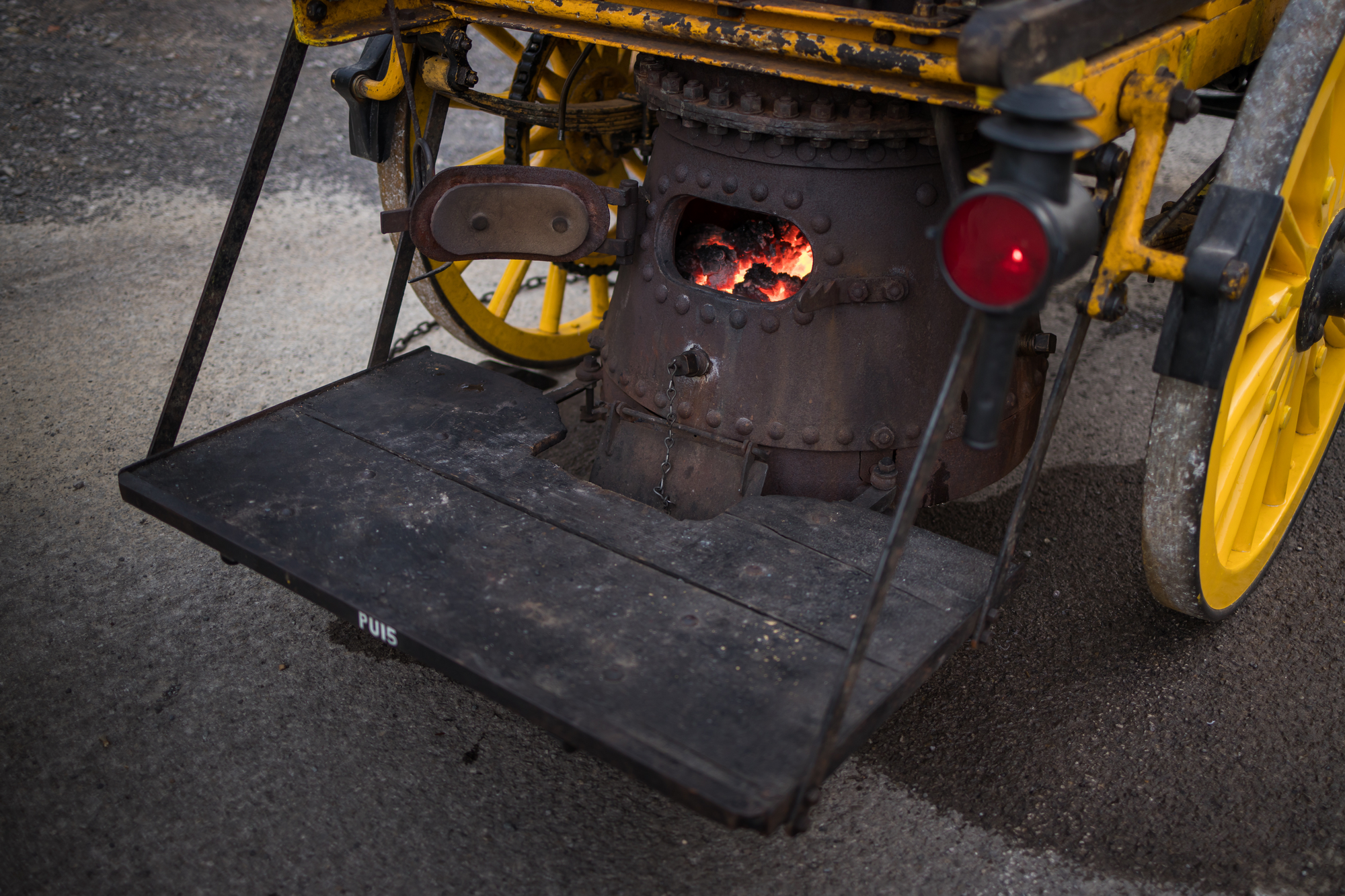 "We'll be letting off lots of steam," promised the whole-hearted Pittaway. "Like so many others, I'm bursting with pent up enthusiasm and am really excited to be coming to The London Classic Car Show. Even more so as I'll be displaying the wondrous Salvesen – it never fails to amuse and amaze onlookers of all ages."

The crowd-pleasing steamer will be one of many automotive icons featured under the London show's evocative 'The Evolution of Design' central theme. This will take visitors on a magical journey through 135 years of automotive innovation from early pioneers – such as the fiery Salvesen – right up to the latest supercars, the classics of tomorrow.

"The Salvesen is a real automotive treasure and seldom seen away from the annual London to Brighton Veteran Car Run, so we are absolutely thrilled that it will be intriguing and entertaining visitors at The London Classic Car Show," enthused Mark Woolley, Show Director.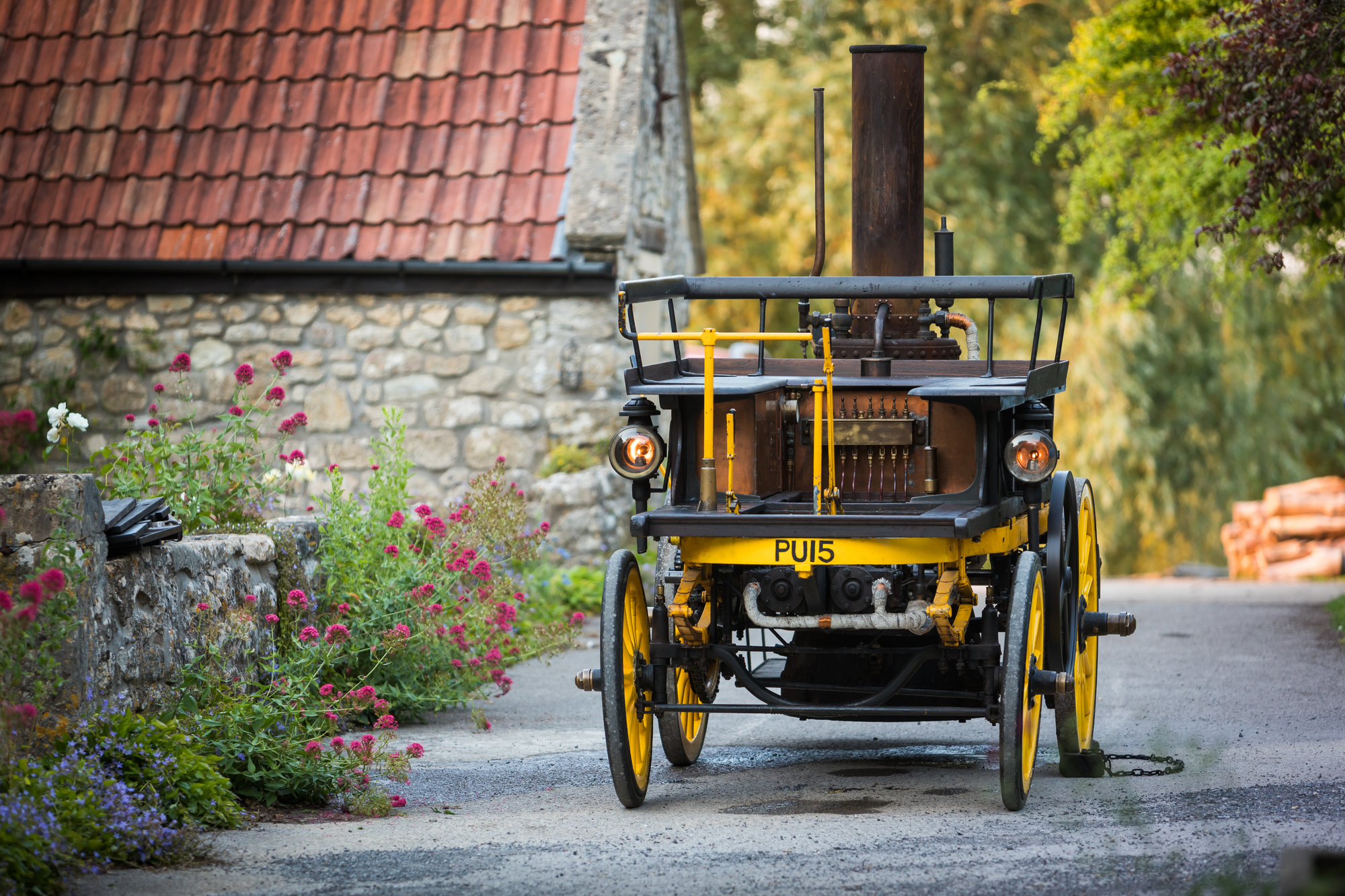 "With the Prime Minister's road map lifting all protocols on 21 June, the show is perfectly timed for all those seeking to enjoy their new-found freedom. To have the Salvesen, quite literally, letting off steam will be very appropriate celebration."

Dating back to the dawn of motoring, the head-turning curiosity was the very first car built in Scotland. It was designed and constructed by Henry Salvesen, son of shipping and transport tycoon Christian Salvesen.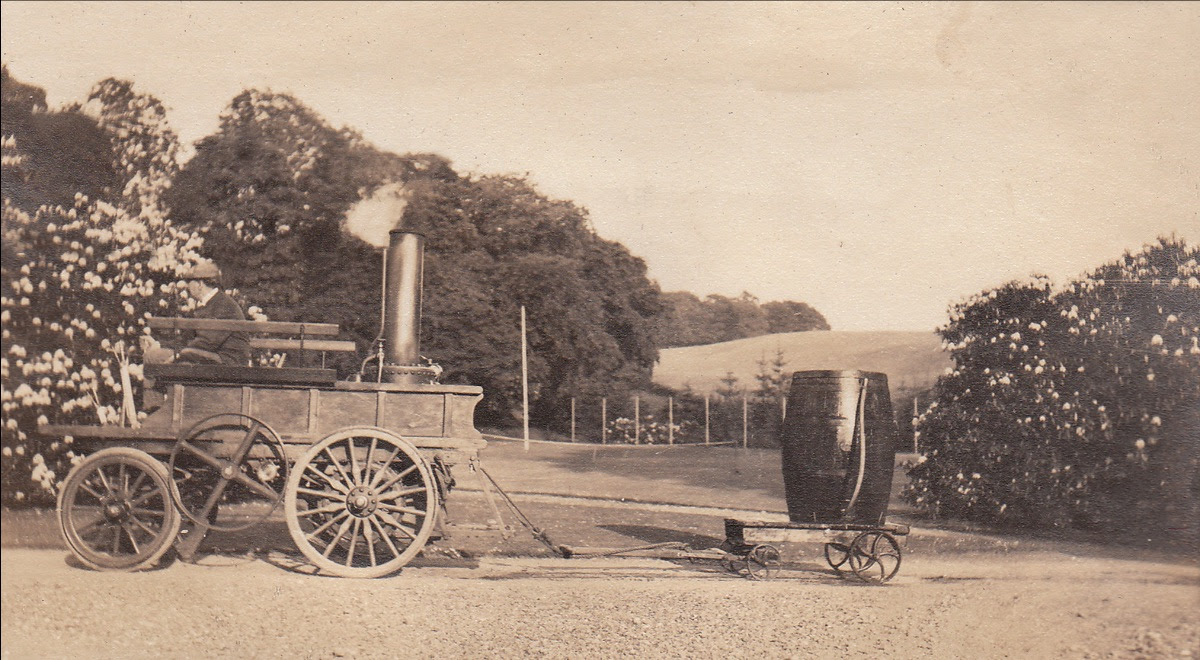 Taking a lead from his family's ships, Henry chose coal fired steam as the well-proven source of propulsion for his new-fangled vehicle. Coal after all was in plentiful supply while fuel sources were limited for the petrol engines being developed overseas.

At first, Henry only drove his novel wagonette bodied creation in the safety of the family estate (photo below middle towing a whisky barrel) but, after improving his original design by fitting a Daimler front axle complete with solid rubber tyres in 1896, he started to venture onto the road for short journeys with friends and family. Nevertheless, the very rapid development of petrol engines proved that coal fired steam certainly wasn't the automotive future, thus rendering Henry's design obsolete after the construction of only the one example. Now, nearly 130 years later, Pittaway is just the fourth owner... or rather 'custodian' in his words.
When fully stoked-up the remarkable Salvesen can muster a heady top speed of 16mph with the twin-cylinder engine developing around 10 horsepower by boiling off five gallons of water every mile. Fitted with a 40-gallon tank, that provides a range of eight miles between fill ups.

As well as seating for the driver plus four passengers on two self-facing benches, there's room for a couple of bags of coal plus a standing fireman on a rear platform. The rudimentary transmission offers two gears ­– described by Pittaway as 'slow and very slow' – but with tiller steering, wooden block brakes and candlelit headlights, faster speeds are hardly advisable.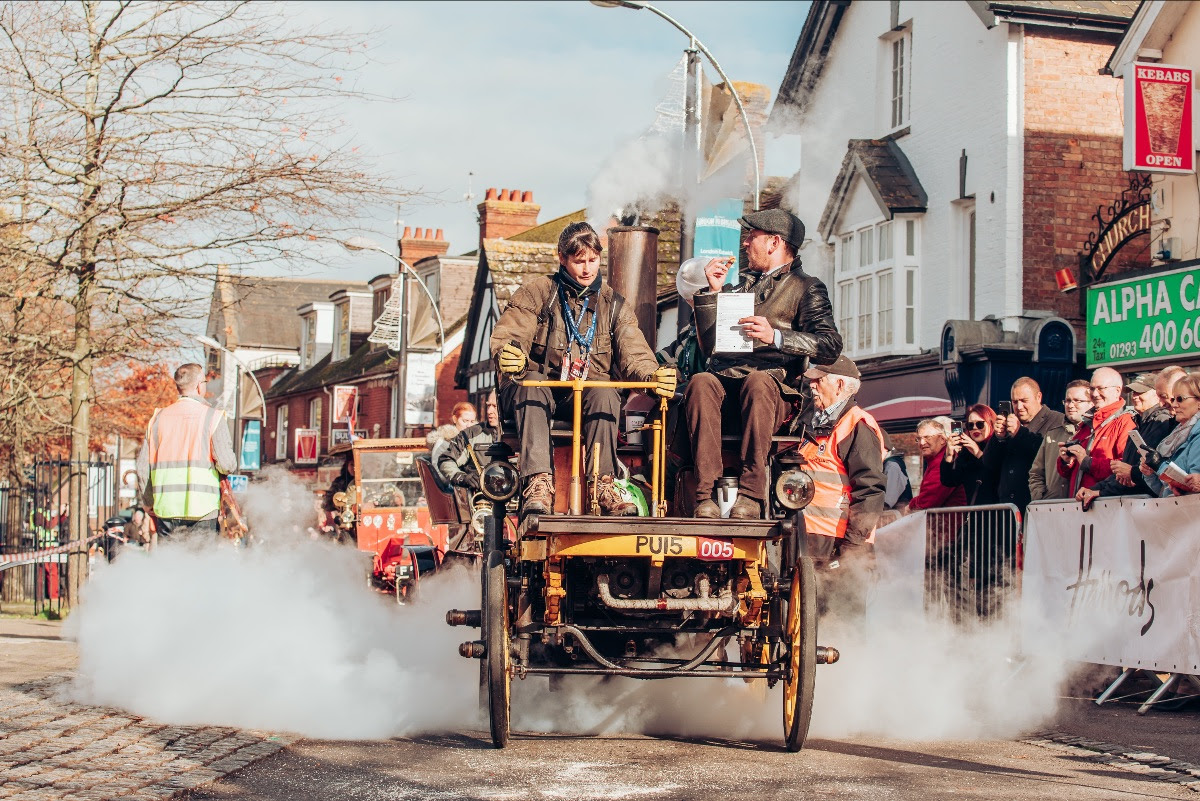 Come the first weekend after the lifting of restrictions, the one-off Salvesen Steamer will be joined by hundreds of equally alluring classic cars all glistening in the summer sunshine at picturesque Syon Park. Other confirmed displays include a special homage to mark the centenary of the legendary Bugatti Brescia as well as an equally evocative tribute to 60 years of the stunning E-type Jaguar.

As in 2020, when the show was staged indoors at Olympia during February, adult admission is available in advance from £25 (£30 on the day) with a limited number of Premium upgrades also on offer.

Providing further reassurance for all ticket buyers, full refunds (excluding booking and transaction fees) will still be offered should the show be cancelled as a result of Covid-19.


Photo credits: RM Sotheby's London to Brighton Veteran Car Run and Stefan Marjoram,