SPA-FRANCHORCHAMPS, Belgium—Max Verstappen began Sunday's Belgian Grand Prix from 14th place, moved up to 7thby the same number of laps, passed Ferrari's Carlos Sainz Jr. on lap 18 and led Red Bull Racing to a 1-2 placing, finishing just over 17 seconds ahead of teammate Sergio Perez with Sainz Jr. just finishing ahead of Mercedes George Russell for third.
The victory is the ninth of the season for the Dutchman, who finds himself 93 points ahead of the second Ferrari of Charles Leclerc, who finished fifth, but was relegated to sixth, when the Monegasque was penalized late in the race for speeding in the pit lane.
"It was quite a hectic first lap to try and stay out of trouble." Said Verstappen afterwards. "So many things were happening in front of me, picked the right places to pass people, looked after out tyres and that's how we made our way forward and once we were in the lead, it was all about managing everything but this whole weekend has been incredible."
One safety car period occurred when Alpine's Fernando Alonso was struck by the Mercedes of Lewis Hamilton coming out of Les Combes on the opening lap, lifting Hamilton off the ground. Both cars continued, but the Briton suffered damage in the undercarriage of his car, forcing him to pull off the circuit at Blanchimont. Just one lap later, nearly at the same location, Williams Nicholas Latifi spun and struck the rear left side of Alfa Romeo's Valtteri Bottas, giving the Finn a horrible birthday present, and retiring him from the race as the car sat beached in the gravel.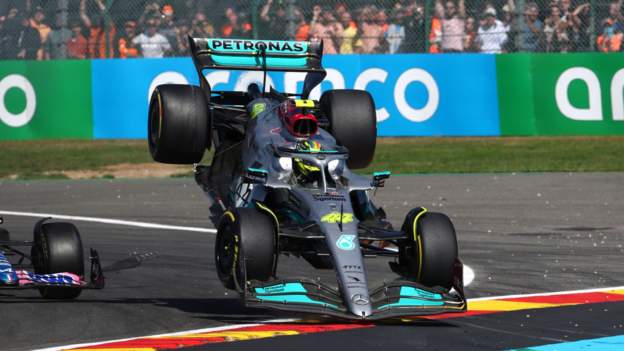 With such a wide circuit, many passes occurred during the 44-lap race, with Alpine recording a double points finish along with Red Bull. The French team placed Alonso fifth and Esteban Ocon in seventh, respectively, moving them further ahead of McLaren in the fight for fourth in the constructor's championship. In his final Belgian Grand Prix, Aston Martin's Sebastian Vettel took eighth, with Alpha Tauri's Pierre Gasly ninth. Williams had a great day, not with Latifi, but with his teammate, Alex Albon, who had a great car fastest in a straight line and was rewarded with the final point in tenth
With next week's race being at Verstappen's home ground at Zandvoort, Red Bull Racing in addition has a 116-point lead in the constructor' championship. With still eight races remaining, it could be very soon when Verstappen will take his second world driving championship, unless Ferrari can change things around soon. Booking favorites had Verstappen to win this race, but the Dutchman himself was not expecting it to be like this. And with his home race coming up, it seems that nothing will change.
"It's been a weekend I couldn't have imagined before," Verstappen continued, "But I think we want more of them and we'll keep working hard. Of course, I am going to enjoy today and then next week' we''ll see what we can do."
By Mark Gero