ZANDVOORT, The Netherlands—Max Verstappen took advantage of a last-minute safety car situation to pass Lewis Hamilton with 12 laps to go to take his 10th victory of the season Sunday at the Dutch Grand Prix. George Russell in the Mercedes was second, with Ferrari's Charles Leclerc finishing in third.
"Yeah, it was not a straight forward race but we had to push the whole race, of course with the virtual safety car making the right calls, it's always a bit of a question mark but it worked out really well once we got back to the soft tyres. We had great pace again." Said Verstappen.
Verstappen had an excellent start and lead until the first round of pitstops, where Alpine driver Fernando Alonso began a trend by putting on hard tyres and many others followed. Verstappen lost his lead to Hamilton as the Dutchman took advantage following a virtual safety car period when Alpha Tauri's Yuki Tsunoda parked his car on lap 48. Hamilton pitted soon afterwards, and many realized that the Briton had the fresher tyres and could close in on Verstappen, who had weaker rubber after pitting earlier.
But that all changed on lap 51, when the second and final retirement of the race occurred, when Alfa Romeo's Valtteri Bottas pulled his car to the side of the main straight, setting up the only safety car period of the race. Once again, the drivers pulled into the pits for this time, soft tyres, but Hamilton decided to stay out, and this costed him the chance for his first win of the season.
When the restart occurred with 12 laps to go, Hamilton was quickly passed by Verstappen, followed by teammate Russell and Leclerc. All three of them came into the pits for softs and quickly took advantage of the situation, leaving Hamilton no chance but to end up finishing in fourth.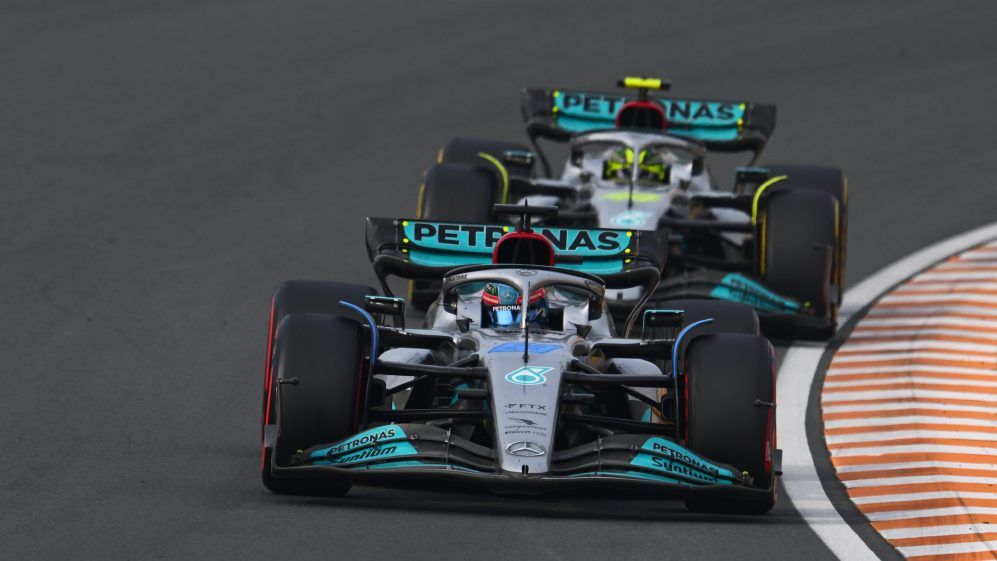 "Before that safety car I thought it was ok to the end with the hard tyres even though we were a bit slower but then of course the safety car came out." Continued Verstappen. "I had a good run in the restart we had a bit more top speed and that helps to attack into turn 1 and from there onwards we had really good balance in the car again."
Red Bull's other driver, Sergio Perez, finished in fifth, but Carlos Sainz in his Ferrari had an awful day. First, the Spaniard had a slow pit stop on lap 15, when the rear left tyre fitter was not present, pushing him from third to 11th. However, only laps from the finish, Sainz was penalized for an unsafe release, when his Ferrari came out unexpectedly in front of Alonso in the pit lane. Sainz ended up eighth.
Alpine though, achieved double points for the second race in a row with Alonso ending up in sixth and Esteban Ocon ninth. McLaren's Lando Norris was seventh, and Aston Martin's Lance Stroll finished in tenth.
Verstappen now leads the world driver's championship by 109 points over Leclerc and his Red Bull squad lead Ferrari by 135 for the constructor's title. But for Verstappen, it is his second win in a row on his home circuit.
"It's always special to win your home grand prix," He concluded. "This year I had to work for it even more, an incredible weekend and really happy we got the Dutch grand prix."
By Mark Gero