When I first got into Motorsport, as a business, I dealt with the Suppliers to the industry. PMW was the biggest professional Motorsports Expo and Magazine in Europe and attracted all sorts of suppliers from all over the world. From safety equipment like Helmets and Clothing to Powertrain and Performance products from giants like AVL and Cosworth.
I've pitched, met, spoken, booked, worked and partied with hundreds of people from many companies in Europe, America and the UAE and discovered that the Motorsport industry, including the suppliers, are a passionate bunch, hard working, happy and great to work with.
But, every now and then, you come across a company that seems to stand out and simply shine above their competitors.
The Pitlane News Motorsport Suppliers page, was created to basically offer extra marketing assistance and media exposure, to those companies that have been hit quite hard over this covid crisis, and with the every growing PLN news platform, we have a great place to advertise their products and services.
We don't just allow anyone to participate though... We offer "exclusivity" to 3 areas of the UK. The North, the Midlands and the South of the UK, and country specific in Europe.

AND, we need to make sure that the "suppliers" we work with, are the best possible, as we want to make sure that we're recommending services of the best quality to our followers/audience.  Naturally...   ;)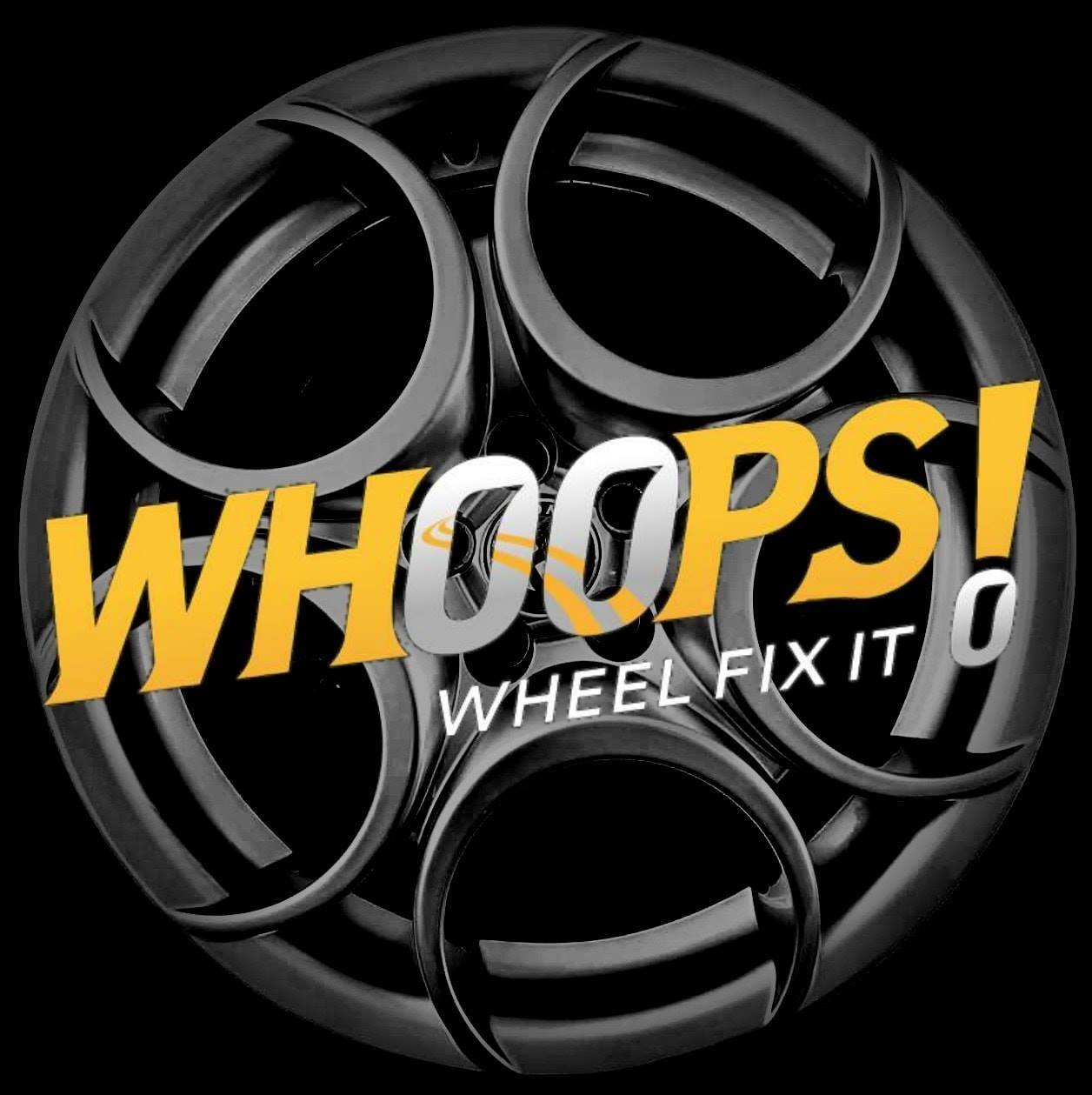 I searched "high and low" for numerous "Alloy Wheel" refurbishment companies that could offer the "best of the best" for the Pitlane News audience.  And,  after 4 months of searching,  and especially after our first meeting......  I KNEW I'd discovered a rather special company.
Whoops Wheel Fix It ,not only have an amazing workshop, with "state of the art" equipment, something we will be focussing on with another technical article in the near future, but they are a "close knit" company with 3 Directors , 2 of which are twin Brothers Mark and Simon Furneaux plus Adam Charalambous ,and a skilled team of workers, each with their own "on screen" personality.  Which you will find out for yourselves if you happen across their instagram profile.  Very entertaining and mildly addictive.  Plus, they ALL are mad about music, so I knew we'd get on very well...
MOTORSPORT WHEEL REFURBISHMENTS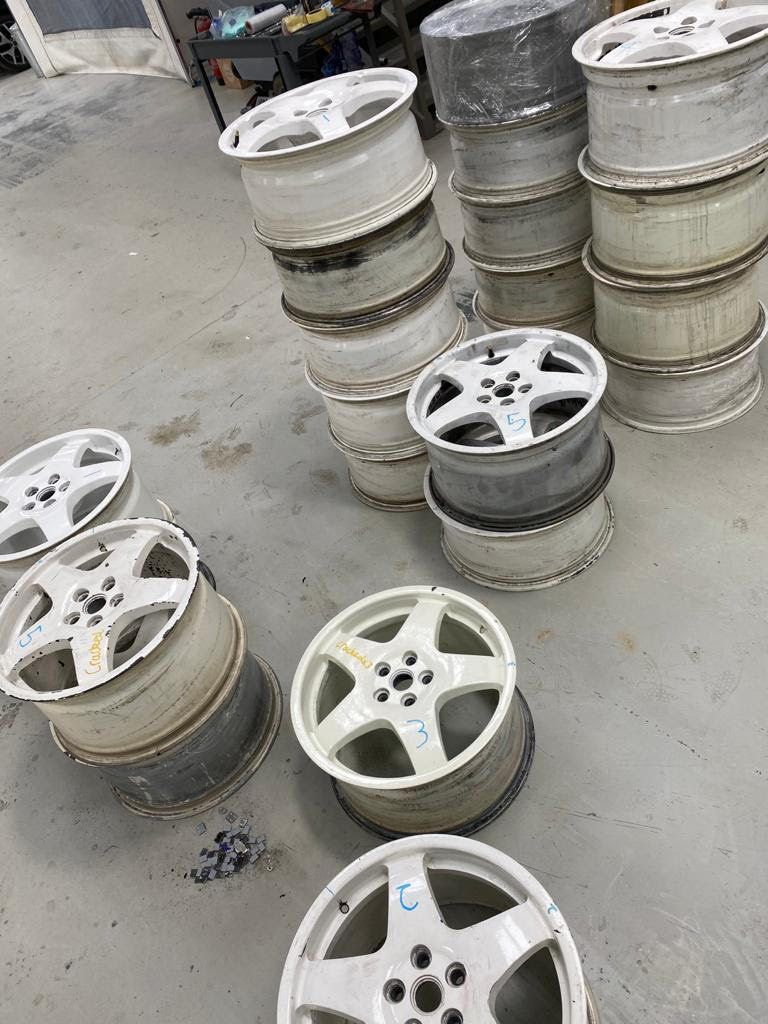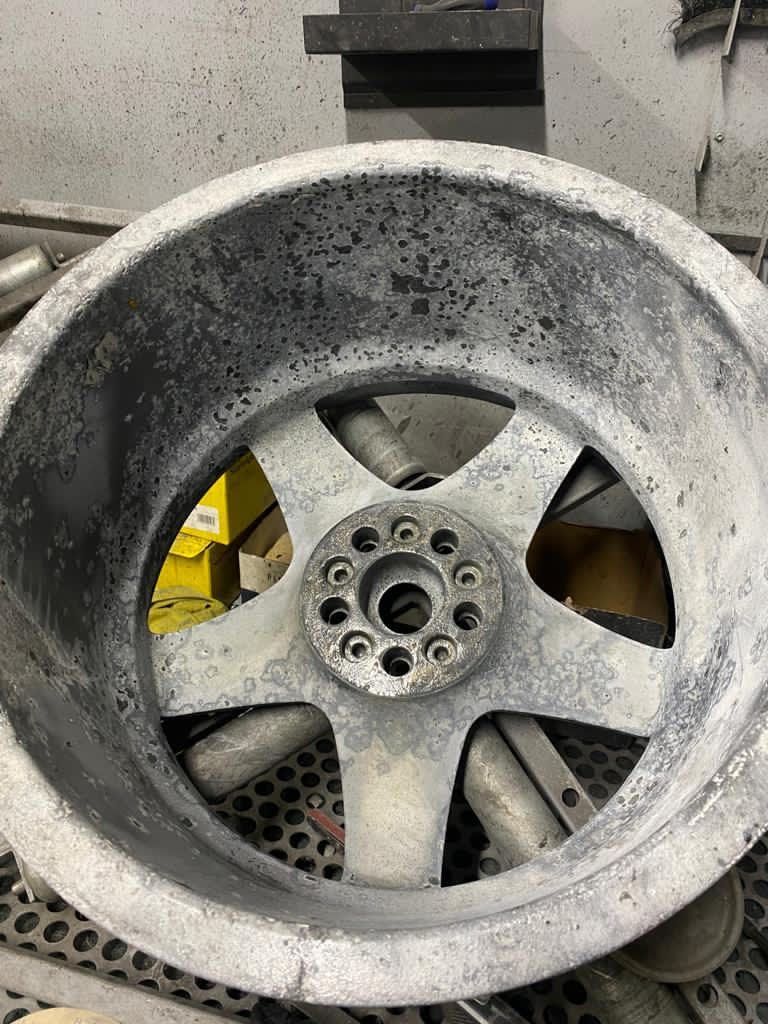 These are how 25 Ferrari racing wheels were delivered. Some in worst states than others but with an efficiently run "conveyer belt" of damage control tests, straightening and support processes to clear, then the chemical "sheep dips" and undercoating treatment, they were ready for the final painting process using the biggest and most impressive wheel "conveyer belt" I've ever seen in my life.  They make it look so easy and effortless but , to get such amazing results takes years of practice, great team work and some fancy equipment. ALL of which these guys have..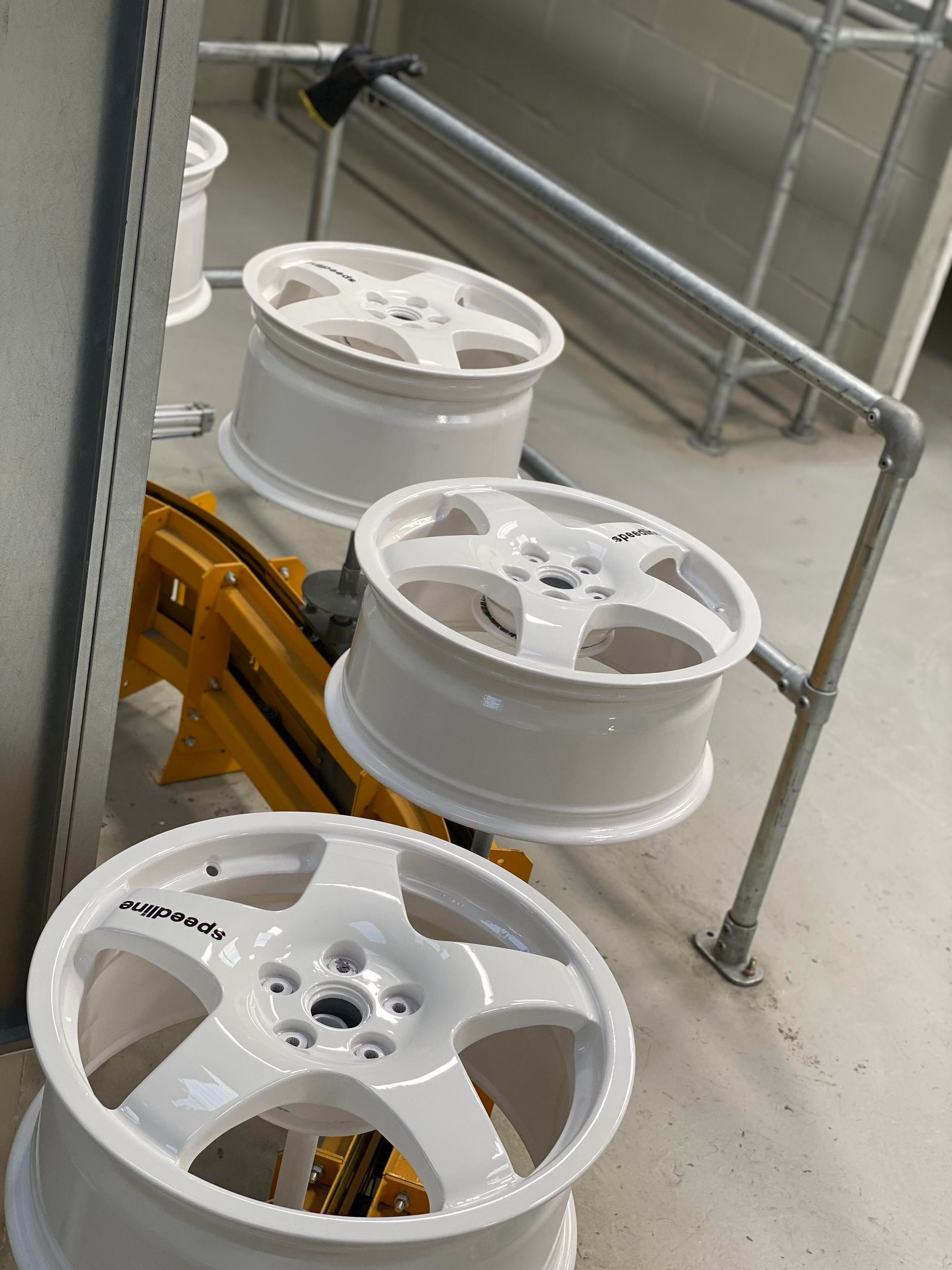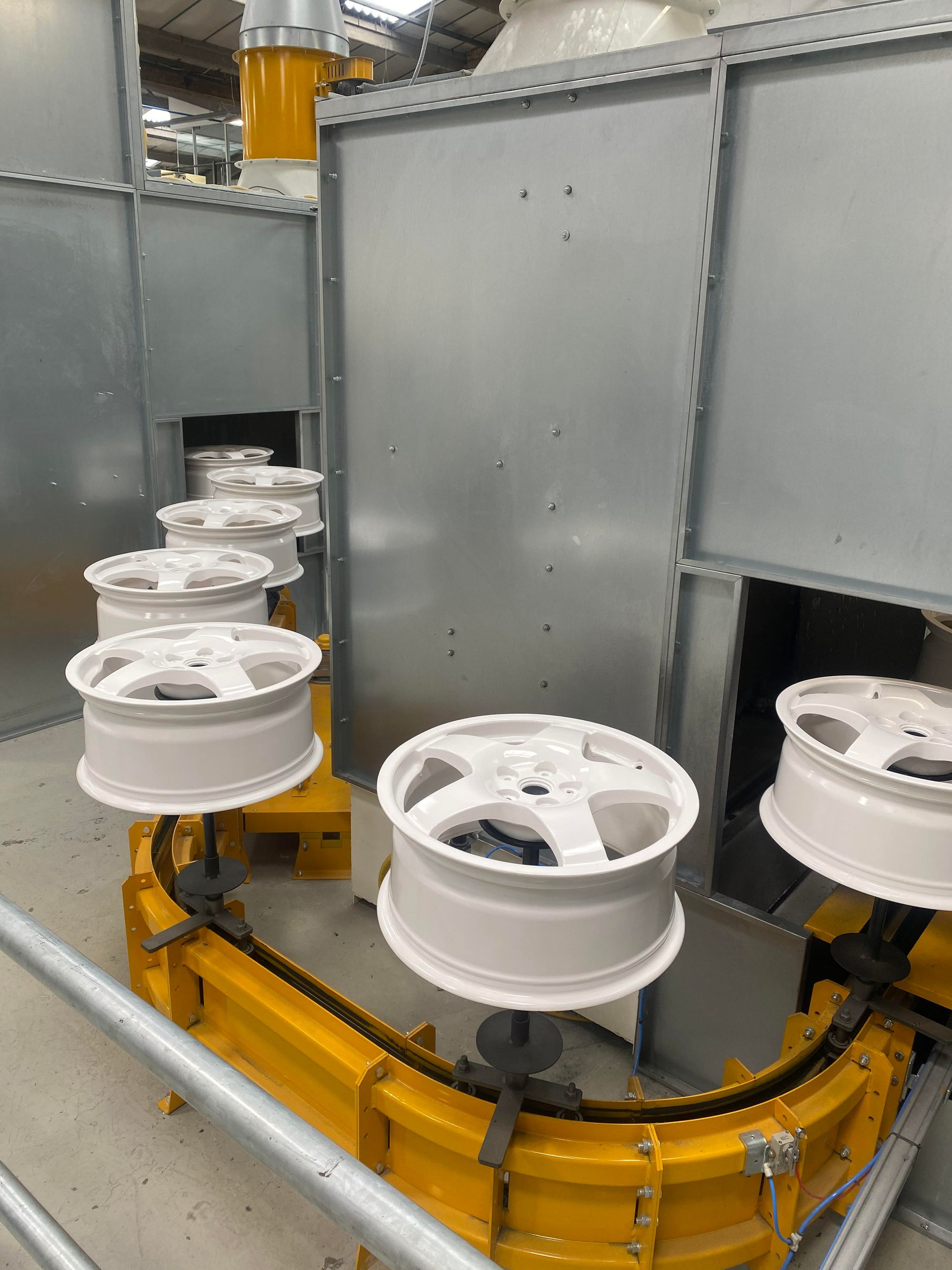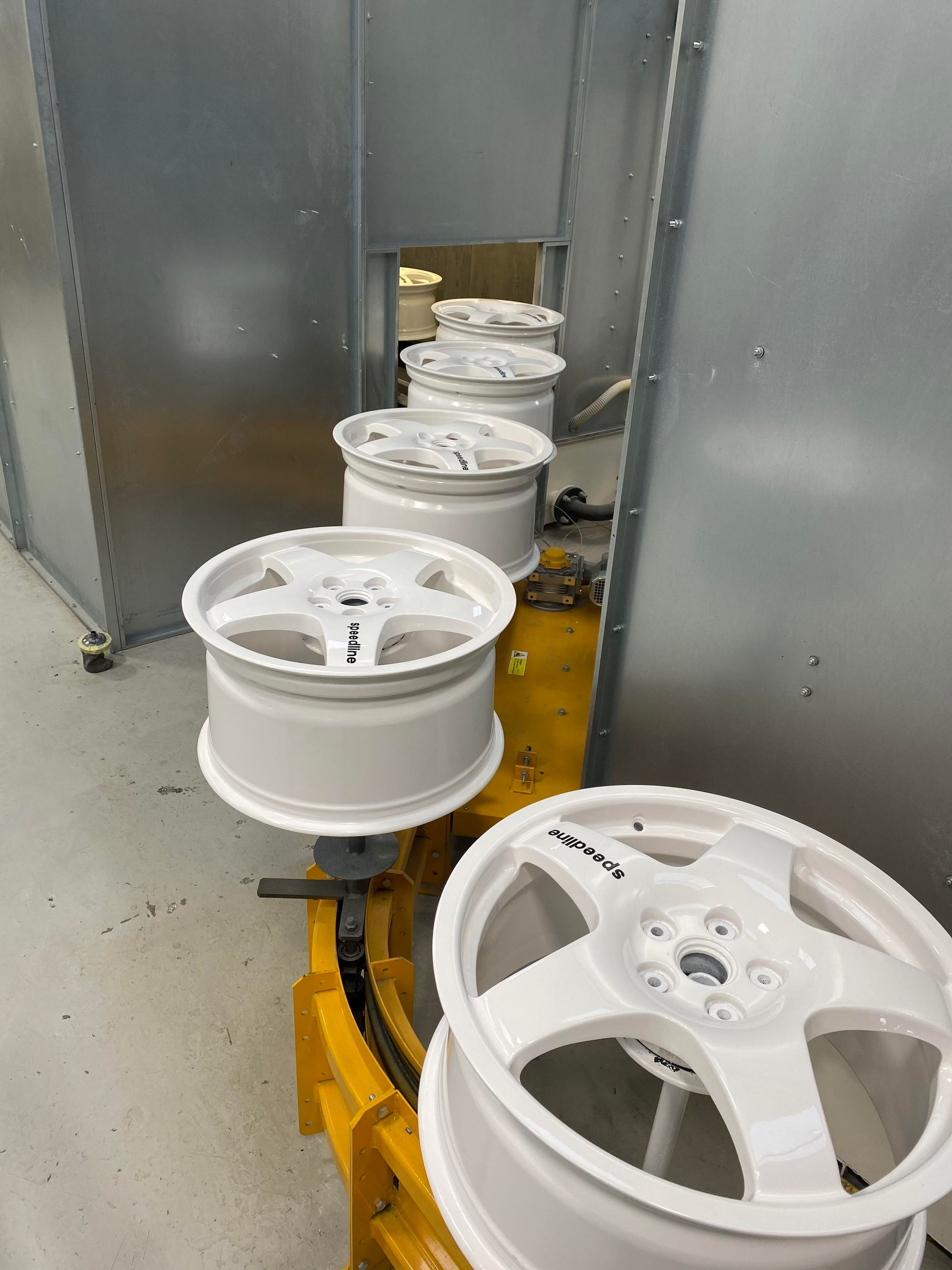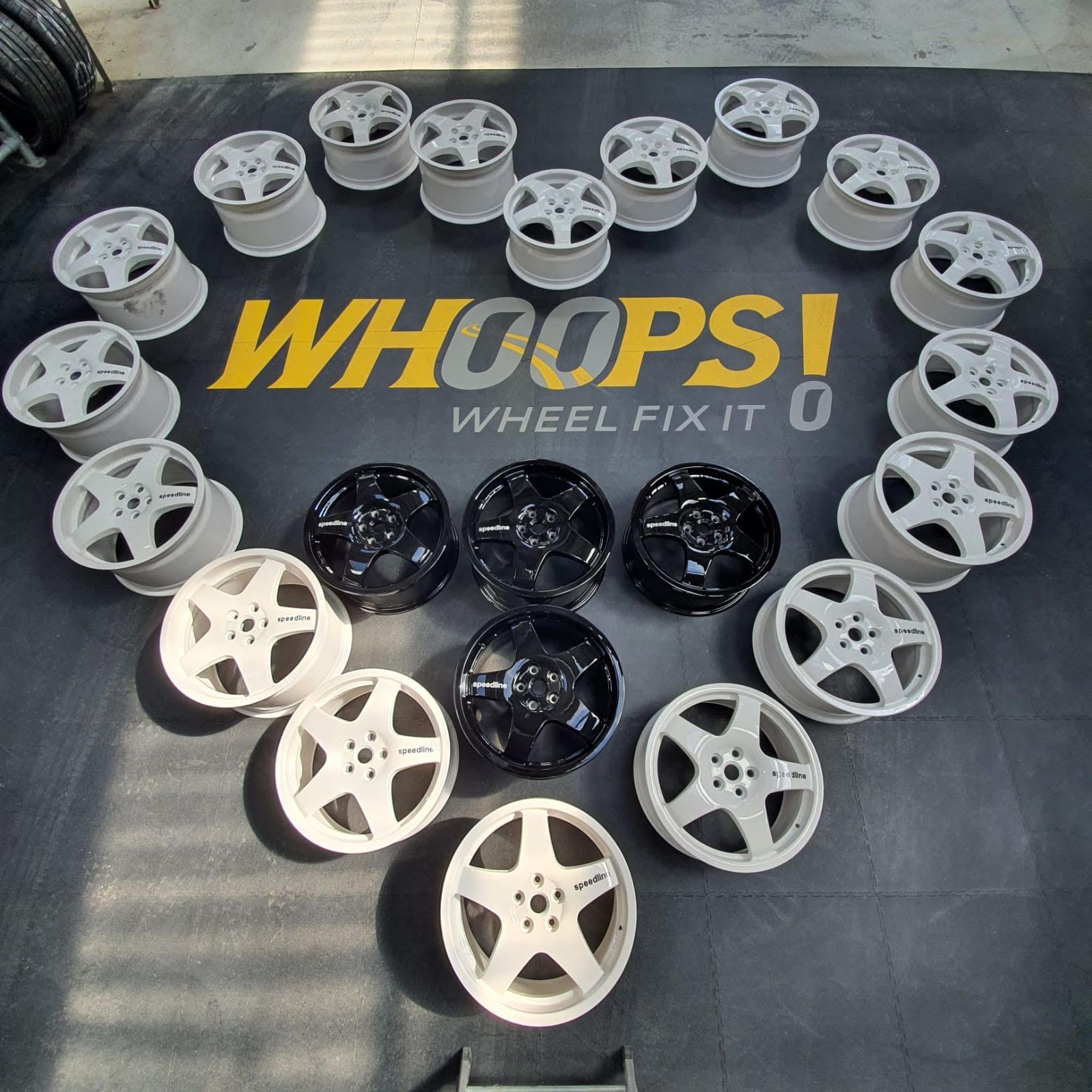 NON MOTORSPORT WHEEL REFURBS
And finally, we can show the work they did on the "Pitlane News" staff cars..  too, which we are VERY, VERY pleased with..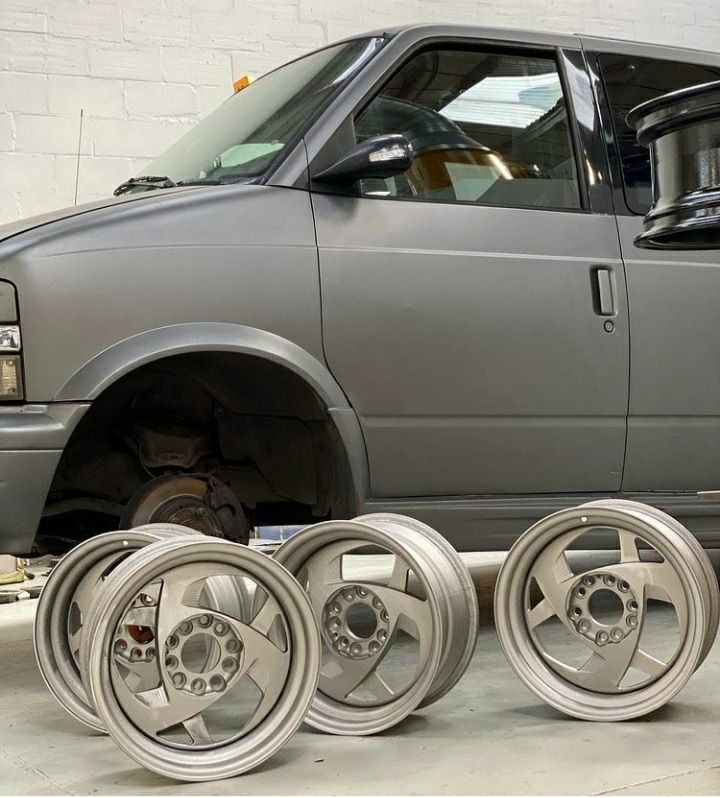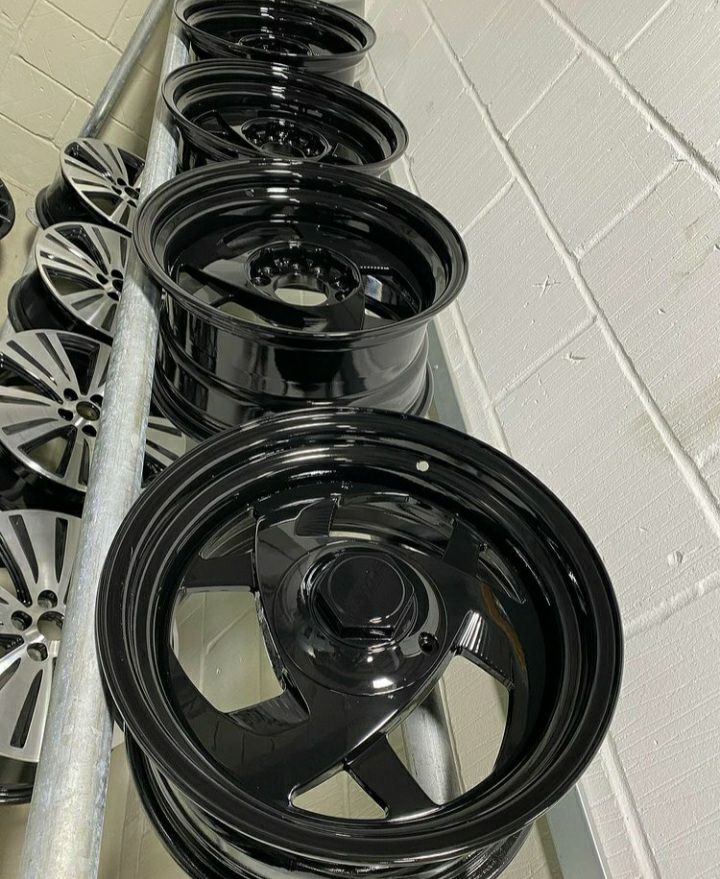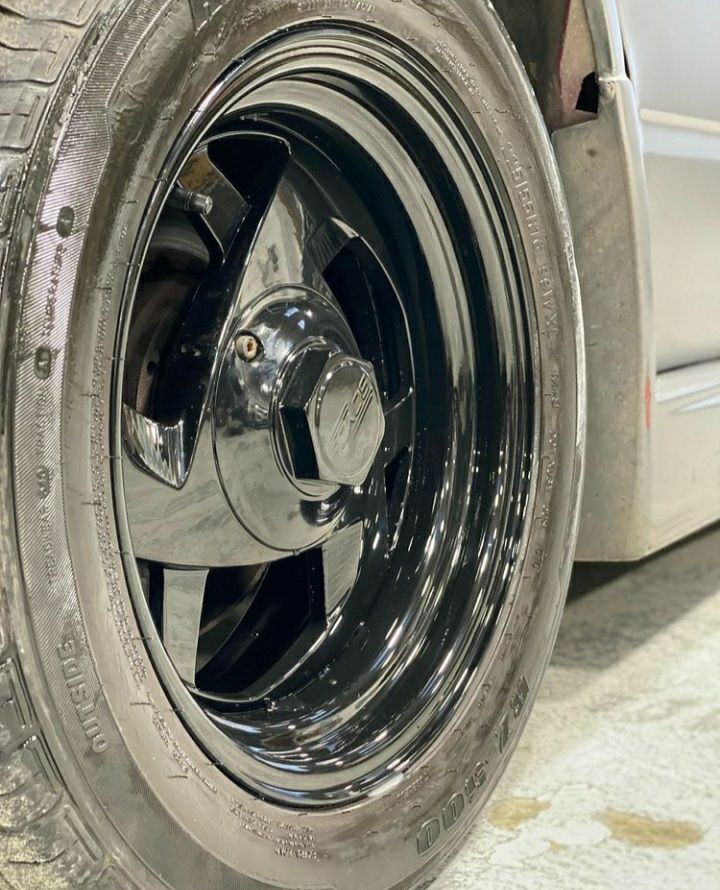 Not ONLY did Whoops refurb the F Type Wheels, they kindly resprayed the bonnet as well, and wouldn't take payment, after a few issues were discovered after a jet spray clean. Turned out the previous paint job wasn't a factory one but now, its a whole new car.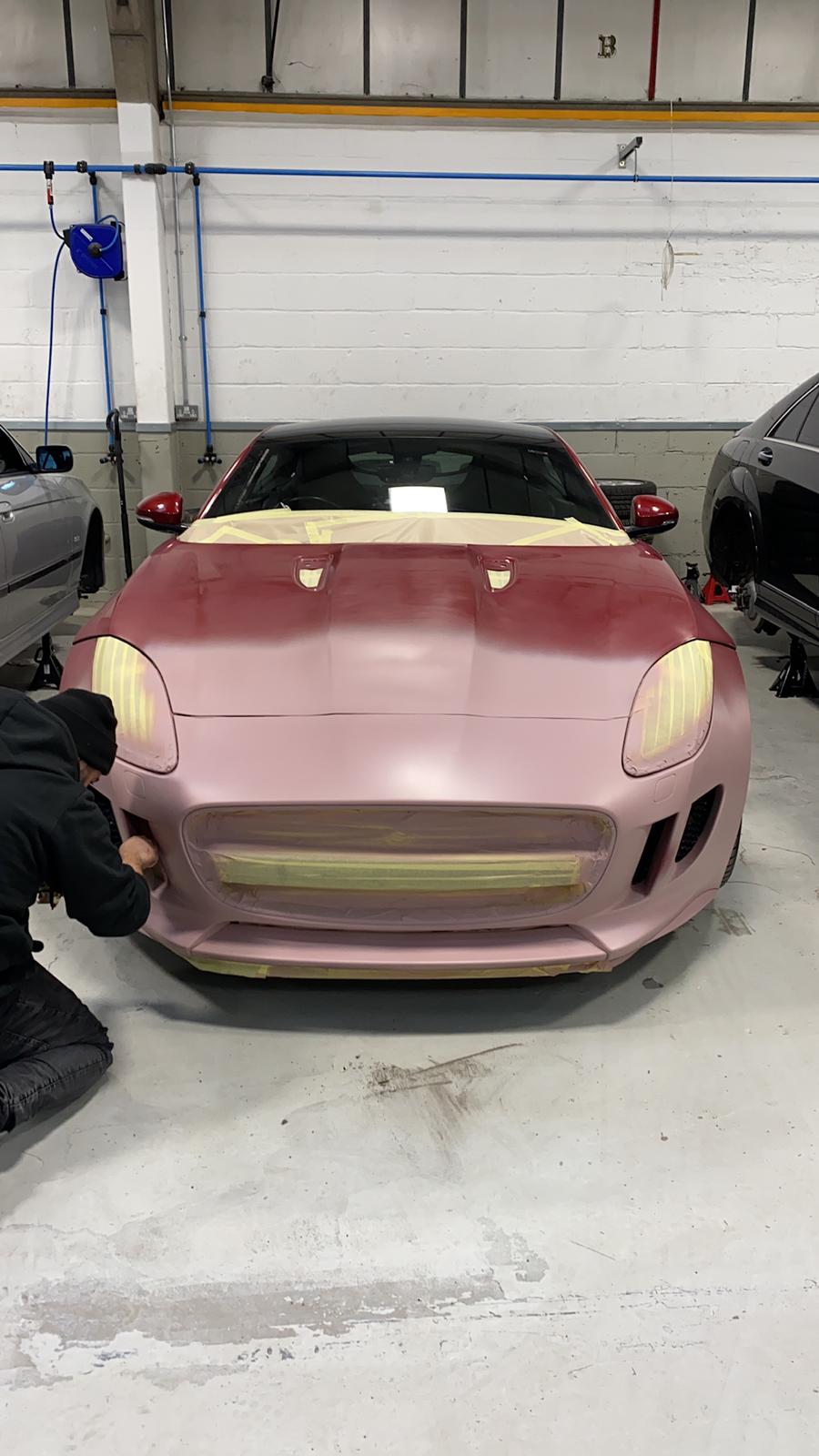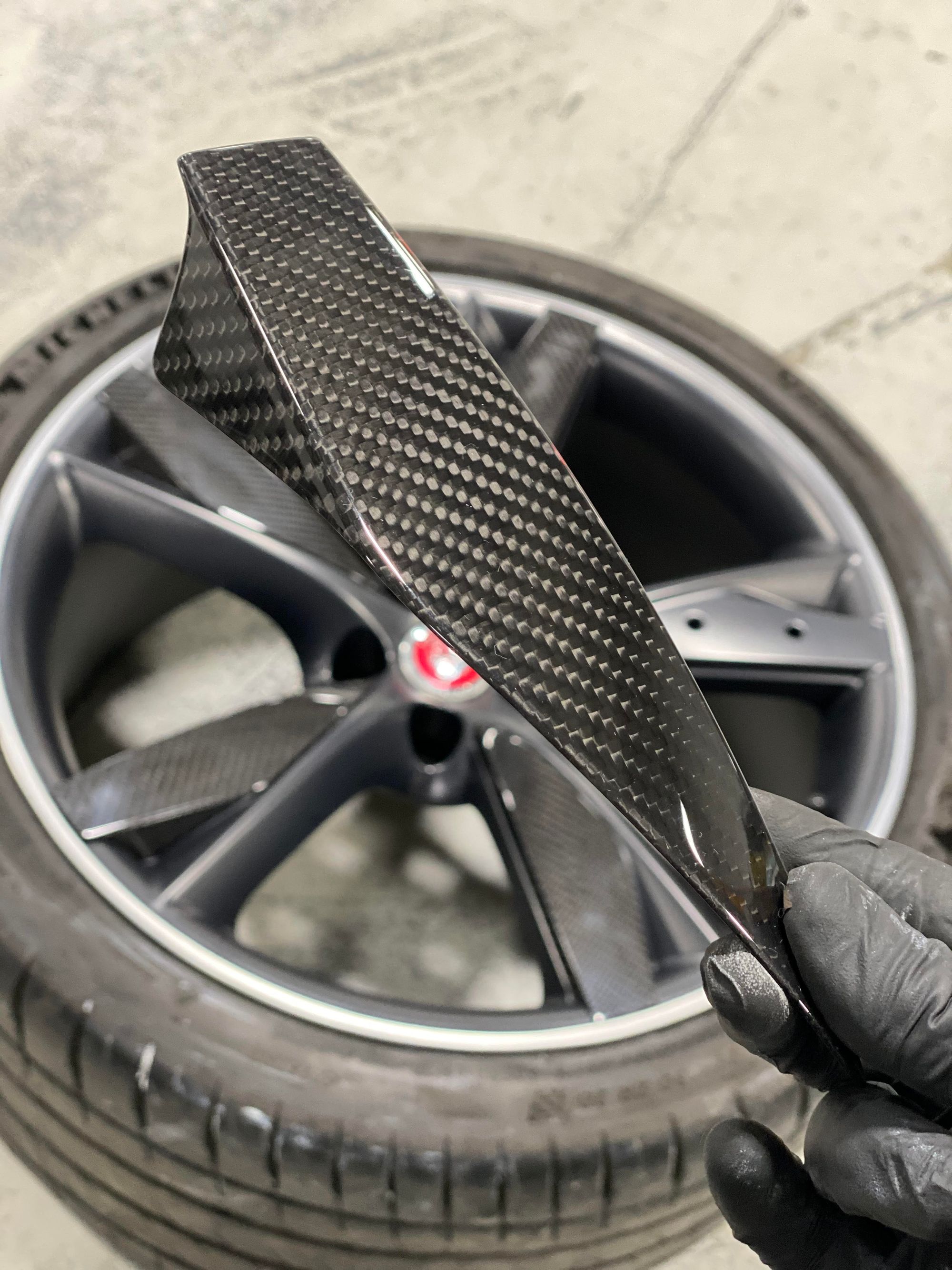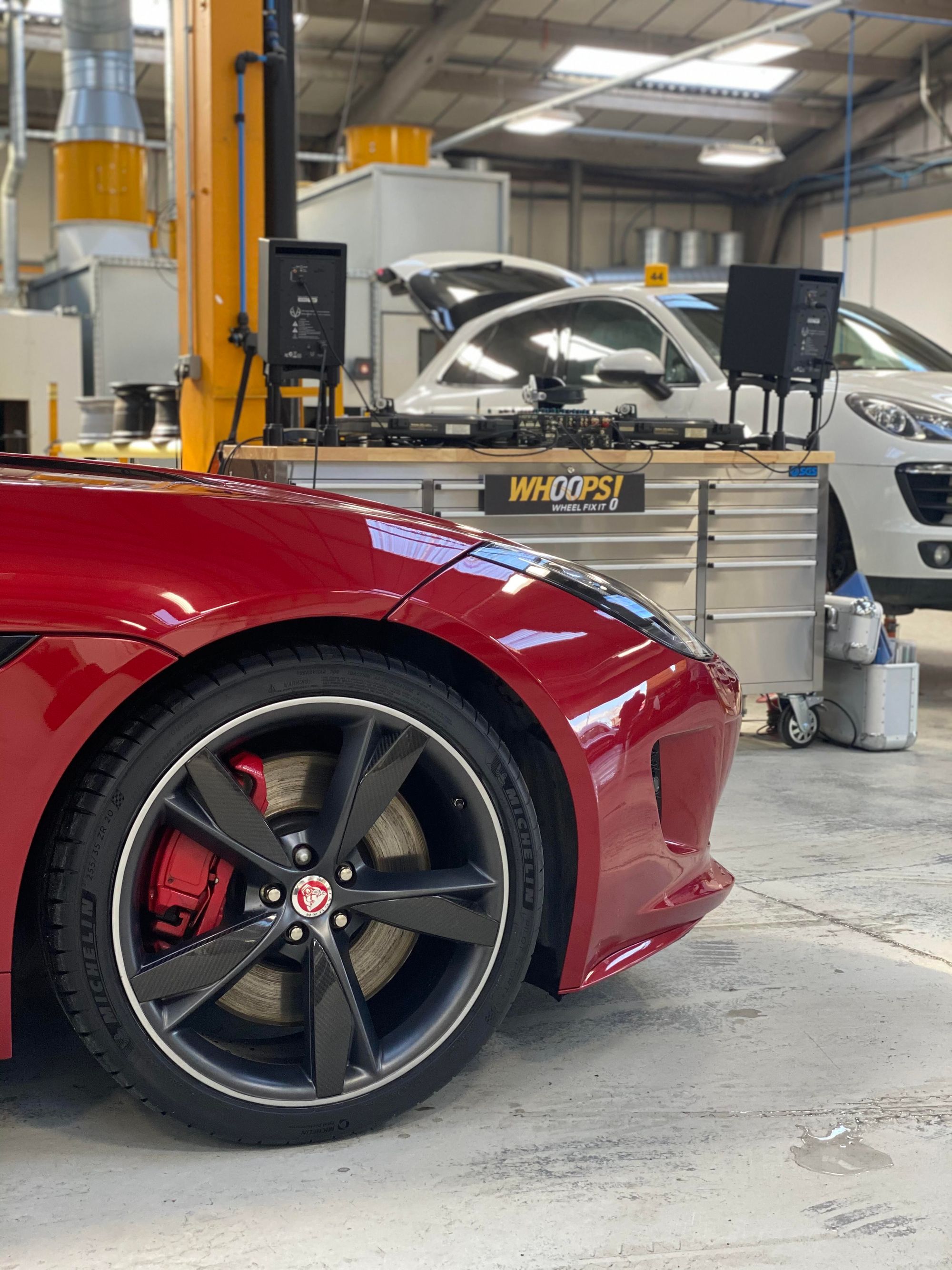 Pitlane News cannot recommend this company enough, to any of our loyal followers. Whoops Wheel Fix It are based in Enfield, North London and they service the London and Hertfordshire areas..  Although personally, I would travel a good few hours for such an amazing job and 5 star service. Grab a train home..  ;)

Watch out for more news articles coming soon with the Whoops Wheel team, some planned VIP music events at their workshop, as well as some "up and coming" competitions to win some special prizes from the team...!!
Pitlane News want to thank the WHOLE team for their business, their kindness, their generosity and their friendship, and we look forward to working with them on several projects this summer and beyond..