It does not seem like an abnormal thing that in the past, the sport of formula 1 racing, inter team rivalries do exist. Journalists have pointed out throughout history that some talented drivers have caused many of their teammates to move on to other teams. Such case in point was the Two McLaren events with Ayrton Senna and Alain Prost; Lewis Hamilton and Fernando Alonso, and the Mercedes controversy with Hamilton and Nico Rosberg.
However, last Sunday and weekend had come to a tipping point where not one, not two, but three teams had conflicts with their two drivers.
For Ferrari, it was already a bad season, with many opportunities with drivers and the team using the wrong decisions to win a race. Worse off, but a little extreme, Charles Leclerc, who was fourth nearing the end of the race, thought even he was behind his teammate Carlos Sainz, lightly pleading for the Spaniard to slow down so he could take the final step on the podium. Of course, the Ferrari group ignored this plea, making Leclerc step into more rubbish that he had already been through.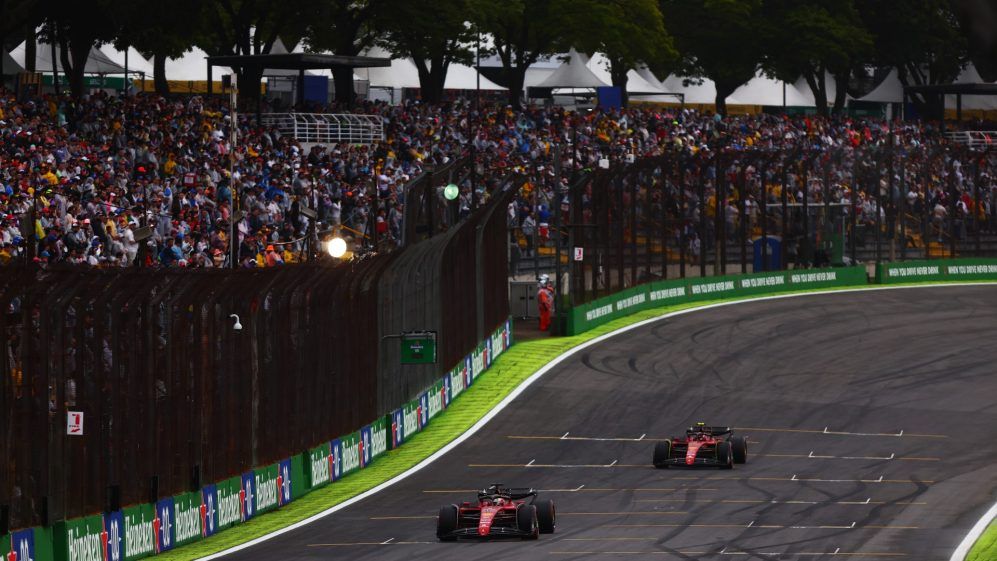 For the French/British Alpine team, the selfish award, at least partially, would go to Esteban Ocon, who blocked his current teammate Alonso enough to get hit from behind in the sprint race the day before, which marshals noted that it was all the Spaniard's fault, which Alonso later claimed. But Alonso began to complain that he only had one more race to run, and then he would be out on his way to Aston Martin, along with the rant that Ocon, is too aggressive and that this would be proven with other drivers who were teammates of Ocon. During the race, Alpine had their cars just in the points when approaching Aston Martin's Sebastian Vettel, Ocon was told to let Alonso through, which the Frenchman began to argue. This is typical Ocon, who is out of the car a nice guy, but in it has already been mentioned by Alonso, is too aggressive, often selfish to work with his teammate. This could be explained that his parents spent everything to get him into formula 1, which gave Ocon that fighting attitude.
Ocon argued with his engineer, who began to argue back, demanding that Ocon obey this order. Finally, Ocon relented, and Alonso passed him, even gaining more time up the grid, passing Vettel and continuing to even move up to fifth place, even passing Red Bull's Sergio Perez, with Ocon taking ninth, proving that maybe there is still talent in Alonso, enough to probably have Alpine CEO Laurent Rossi think that not renewing his contract was a big error. What about Ocon?? Next season, fellow Frenchman and Norman Pierre Gasly comes in, and this is someone who grew up with Ocon.  The two are rumored not to like one another, which could to many, cause more trouble than Ocon, who has a Mercedes contract, to leave if things do not work out. But the two realize that they are both in their careers that they have peaked, and this confrontation would and could end both of theirs.
But Red Bull and current two-time world champion Max Verstappen has the top selfish award, had a worse off situation that could bring worse consequences than what happened this past week at Alpine. Verstappen himself was in seventh place, with Perez, who was passed by Alonso already, ahead of the Dutchman. Verstappen passed the Mexican and was now putting his sights on Alonso. But the Red Bull engineer demanded that Verstappen let Perez through, because it could give Red Bull the chance of having both Verstappen and Perez place 1-2 in the driver's championship. But Verstappen refused and snapped back, claiming that he had already mentioned this situation before, and that was it.
Red Bull team manager Christian Horner apologized for the situation to Perez, but controversy follows going into this weekend in the final race in Abu Dhabi. Fans who admired Verstappen in Mexico, had their Red Bull fans shirts burned and everything that resembled the Dutchman was eliminated. It shows that whatever the events that follow will have to be straightened out or the sport will have to change both socially and in how the teams cooperate with fans. It will be an interesting situation.
Bring the snacks and the drinks. It is going to be good to watch.
By Mark Gero