Finishing at the bottom of the Formula One Constructor's championship last season, Williams Racing launched their FW 45 Monday with two changes that just happened to be American sponsored: an oil firm and a new driver.
The car shown was the same colour as the previous season, but the additional sponsor of the Gulf Oil Company that was seen last year on the McLaren entry, is now one the Grove, England representative.
Williams themselves, owned by the Dorilton Company, is looking forward to a new system , where the aerodynamics of the car was worked on more seriously than in previous years. Matthew Savage, chairman of the American firm, was very pleased of what he saw and is looking forward to the challenge of what the FW 45 can do.
"As Williams Racing continues its transformation, we're proud to unveil this year's livery," Savage said. "We are excited about this year's car, and I cannot thank the entire team at Grove enough for their hard work to get ready for the season.
I am delighted to welcome both new and existing partners to our journey. With our new Team Principal James Vowles joining us later this month, as well as our exciting driver line up of Alex (Albon) and Logan (Sargeant), Williams Racing will be giving its all in 2023."
Alex Albon returns for another season with the team, following a few points finishes last season which were enough to retain his seat for this year. However, besides the company's new oil sponsor now comes the first American driver to appear in the formula one world championship since 2016, when Alexander Rossi took over the drive at now-defunct Manor Racing.
Logan Sargeant now enters a sport which is beginning to show popularity stateside, as the 22 year old Floridian will now see how his formula two skills show going up against the best racers in the world. But Sargant is quite looking forward to it.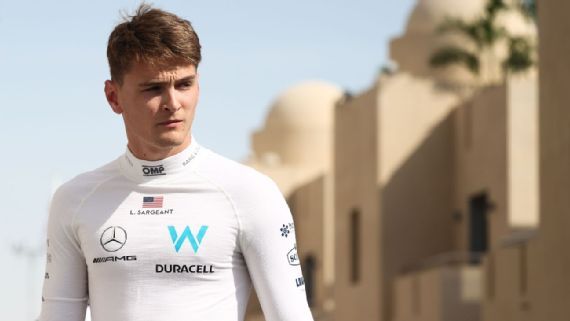 "Being the first American in a while is honestly such a privilege."  Sargeant stated. "A great opportunity to represent my country to the best of my ability. Having three home grands prix is not something many, if anyone, has ever been able to say so I'm looking forward to being able to enjoy those moments.
I just really see it as a privilege and an honour.
I think the timing is great. You can tell that Formula One in America is at a peak. The amount of people asking me questions and are curious about this sport is massive, it's such a buzz. With the trajectory it's on, I don't really see it stopping, to be honest. I think that's a huge plus and something I'm excited to see where it heads."
The rollout of the FW 45 will follow the American Football Super Bowl next Monday, so Sargeant and the rest of the Williams crew will miss it. But Sargeant expects to tape it, so he can watch it later.
By Mark Gero