Rowbottom, Butcher and Proctor each claim a BTCC win in Cheshire
It was a day of firsts during a dramatic Kwik Fit British Touring Car Championship encounter at Oulton Park, as Dan Rowbottom, Rory Butcher and Senna Proctor each claimed a win apiece.
Rowbottom took a popular maiden BTCC career victory in the opening race in Cheshire, before Toyota Gazoo Racing UK's Butcher and BTC Racing's Proctor each went on to chalk up a first success of the season.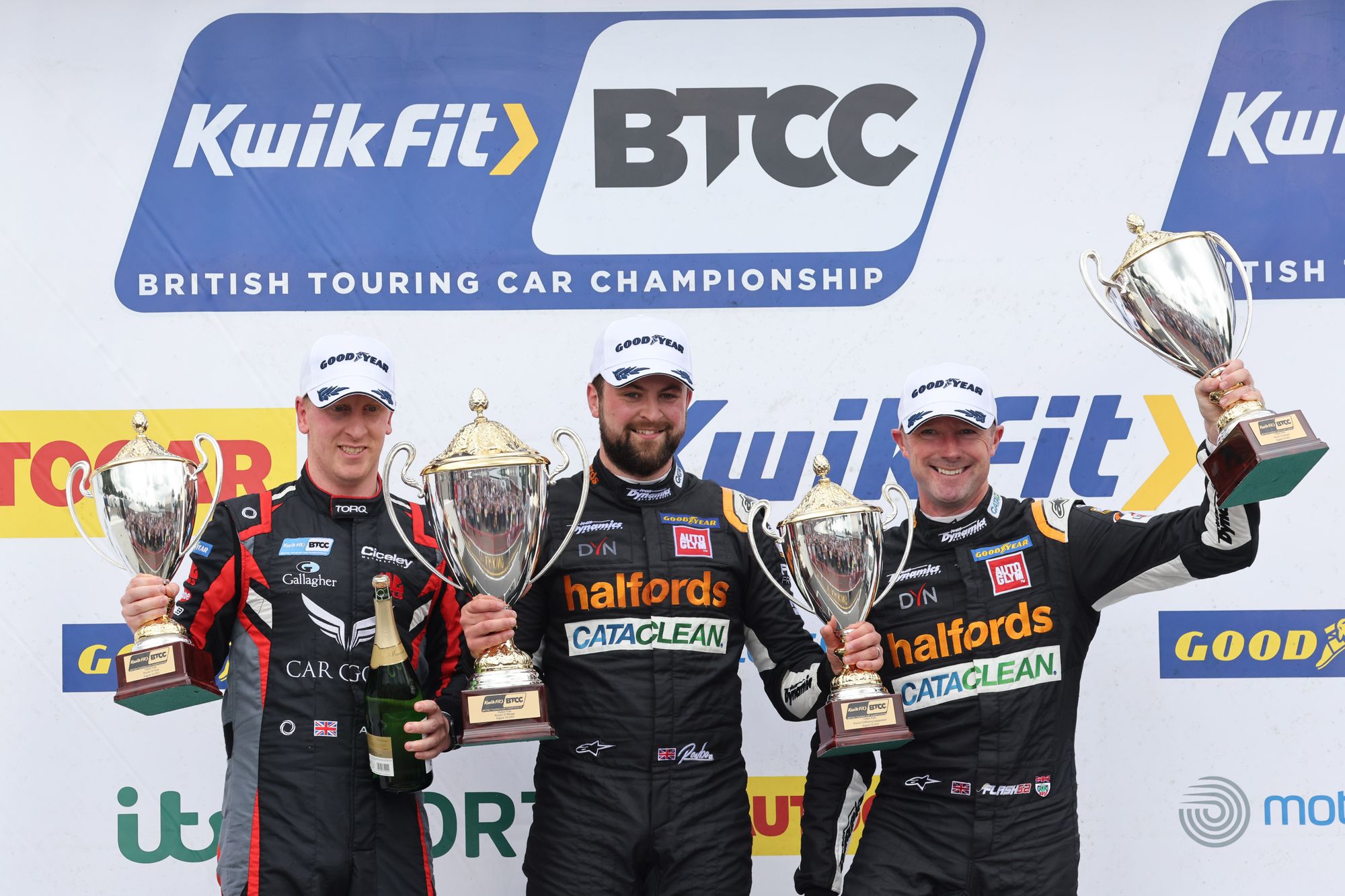 Halfords Racing with Cataclean kicked off proceedings by scoring a fantastic one-two, as Rowbottom edged out three-time champion team-mate Gordon Shedden.
The contest came down to a six-lap shootout after the initial bout was red-flagged following heavy contact in an incident involving Tom Oliphant (Team BMW), Chris Smiley (Ginsters EXCELR8 with TradePriceCars.com) and Rick Parfitt (EXCELR8 with TradePriceCars.com).
Much of the Honda duo's progress was completed in the first segment as Shedden nipped by pole-sitter Proctor, whilst Rowbottom nearly flew from fourth to first with his own brilliant start.
The hard work could have been undone, however, when they were made to do it all again following a sizeable shunt on lap seven.
The Adrian Flux with Power Maxed Racing Vauxhall of Jason Plato and Oliphant's BMW made contact at Lodge corner, which left the latter sprawled across the racetrack. The Hyundais of both Smiley and Parfitt unfortunately collected the stricken 3 Series and stewards were left with no option but to red flag the race.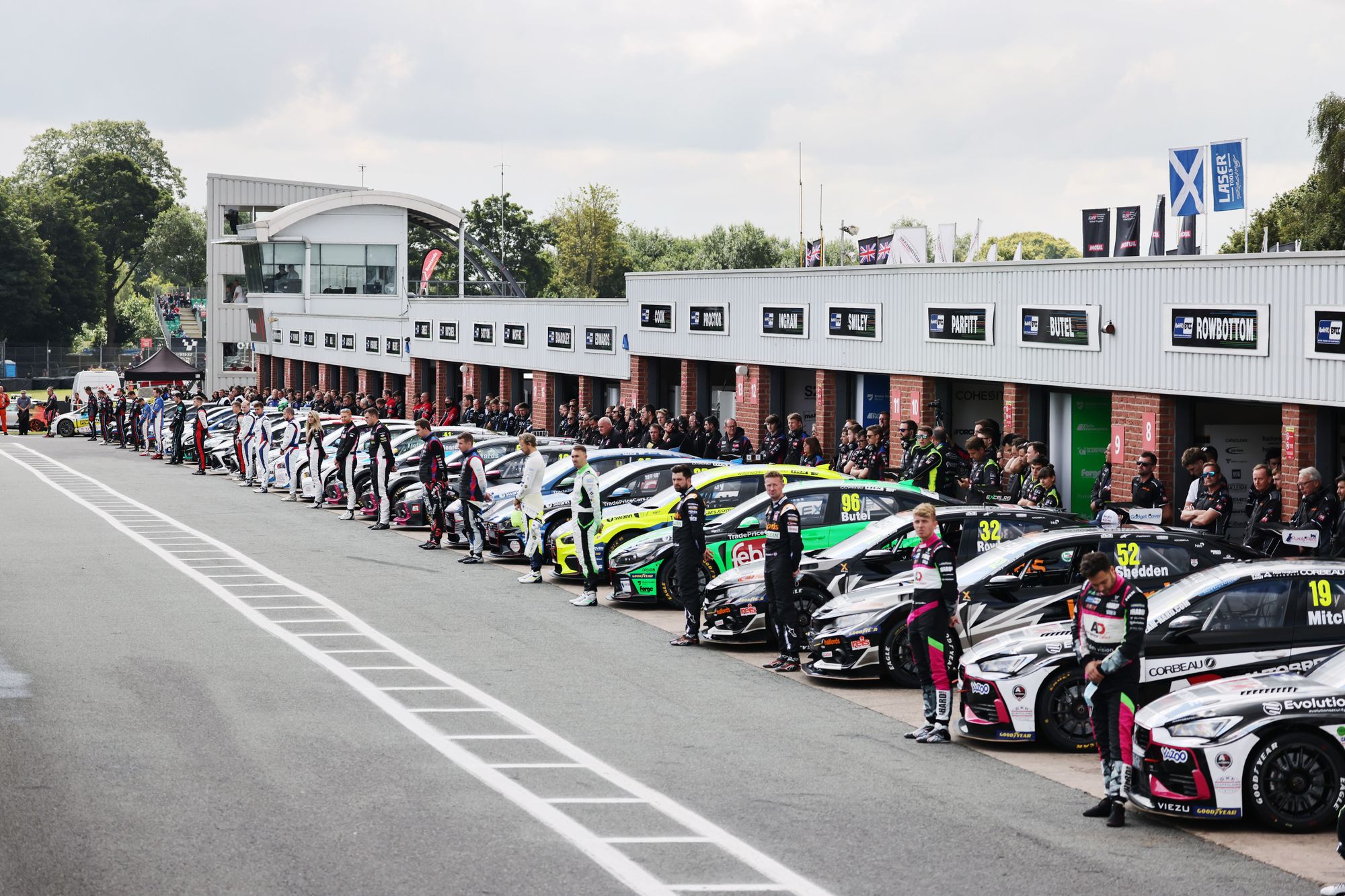 Rowbottom made it stick on the restart as he blasted his #32 Honda Civic Type R around the outside of Shedden on the run down to turn one, and he subsequently went on to claim an outstanding triumph in front of a jubilant crowd.
Car Gods with Ciceley Motorsport's Adam Morgan got the better of Butcher and Stephen Jelley (Team BMW) in an eye-catching battle between the trio for the final place on the podium.
Butcher then clinched the first victory since his off-season switch to Toyota Gazoo Racing UK after the Scotsman made an incredible start in the second bout at the picturesque venue.
It was the seventh career success for Butcher, but it looked relatively unlikely with his Toyota Corolla lining up fourth on the grid.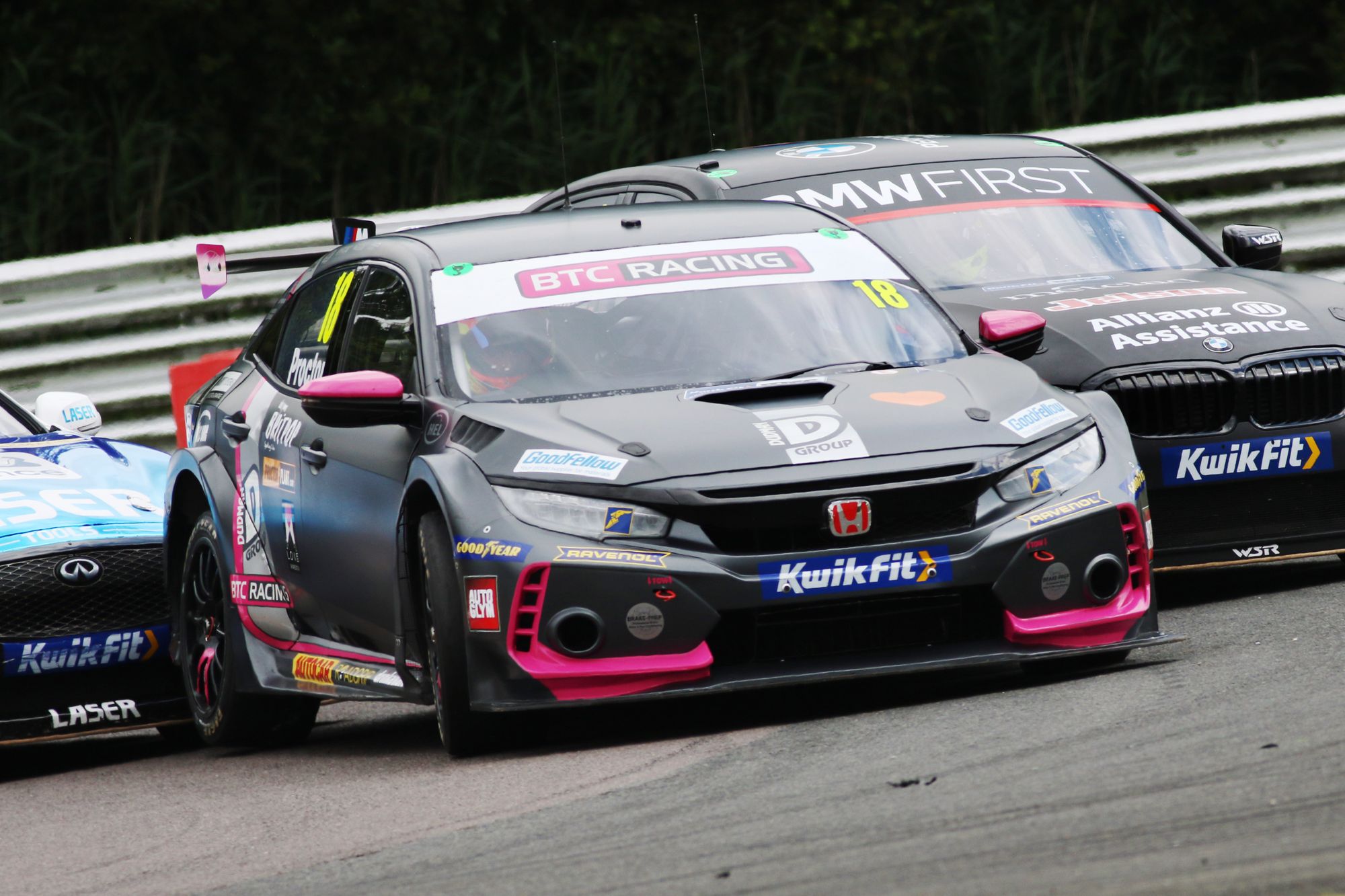 A brave move around the outside of Morgan's BMW at Cascades on the opening tour was immediately followed by a dynamic double, as he forcefully made his way past the Halfords Racing with Cataclean duo of Rowbottom and Shedden at Island Bend.
Butcher was already pulling clear by the conclusion of the first lap and he continued to extend that gap for the full 12-lap duration.
Rowbottom clinched second despite coming under race-long pressure from Morgan – both drivers expertly taking their second podium of the day.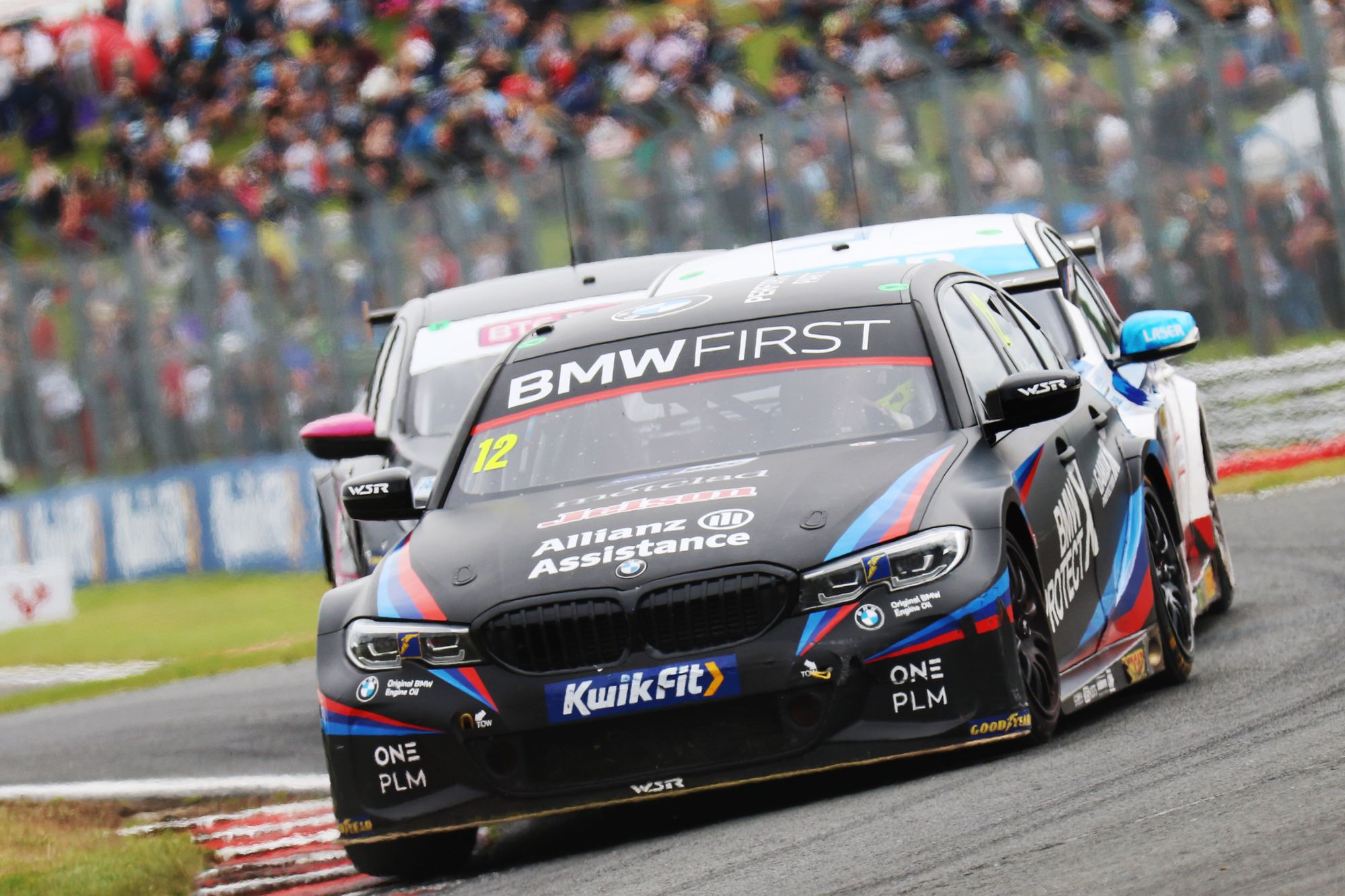 BTC Racing's Proctor eventually took the result that his pace clearly deserved as the Yorkshireman claimed victory in the final encounter.
Drama ensued from the outset – as it has done throughout the weekend – when the race was red-flagged on the first of two occasions, the latter incident ending the race ahead of schedule.
The first accident involved a pirouetting Ford Focus of Sam Osborne, which had been sent spiralling off-track by another rival, before catching out the likes of Jack Mitchell (Team HARD. with Autobrite Direct), Jade Edwards (PHSC with BTC Racing), Jack Butel (EXCELR8 with TradePriceCars.com) and several others, who were all involved in subsequent contact.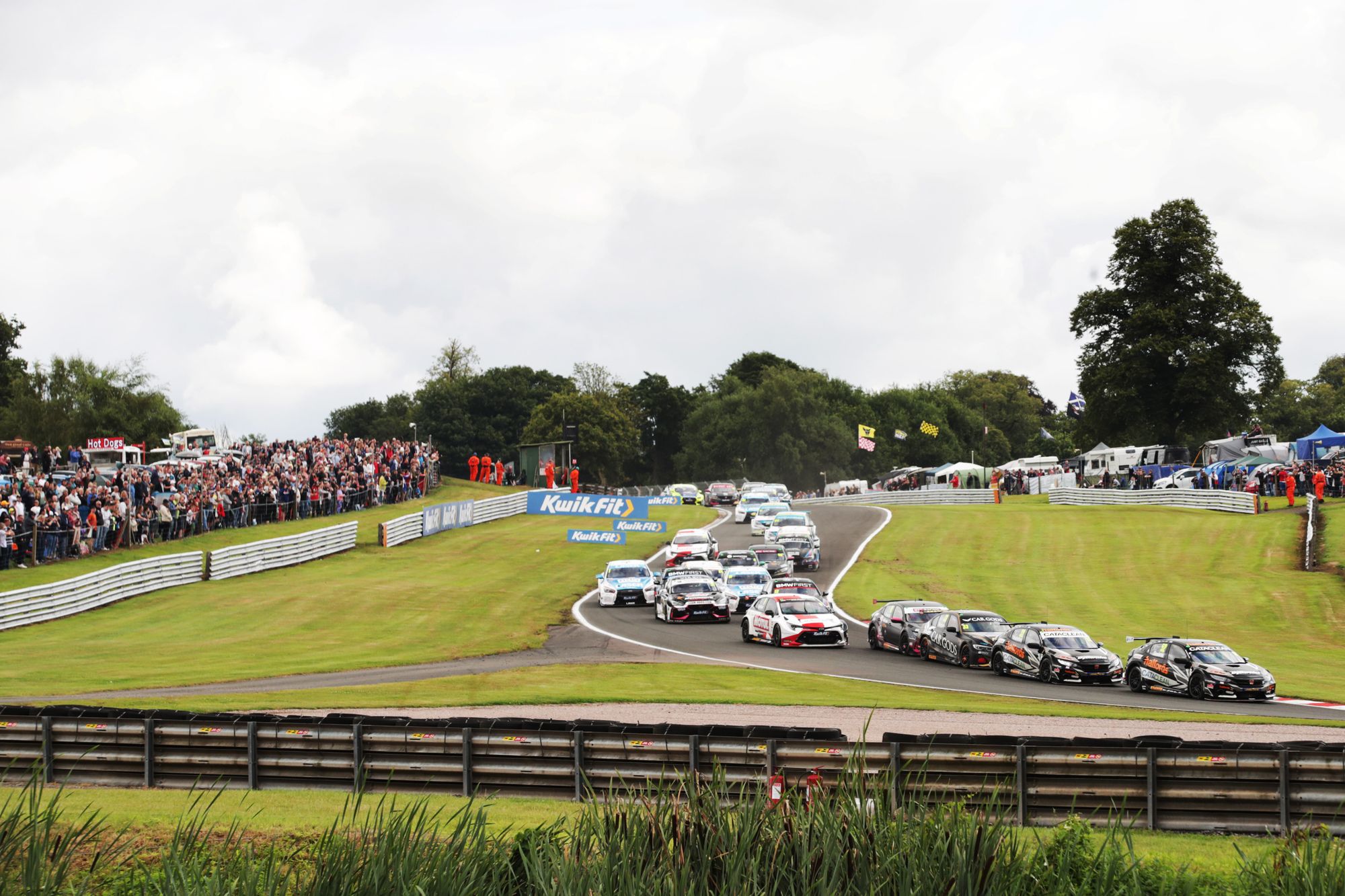 The restart was no less dramatic – this time it was reigning champion and standings leader Ash Sutton spinning out of contention as he attacked Proctor for the lead. The duo went side-by-side through Old Hall Corner before almost inevitable contact sent the #1 Laser Tools Racing car sliding down the order.
Sutton's race was run as he tried to return when contact with Laser Tools Racing team-mate Carl Boardley finally ended his challenge.
Ironically, Boardley was involved in the accident that brought a high-speed end to proceedings with his Infiniti Q50 and Butcher's Toyota Corolla careering into the barrier on lap eight.
When the dust settled on track it was Proctor's Honda Civic Type R winning from Jelley's 330i M Sport, the latter having been the brightest light for Team BMW throughout the weekend.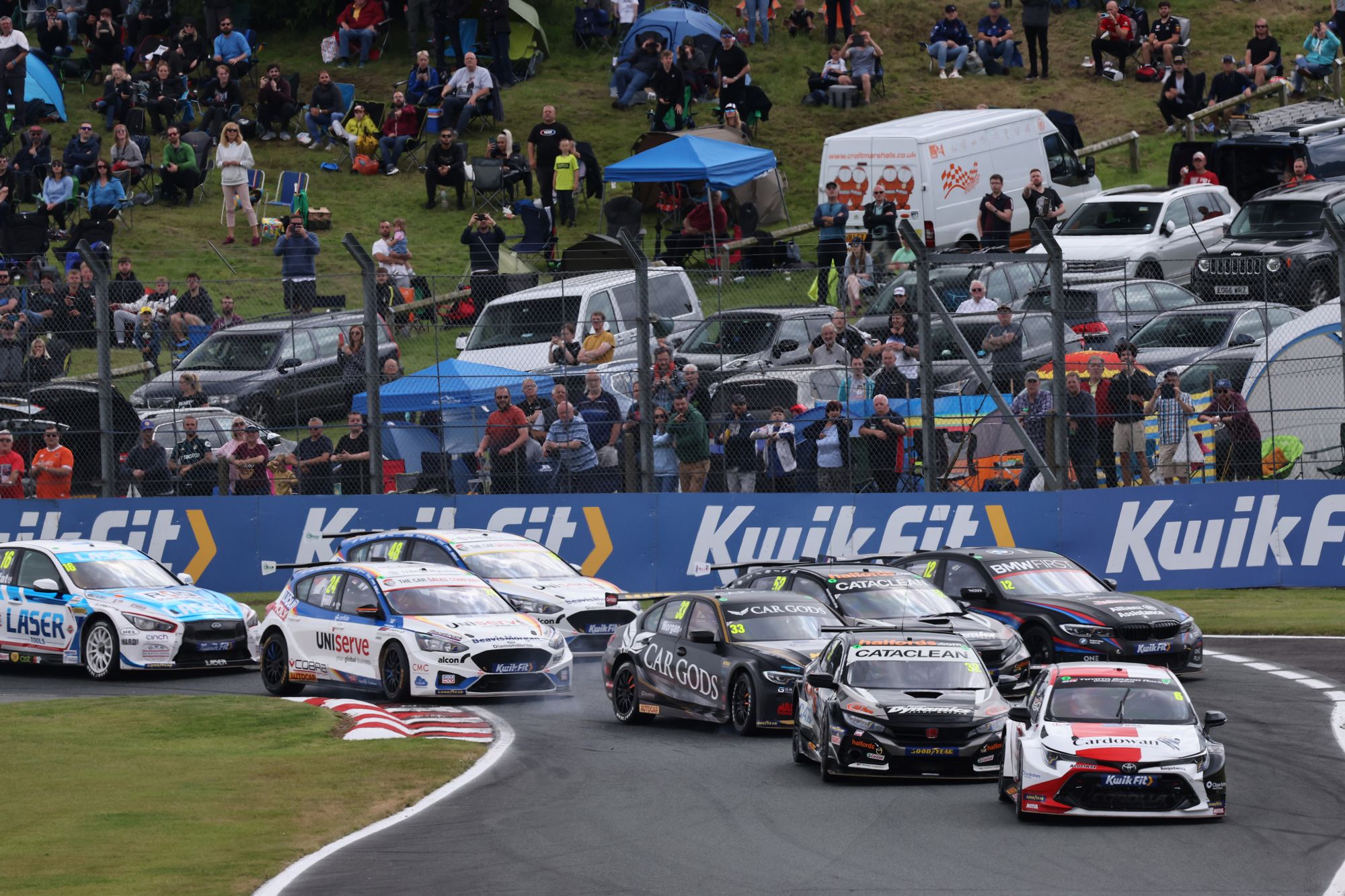 Shedden completed the podium as the experienced Scotsman enjoyed his most promising weekend of the season so far, as did Laser Tools Racing's Aiden Moffat, who secured a top six hat-trick on the day.
Sutton still leads the Drivers' standings despite the disappointing end to his day, with Ginsters EXCELR8 with TradePriceCars.com's Tom Ingram a further five points in arrears – the Hyundai driver having also endured a dismal event at Oulton Park.
Rowbottom and MB Motorsport accelerated by Blue Square's Jake Hill are next in the order, the latter also having scored consistently this weekend.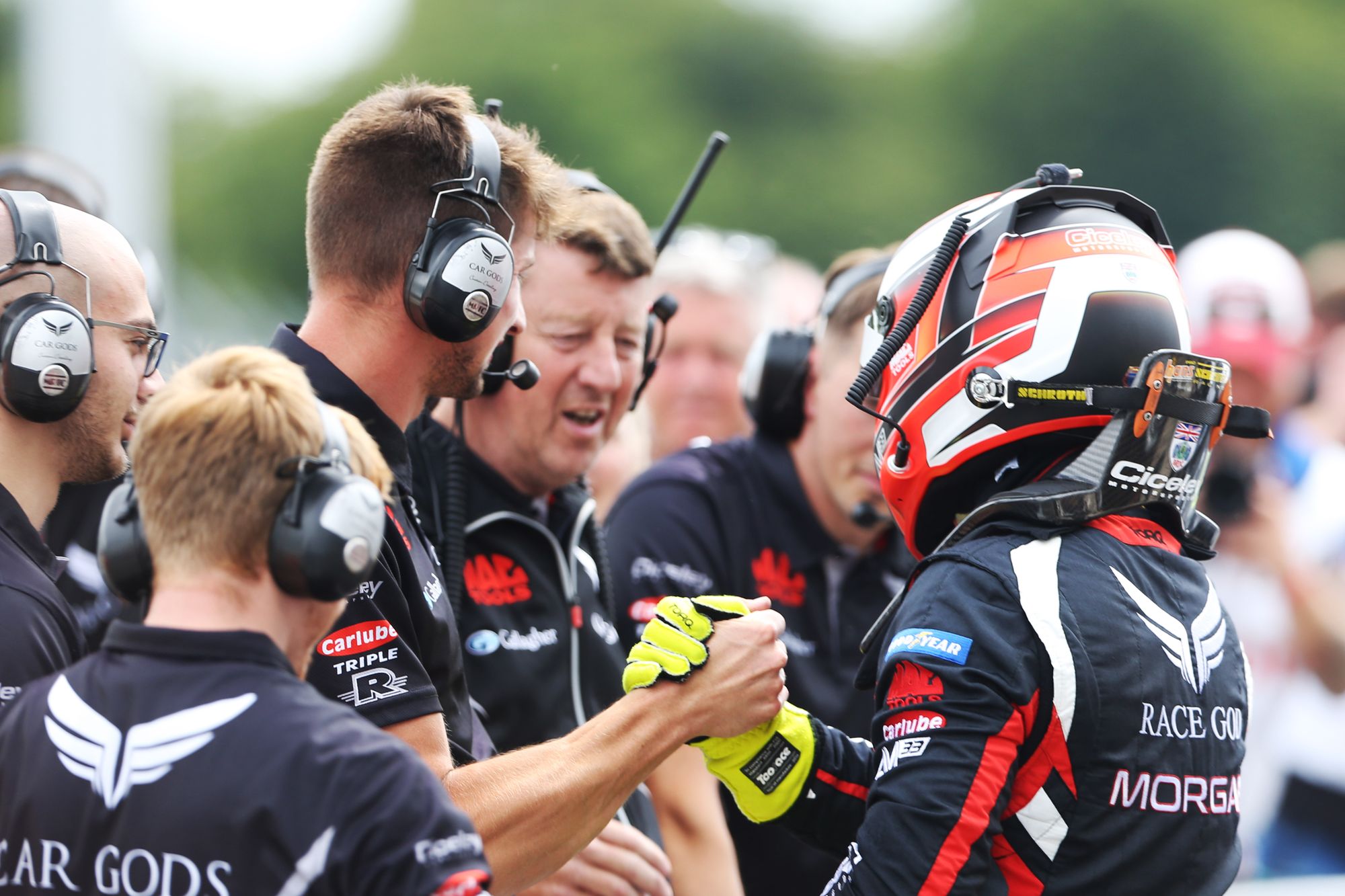 BMW top the Manufacturers'/Constructors' Championship, whilst Laser Tools Racing hold the advantage in the Teams' table.
Sutton and Laser Tools Racing maintain control of the Independents' honours, whilst Rowbottom has extended his lead in the Jack Sears Trophy.
Team BMW's Colin Turkington heads the Goodyear Wingfoot Award, thanks to consistent qualifying positions during the season so far.
Rounds 13, 14 and 15 of the 2021 Kwik Fit British Touring Car Championship will take place at Knockhill on 14/15  August.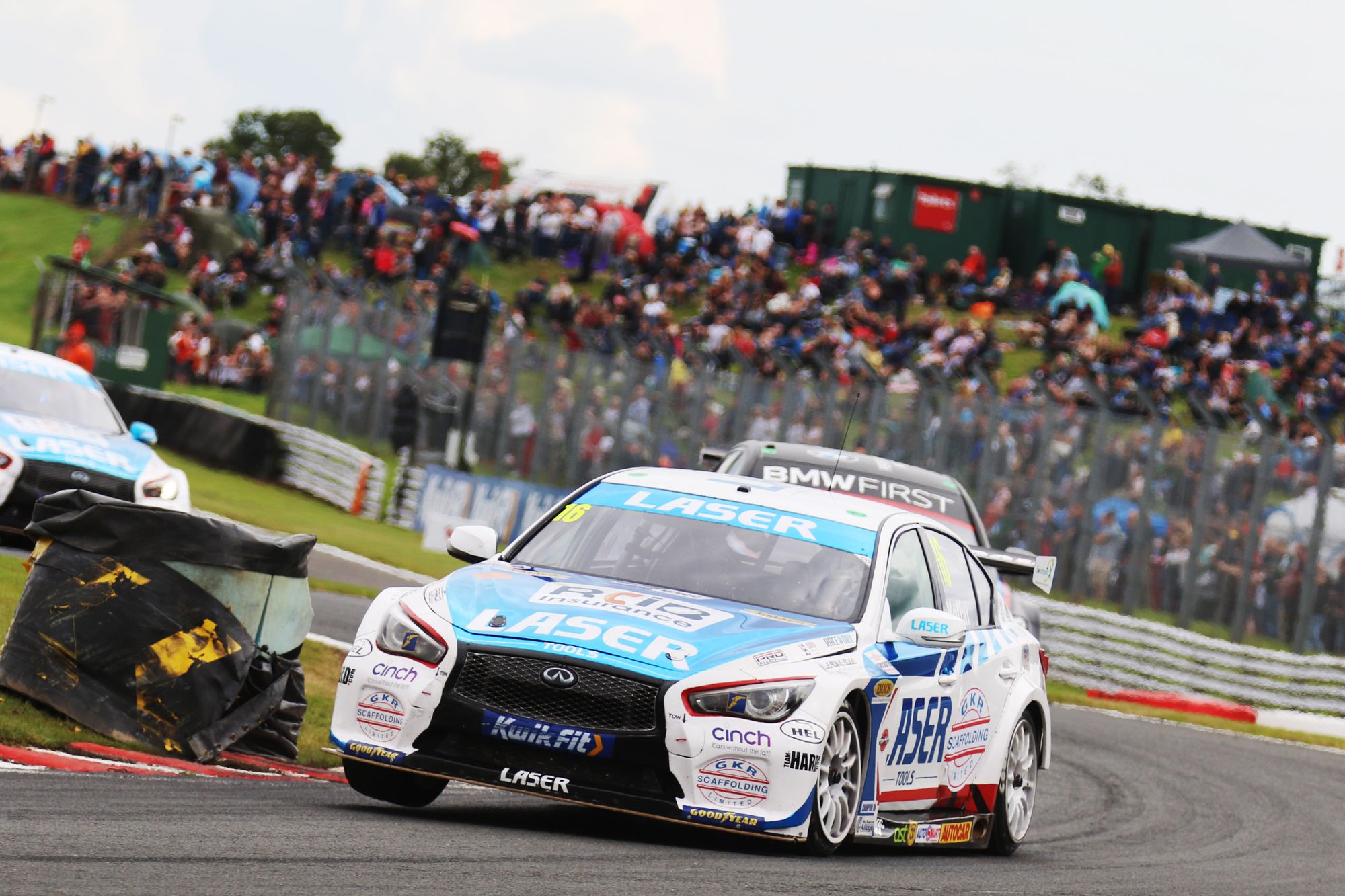 Dan Rowbottom said: "It's a little bit surreal to be honest! I shed a couple of tears, as I'm sure you can see from the in-car camera. It's fantastic. For Halfords Racing with Cataclean to get a one-two is great, I kind of wanted to get the first as it's Cataclean's home circuit and they've got a lot of people here today. It's one ticked off the list, but the list goes on and the work never stops.
"[Shedden] is a bit of a hunter. We had a couple of nips in the rear corner of the car, and I thought 'oh no he's here' but I just managed to collect it all together, pull a bit of a gap and it was just enough at the end. To be honest in the first part of the race before the red flag I couldn't keep with him. He was too far gone, so that worked out great.
"I think perhaps we were unfairly criticised due to my 2019 performance, so the aim this year was to come in and get top tens and make people realise what we could be here. But to come in and start winning here is fantastic and great for the championship too!"

Rory Butcher said: "It's been a long time coming. As I said yesterday, I've taken time to adapt to the car and recently we've kind of adapted it around my driving style and it just seems to be clicking now! I was sitting on the grid raring to go and knowing that I can make up places and once I got into the lead it was just a case of managing the lead and then on the last couple of laps to bring it home! It just goes to show that when you've got the car feeling right for you it can make all the difference. It's the hard work from all the team that got us to this point.
"The car's a lot of fun, if I'm honest! There's nothing worse than not feeling at one with the car and at the moment we've really got it in that window. It's just a lot of fun and you can play around with it more, just how I like to drive. I'm smiling from ear to ear and just looking forward to the rest of the season."

Senna Proctor said: "I made such a mess of race one, it's nice to be able to repay the team for all the hard work they've put in. Now I won't go home kicking myself so much tonight. Obviously, we'd have preferred the race one win over the race three, but we'll take it nonetheless.
"The first start was good, I had talked to Ash [Sutton] before and he just got tucked in front of me and I was happy to go with him really. Then on the second start, I got a cracking start and a bit of a run on him into turn one, and he just seemed to try and hang it around the outside. It was a case of 'two doesn't go into one' and as he went on the exit curb and joined back on, I clipped him. It's not the way I race. In my opinion, it was a racing incident. I'm just sorry to Ash for what happened, obviously we're good mates so I hope it doesn't affect that.
"I'm taking away that I need to get some practice starts done and not listen to as many people pre race one. But it was good! And I'd just like to say, this win is for the marshal that lost their life at Brands Hatch yesterday."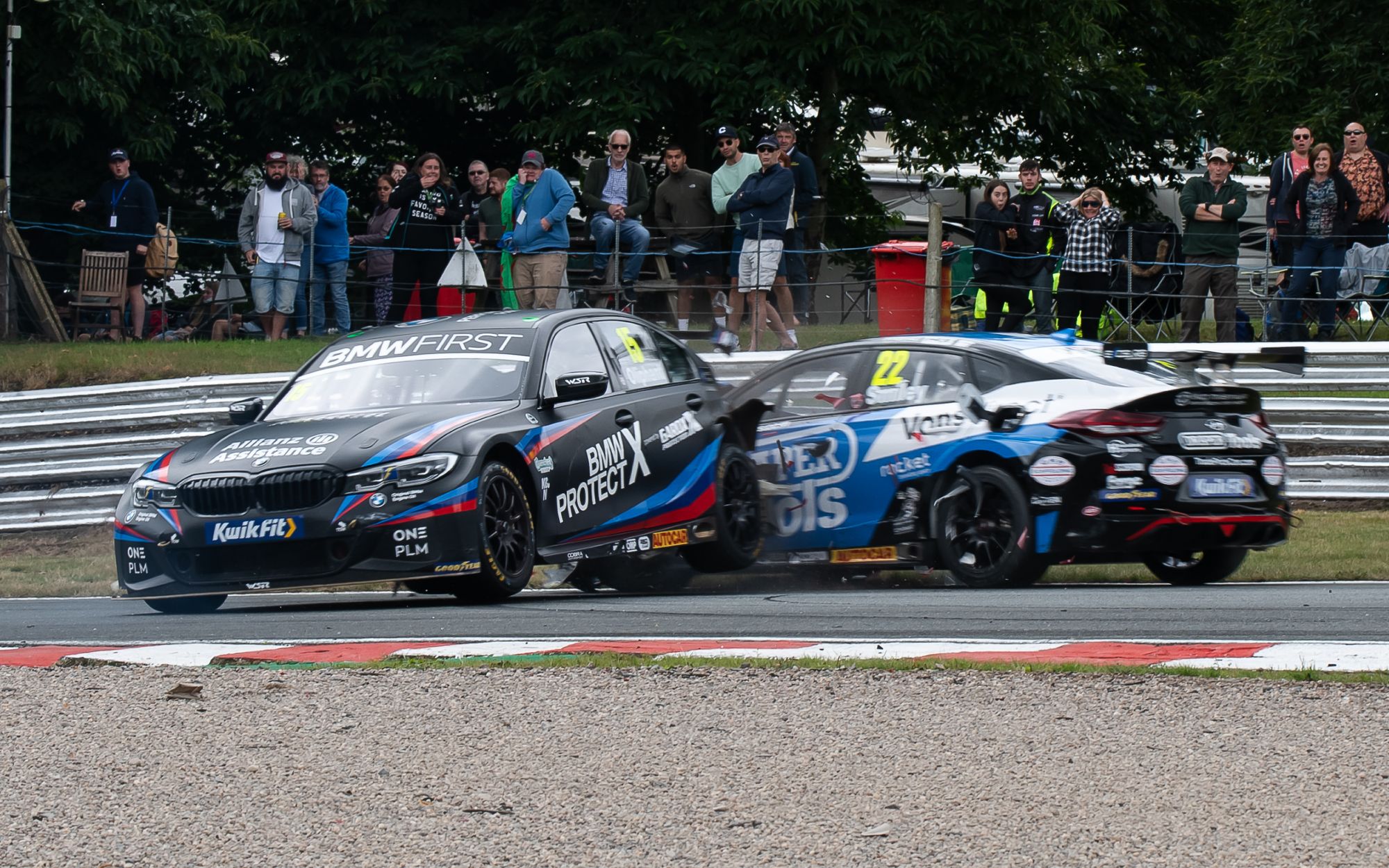 2021 Kwik Fit British Touring Car Championship –Race 1– Oulton Park
1        Daniel ROWBOTTOM (GBR) Halfords Racing with Cataclean 6 laps
2        Gordon SHEDDEN (GBR) Halfords Racing with Cataclean +0.384s
3        Adam MORGAN (GBR) Car Gods with Ciceley Motorsport +2.104s
4        Rory BUTCHER (GBR) Toyota Gazoo Racing UK +5.885s
5        Stephen JELLEY (GBR) Team BMW +6.170s
6        Aiden MOFFAT (GBR) Laser Tools Racing +7.053s
7        Jason PLATO (GBR) Adrian Flux with Power Maxed Racing +7.469s
8        Jake HILL (GBR) MB Motorsport accelerated by Blue Square +7.829s
9        Senna PROCTOR (GBR) BTC Racing +8.082s
10      Jack GOFF (GBR) Team HARD. with Autobrite Direct +8.444s

2021 Kwik Fit British Touring Car Championship –Race 2–Oulton Park
1        Rory BUTCHER (GBR) Toyota Gazoo Racing UK 12 laps
2        Daniel ROWBOTTOM (GBR) Halfords Racing with Cataclean +1.698s
3        Adam MORGAN (GBR) Car Gods with Ciceley Motorsport +2.500s
4        Jake HILL (GBR) MB Motorsport accelerated by Blue Square +2.944s
5        Aiden MOFFAT (GBR) Laser Tools Racing +3.200s
6        Gordon SHEDDEN (GBR) Halfords Racing with Cataclean +4.653s
7        Stephen JELLEY (GBR) Team BMW +5.811s
8        Ashley SUTTON (GBR) Laser Tools Racing +6.035s
9        Senna PROCTOR (GBR) BTC Racing +6.305s
10      Tom INGRAM (GBR) Ginsters EXCELR8 with TradePriceCars.com                        +6.546s

2021 Kwik Fit British Touring Car Championship –Race 3–Oulton Park
1        Senna PROCTOR (GBR) BTC Racing  8 laps
2        Stephen JELLEY (GBR) Team BMW +2.183s
3        Gordon SHEDDEN (GBR) Halfords Racing with Cataclean +4.313s
4        Aiden MOFFAT (GBR) Laser Tools Racing +7.478s
5        Adam MORGAN (GBR) Car Gods with Ciceley Motorsport +7.999s
6        Daniel ROWBOTTOM (GBR) Halfords Racing with Cataclean +9.136s
7        Jake HILL (GBR) MB Motorsport accelerated by Blue Square +9.475s
8        Colin TURKINGTON (GBR) Team BMW +10.215s
9        Tom CHILTON (GBR) Car Gods with Ciceley Motorsport +12.280s
10      Chris SMILEY (GBR) Ginsters EXCELR8 with TradePriceCars.com
         +13.471s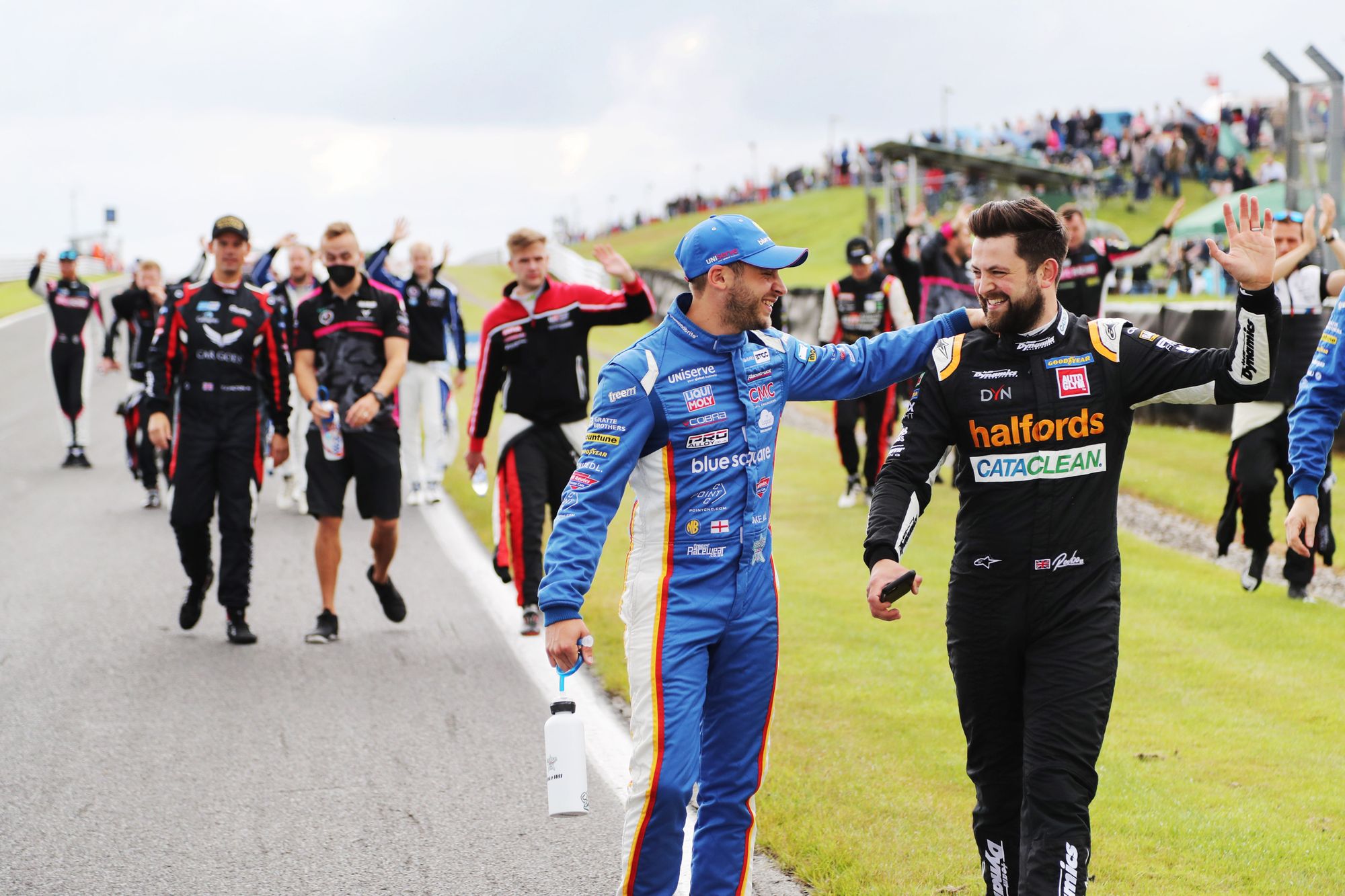 Penalties

Race 1

Senna Proctor received a verbal reprimand for gaining an unfair advantage during an incident with Ollie Jackson

Race 3

Chris Smiley received a formal reprimand and had his license endorsed by the addition of two penalty points for an incident with Sam Osborne
For other Media Enquiries -contact