LONDON, England—Being the last team to launch their 2023 challenger for the upcoming formula one season, the BWT Alpine Formula One Team debuted their A523 car Thursday evening with the idea of improving their fourth-place finish in the constructor's' championship.
The squad will run two cars just as they did last season, with the first races in Bahrain, Saudi Arabia and Australia to be driven with the Austrian's water treatment company in their traditional pink, followed by the rest of the year in blue with some pink markings on the side.
Esteban Ocon remains the driver for his third year of his four year contract, while the second and test driver are brand new with Ocon's fellow Frenchman and child friend Pierre Gasly moving over from Alpha Tauri, along with Formula two driver from Australia, Jack Doohan.
The team had quite an interesting off season, with former driver Fernando Alonso leaving for Aston Martin, and expected newcomer Oscar Piastri, who was expected to join the team after being the test driver, changing his mind for McLaren, who won his case to leave in court. This gave Alpine and especially the Renault Group, which owns Alpine, the chance to find another driver, who had plenty of experience. This took some wheeling and dealing, but at the end, Frenchman Pierre Gasly joined the team, following many seasons at Red Bull and even achieving a chance to drive alongside two-time world champion Max Verstappen. But the man from Rouen in Normandy failed to impress the Red Bull hierarchy, and was demoted back to the junior team, Toro Rosso (now Alpha Tauri). But even after a win in Italy in 2020, Red Bull never gave him a chance to return and Gasly felt he was going nowhere. Until Alpine gave him a call.
Ocon achieved one win in a race of attrition in Hungary, but following that win in 2021, the other Norman from Evreux did not win again but managed to take eighth in the drivers' championship in 2022.
Team Principal Romanian -born American Otmar Snafnauer would like to be a little better and more improvement than what occurred last season.
"We need to be a lot more closer to third, and a lot father away from fifth than we were before." He commented.
As for the aerodynamics for the upcoming season, Technical Director Matt Harmon stated that there will be more targets to hopefully achieve for this racing season.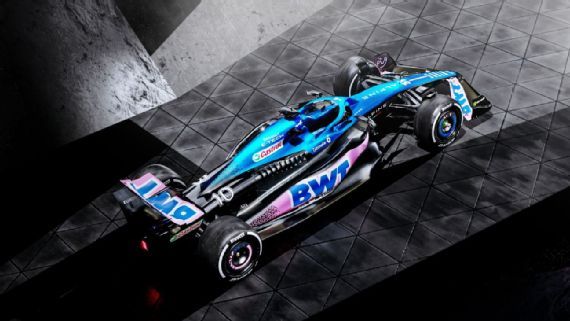 "We have set aggressive targets this year and many changes to a number of components, including switching the rear suspension from a pull rod to a push rod." He said.
The A523 is also under the 796 kilogram weight limit set by the F.I.A., which was nice of them." Harmon stated sarcastically.
But this means that we can play with the ballast to optimize the car's weight distribution that can occur at every race."
Even before the team did their presentation with their new car Thursday, the team did a shakedown without sustaining any difficulties, which the event is part of formula one's promotional rules.
Alpine will head to Bahrain next week like all other nine teams, to test for three days beginning on February 23rd with the start of the season one week later at the same circuit.
By Mark Gero