In comparison to the previous season, the 2022 formula one year was quite a bit different in ways that Max Verstappen won his second world title, but in comparison to 20 years earlier when Michael Schumacher took his fifth championship in the middle of the year, Verstappen did it at the Suzuka Circuit in Japan in October.
The beginning of the season looked like Red Bull would not be the dominate force, but Ferrari, who came out of the opening two tests in fine style, with many fans and journalist alike who thought that not only Red Bull, but Mercedes would have to battle against them.
The first race of the season in Bahrain was the proof of this, as Charles Leclerc opened up with a 1-2 victory along with his teammate, Carlos Sainz. Verstappen took the next round in Saudi Arabia, but Leclerc followed with victory in Australia, showing that this looked like a world championship battle between two drivers.
Verstappen took the next three races in Imola, the new course in Miami, Florida, and in Spain. However, it was in Miami where Ferrari began to have difficulties. With Verstappen winning in Azerbaijan and in Canada, France was the big tipping point, as Leclerc, leading the race easily, made a big error and spun into the barriers. Verstappen not only won this race, but the next four in Hungary, Belgium, his home race in the Netherlands, and Italy.
The series moved on to outside of Europe, where Verstappen clinched the title in Japan, followed by another victory in the United States at the Circuit of the Americas and in Mexico, before taking the final race in Abu Dhabi in dominating fashion.
In all, Verstappen broke the seasonal winning record of 15 victories in a year, surpassing the 13 that Schumacher and Sebastian Vettel had done before.
While Verstappen was winning this many races, others had taken one or more victories.
Verstappen's Red Bull team won their first constructor's championship in a few years, and the second driver, Sergio Perez, took wins on the street circuits of Monaco and Singapore, while Sainz won in Great Britain, his first of his career. Mercedes had a disappointing year, with Lewis Hamilton not having one win all season. But his teammate, George Russell, in his first year with the team, won an impressive maiden victory in Brazil. For what it was worth, Leclerc took one more win in Austria, and ended up second ahead of Perez in the drivers' championship, along with Ferrari finishing in the same position for the constructor's title.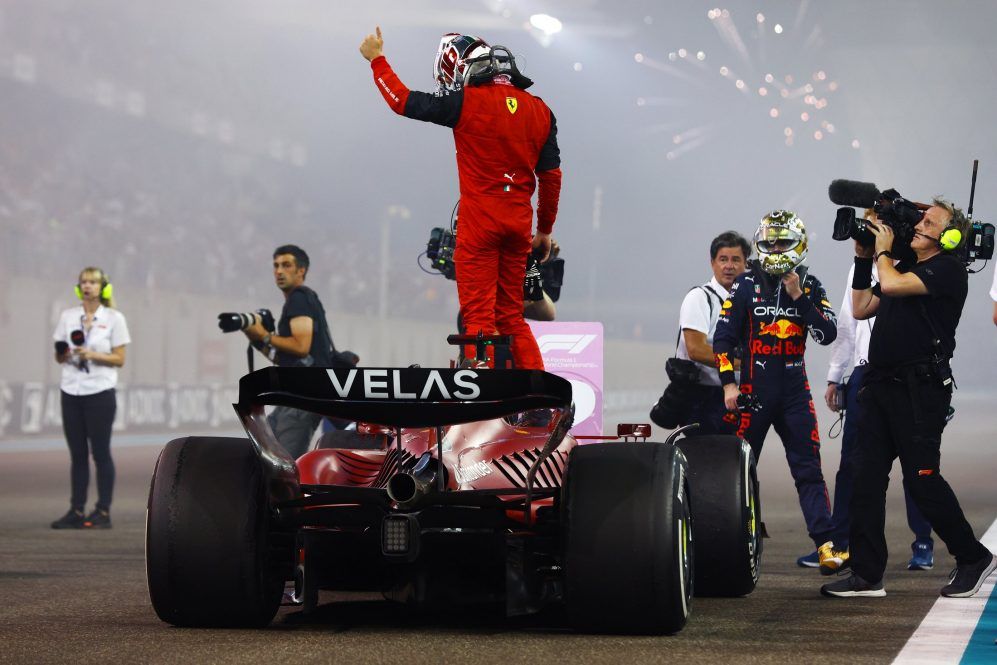 Next season expects to be different. Vettel retired from racing after the last race, with Fernando Alonso taking his place at Aston Martin from Alpine. Alonso's position goes to Pierre Gasly, who moves over from Alpha Tauri, where he is replaced by rookie Nyck De Vries. The controversial event during the summer, where rookie Oscar Piastri was supposed to be at Alpine, now has him at McLaren. The return of veteran Nico Hulkenberg to Haas has him replacing Mick Schumacher.
Besides Schumacher and the retiring Vettel, Daniel Ricciardo is out at McLaren, and the stories have him possibly being a test driver at Red Bull. Schumacher is also to be a possible tester at Mercedes. At Williams Racing, the first American driver in many years, has Logan Sargent in place of the departing Nicholas Latifi.
It will be interesting to see how the rest of the formula one season goes for next year, even with the record 24 races scheduled, it will be a challenge for all of those involved.
By Mark Gero