QUALIFYING:

GT3: RAM RACING EDGE WPI MOTORSPORT TO CLAIM POLE POSITION.
The #1 Barwell Motorsport Lamborghini of Adam Balon and the #11 Paddock Motorsport  Bentley of Kelvin Fletcher set the early pace in Q1 before the #6 Ram racing Mercedes of Ian Loggie started to show his pace as he took advantage of the track limit digressions of Michael Igoe in the #18 WPI Motorsport Lamborghini.
Fletcher was now showing good pace in the Bentley as he returned to the top of the timings, only to be displaced moments later by Loggie who again took control at the top by 0.269s as there were more lap times being deleted by others for track limits.
All nine cars were in contention after lapping 0.8s apart and this set up a tense and even closer Q2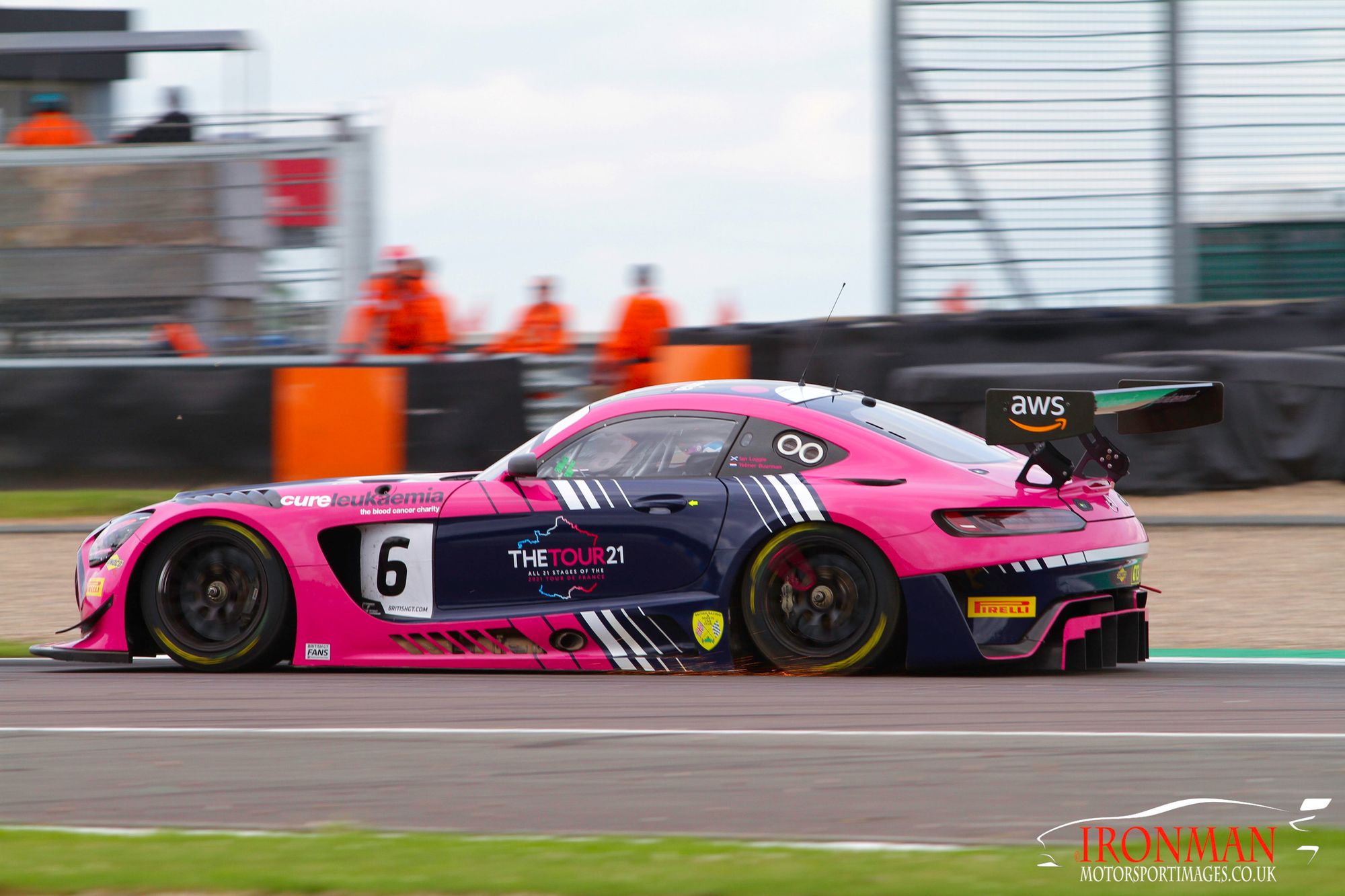 Yelmer Buurman now in the #6 Ram Racing Mercedes made hard work of it by straying beyond the white lines on his first and second efforts. But it was third time lucky as he finally secured pole on his third timed lap despite lapping slower than Phil Keen who reduced the deficit to 0.051s to secured second place on the grid.
Sandy Mitchell secured third in the #1 Barwell Motorsport Lamborghini just ahead of the #66 Team Parker Racing Porsche of Scott Malvern and Nick Jones.
It was a all McLaren third row on the grid with Marcus Clutton in the Enduro Motorsport McLaren in fifth ahead of the Balfe Motorsport McLaren of Lewis Proctor in sixth.
Despite showing early pace the Paddock Motorsport's Bentley slipped to seventh and starts along side the Beechdean AMR Vantage, whilst championships leaders Leo Machitski and Dennis Lind had a scruffy session and has work to do from ninth.
A brake disc failure in FP2 prevented Team Abba Racing's Mercedes-AMG from taking part in qualifying and they will start in tenth place.
GT3 GRID: 1st-#6 - 2nd-#18 - 3rd-#1 - 4th-#66 - 5th-#77 - 6th-#5 - 7th-#11 - 8th-#7 - 9th-#63 - 10th-#8.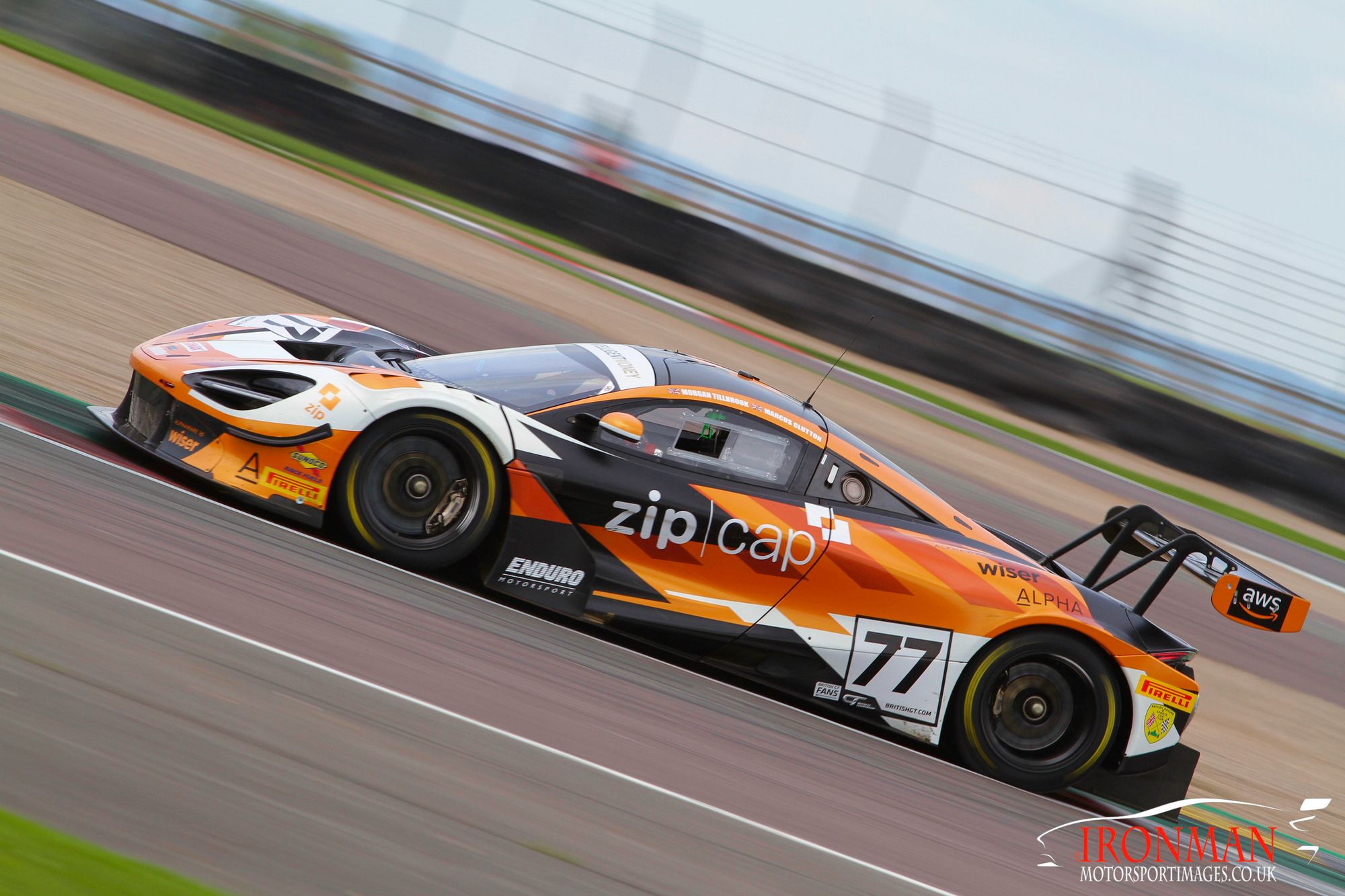 GT4: NEWBRIDGE MOTORSPORT'S DREAM START CONTINUES.
Newbridge motorsport's dream start to life in the British GT continued as their drivers Matt Topham and Darren Burke secured the GT4 pole position.
With the team main driver Darren Turner missing this round due to Goodwood commitments, they brought in Burke who proved to be a handy stand-in as the #27 Aston Martin Vantage GT4 topped the pile ahead of two hour race.
The McLaren's of Alain Valente and Katie Milner set the early pace for Team Rocket RJN as they sat one-two at the top of the timings, but as the pace got quicker things began to change.
The #61 Academy Motorsport Ford Mustang of Matt Cowley and Will Moore had a quite morning and they finally began to show its hand as Cowley went quickest to demote the two McLarens and was soon followed by the Steller Motorsport Audi of Richard Williams who slotted into second just a tenth of a second behind the Mustang.
Valente did his best to keep his McLaren in the mix but fell just 0.394s shy from top spot, but new stand-in Burke swiftly set a time of 1m35.333s to go onto provisional pole and things looked good for Newbridge Motorsport.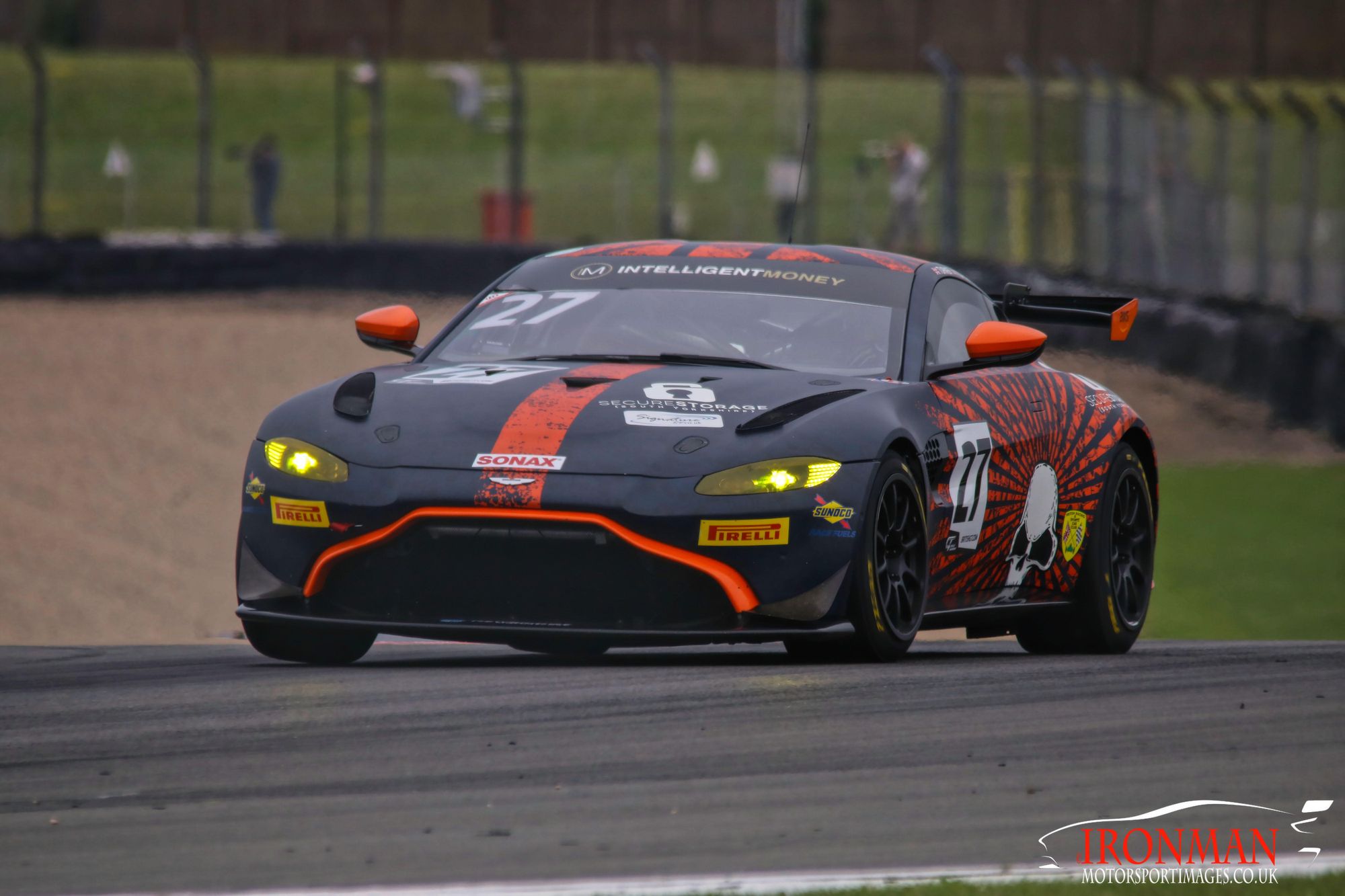 Other teams threw everything at it to depose them from top spot and Harry Hayek in the #4 McLaren came closest and was just 0.055s off pole and a great effort from Scott McKenna saw him clinch third just 0.071s off pole.
The #56 Assetto Motorsport Ginetta G56 of Mark Sansom and Charlie Robertson did enough to slot into fourth just ahead of the Audi of Wiliams/Senna Fielding in fifth and the Academy Motorsport Ford Mustang of Cowley/Moore in sixth despite being less than three tenths off on their combined time.
Michael Benyahia/Valente will start the race in seventh ahead of the sister car of James Kell/Jordan Collard. Century Motorsport's BMW of Gus Burton and Will Burns head row five ahead of the Balfe Motorsport McLaren of Ashley Marshall/Jack Brown.
GT4 GRID: 1st-#27 - 2nd-#4 - 3rd-#15 - 4th-#56 - 5th-#42 - 6th-#61 - 7th-#3 - 8th-#2 - 9th-#57 - 10th-#90 - 11th-#9 - 12th-#25 - 13th#40.
TEAM ABBA RACING'S LUCK FINALLY CHANGES AS THEY SECURE THIER FIRST BRITISH GT WIN!!
GT3 RACE:
After more bad luck for the team during FP2 when they had a brake disc failure that destroyed their Mercedes-AMG's right front suspension and put them out of qualifying, the team a fantastic job to get their car ready for Sunday and Team Abba Racing were still confident about their race pace ahead of the race despite starting tenth.
CONTACT AT REDGATE.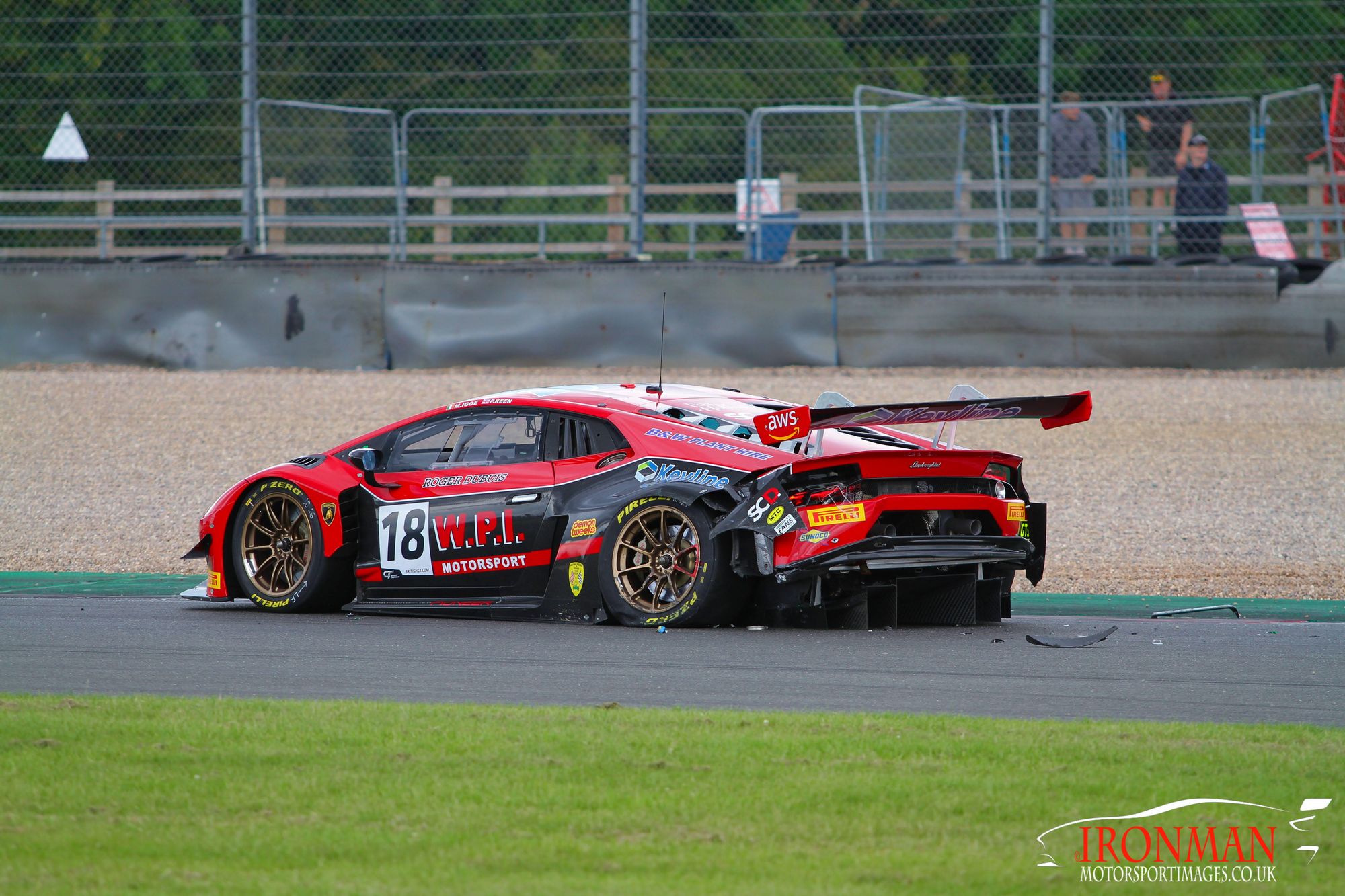 A great start by Ian Loggie who held the lead at Redgate, but behind him Nick Jones in the #66 Team Parker Racing Porsche tapped the #18 WPI Motorsport Lamborghini of Michael Igoe into a spin at Redgate and whilst others managed to avoid the Lamborghini, Leo Machitski had nowhere to go and clipped Igoe's Lamborghini as other again did well to avoid the accident and Richard Neary who made a great start from tenth and some how managed to come out of Redgate unscathed and slot into second.
The accident was not good for the #63 Barwell and #18 WPI Motorsport's championship hopes as they stood first and third in the standings before their early retirements.
Once the cars had been recovered Richard Neary was caught napping at the restart as Loggie got away, but the safety car soon out again as several GT4 cars came to blows coming out of McLeans.
NEARY TAKES THE LEAD.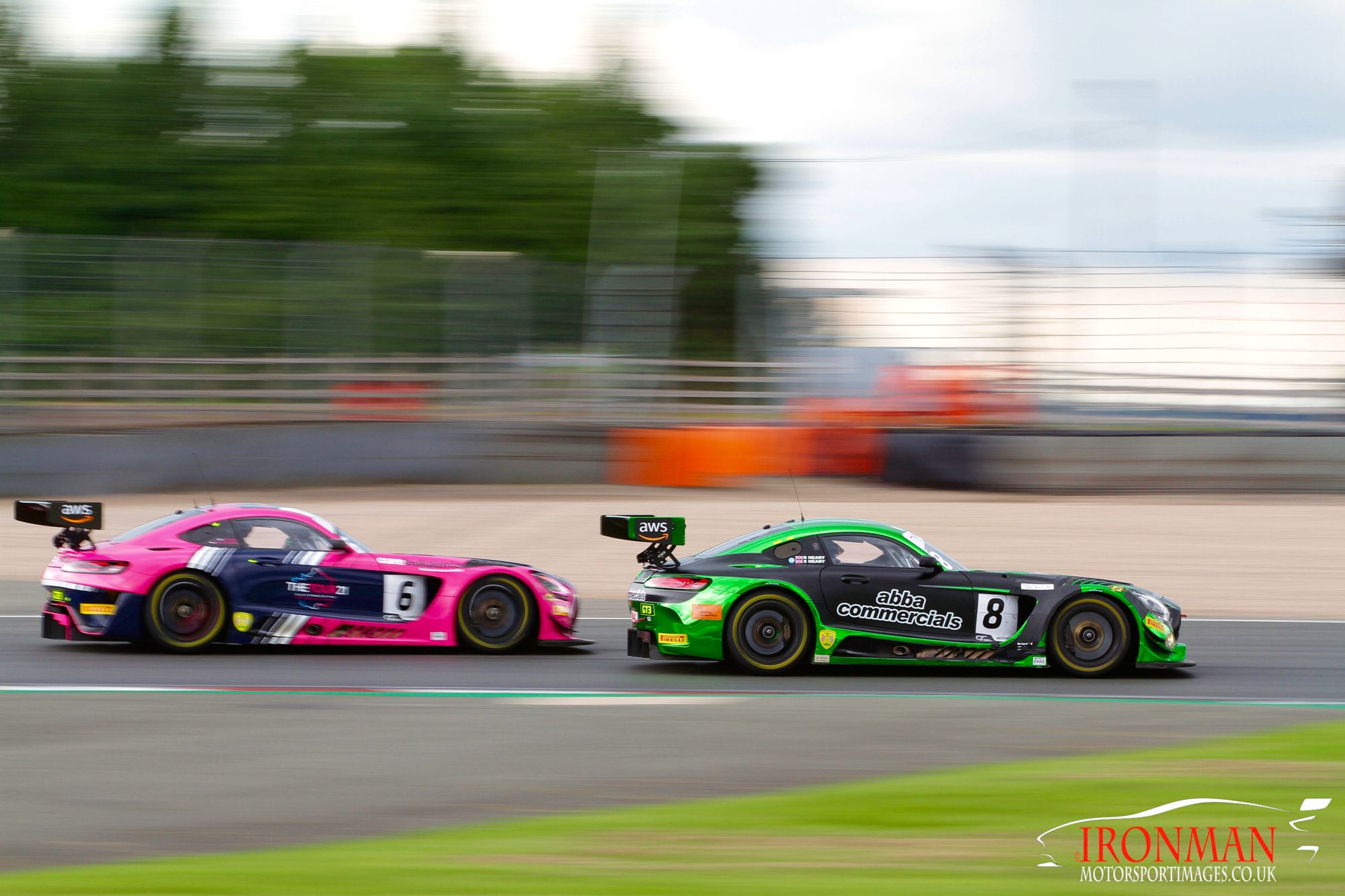 At the restart Richard Neary made no mistake this time and dived down the inside of Loggie at Redgate and took the lead, but his attempts to pull a gap was delayed by a third safety car whilst debris was recovered, but once racing resumed it wasn't long before Neary had opened up a three second gap at the front.
Loggie was also showing great pace as he was able to gap the chasing pack headed by Stuart Proctor in the Balfe Motorsport McLaren before he was shuffled down to seventh in quick succession by Kelvin Fletcher, Adam Balon, Andrew Howard and Morgan Tillbrook and they circulated together leading up to the pitstops before the #1 Lamborghini of Balon and #7 Aston Martin of Howard found a way past Fletcher's Bentley as he struggled for grip.
At the front Loggie began to close on the  leader Neary and got the gap down to 1.5s before both pitting. With Ram Racing's having a 10s success penalty, that relieved some of the pressure for the mechanic's at the stop, but Sam Neary now in the Team Abba Racing Mercedes-AMG came out of the pits with a more comfortable lead.
Many was expecting the more experienced Yelmer Buurman to close the gap on the leader, but it was the 19-year-old Sam Neary who began to edge clear  and he drove brilliantly to take the flag and win the race by 15.9s.
Buurman came home comfortably in second place whilst there was a great battle for the final podium spot between Jonny Adam, Marcus Clutton and Sandy Mitchell.
The 20s success penalty for the #1 Barwell Motorsport Lamborghini dropped it from third to seventh after the stops, but yet again Sandy Mitchell showed what a great champion he is by demonstrating his pace by passing Lewis Proctor and Martin Plowman and also setting the Sunoco fastest lap and also hassling the #77 McLaren of Marcus Clutton in he final ten minutes.
The Enduro Motorsport McLaren had looked the one most capable of snatching third place from Jonny Adam, but it was not to be as the Scott stayed strong and maintained Beechdean AMR's great start to the season. After two hours of racing the gap between the trio Adam, Clutton and Mitchell was just 0.7s.
The #5 Balfe Motorsport's McLaren  of Proctor passed Plowman's Bentley late on. But the Team Parker Racing Porsche had to retire midway through Scott Malvern's stint with a gearbox issue.
BURNS AND BURTON WIN AGAIN FOR CENTURY MOTORSPORT!!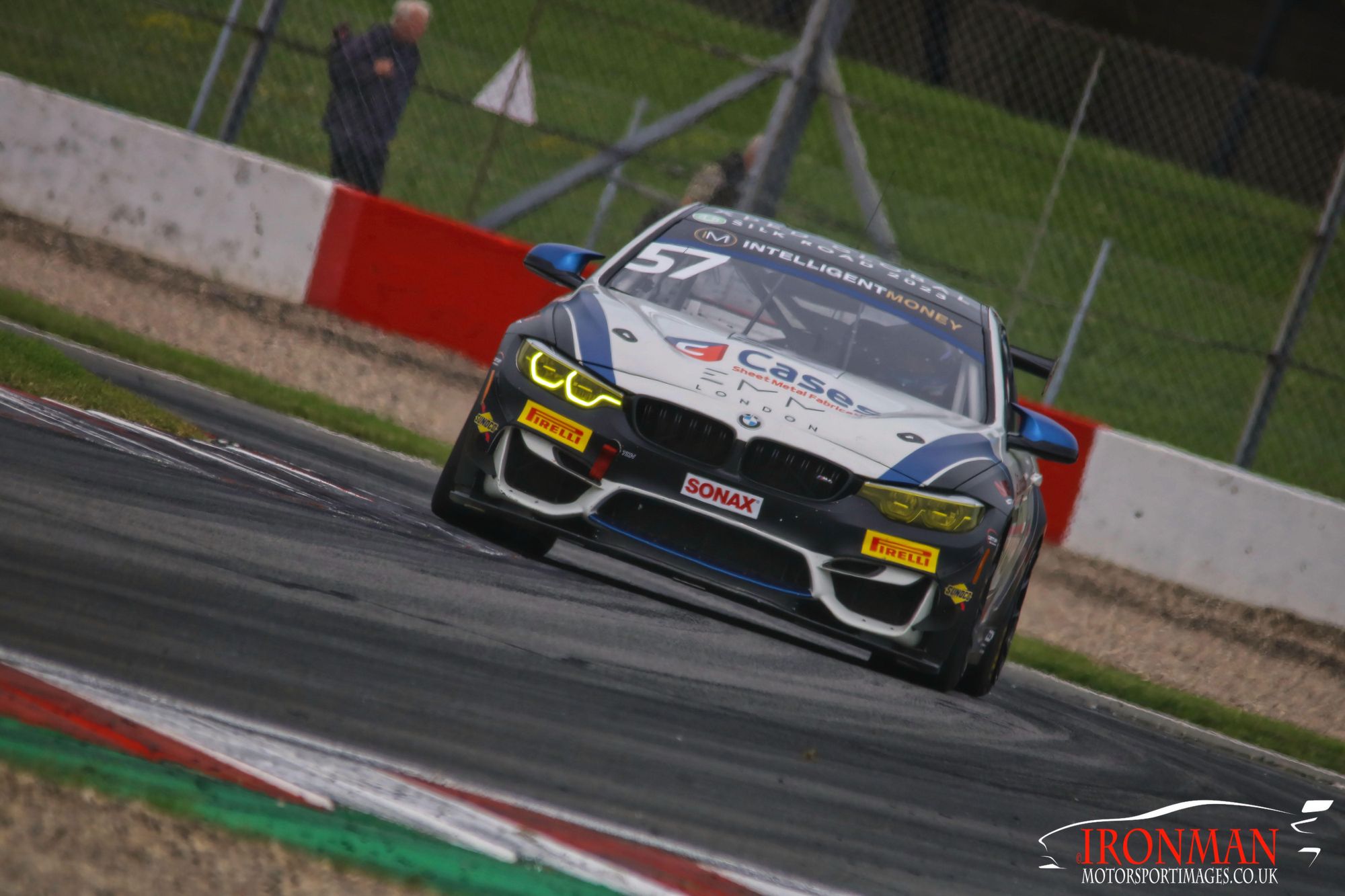 GT4 RACE:
Starting from ninth the #57 Century Motorsport BMW has their work cut out to stand any chance of fighting for the win in GT4, but as it turned out all that hard work was done for them.
Starting from pole Matt Topman in the Newbridge Motorsport Aston Martin managed to avoid the spinning WPI Motorsport Lamborghini GT3  at Redgate and so did all the other GT4 cars. But it was Topman who held onto an early advantage ahead of John Ferguson in the Toyota Gazoo Racing UK's Supra and Will Moore slotting into third place after starting from sixth place in the Academy Motorsport Ford Mustang.
At that first safety car interruption it bunched the pack up, but at the restart things to a turn. Topham was mugged at the restart by Ferguson and Moore and was then caught up ina multi-car clash for which the #9 Century Motorsport BMW of Chris Salkeld incurred a 10s stop-go penalty for causing a collsion.
The accident accounted for the Assetto Motorsport Ginetta of Mark Sansom, Balfe Motorsport's McLaren of Ashley Marshall and the Team Rocket RJN McLaren of Alain Valente, putting all three out of the race.
SAFETY CAR.
That brought out the safety car for the second time and that prevented anyone from building a comfortable lead.
Ferguson kept hold of the lead at the restart in the Toyota, but was now under some serious pressure from the chasing Ford Mustang of Moore, the BMW of Burns and the McLaren of Harry Hayek.
Burns managed to nipped past Moore for second and then wasted no time getting past Ferguson for the lead going into the Melbourne Hairpin and from there it looked like being a good tight battle in GT4, but once again there was even more drama.
Having lost the lead, Ferguson was now busy defending from Moore's Mustang and Hayek's McLaren  and then the drama unfolded when Hayek worked his way past Moore's Mustang for third and then nosed ahead of Ferguson's Toyota, but as he did that the Toyota tagged the back of the McLaren's rear on the exit of Goddards which resulted in a half-spin for Hayek and into the path of Moore's Mustang who had nowhere to go and resulted in retirement as a result of the impact.
With all the carnage behind him, Burns was able to get his head down and pull out a near 10s lead ahead of the Team Rocket RJN McLaren of Jordan Collard by the time the pit window had opened.
To maximise his lead at the front Burns stayed out as late as his tyres would let him and he would be able to hand the car over to Burton for the final stint and he will rejoin with a sizeable lead and eventually finishing a lap clear.
That ment there was a great able brewing for second place. James Kell now in for Collard held onto second for much of his stint before some right-rear damage sustained from earlier in the race began to take its toll, leading to an electrical slowdown and because of it Kell was losing chunks of time.
The #9 Century Motorsport BMW of Gordon-Colebrooke was on a charge and catching Kell fast and when the moment came Kell was powerless to defend as Gordon-Colebrooke took second place going into Redgate and secured a dream one-two for Century Motorsport.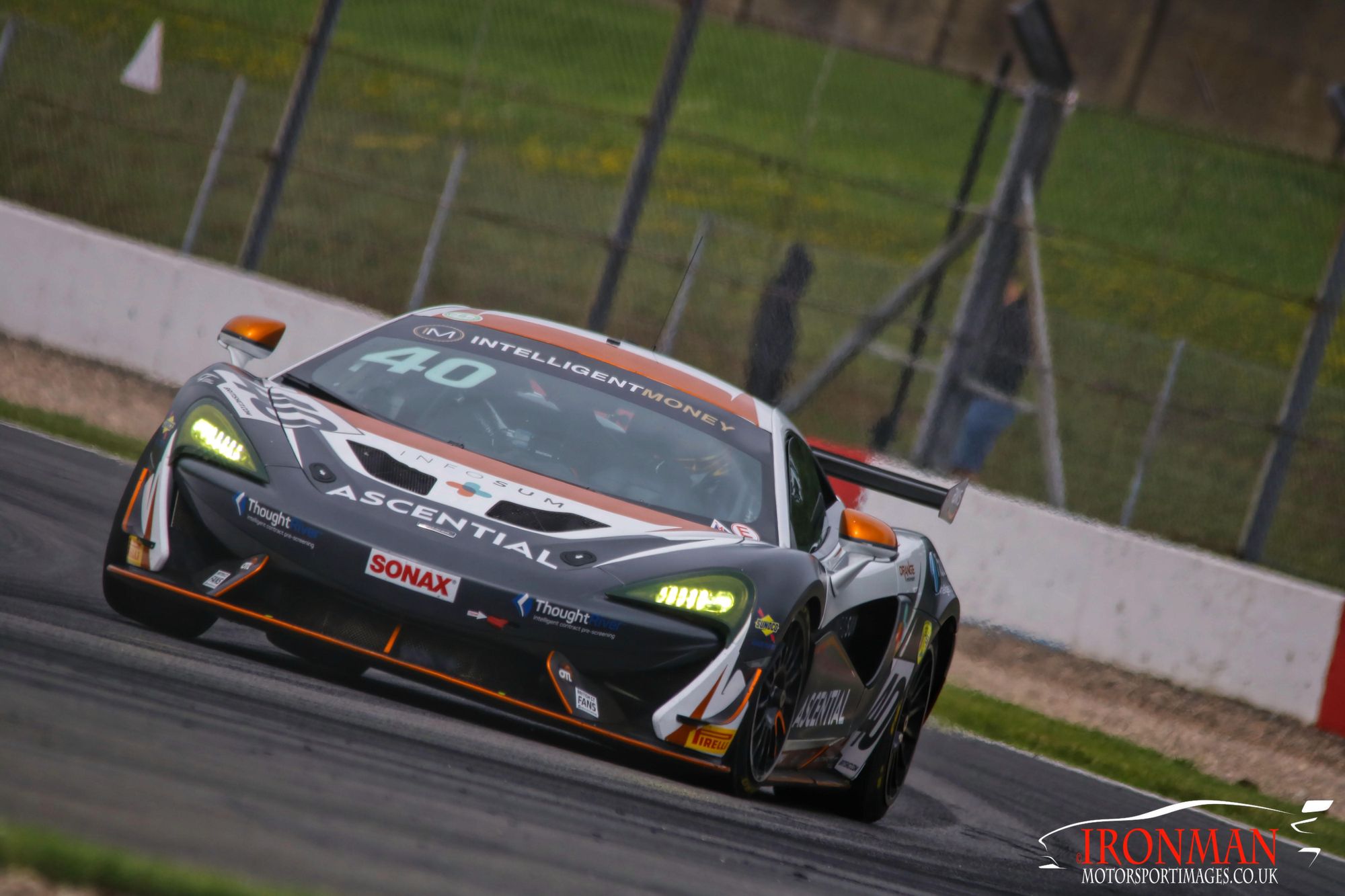 With Kell still struggling in his McLaren this gave Jamie Stanley  in the Fox Motorsport McLaren a chance of the final podium spot and a chance that he took.
Ciceley Motorsport Mercedes-AMG did well to recover from a earlier spin to finish fourth in the hands of Dave Whitmore and Jake Giddings, whilst Kell and Collard manage to bring the car home in fifth.
* The next round of the British GT is at Spa-Francorchamps on July 24th/25th.