Elite Motorsport and its talented driver trio head north to Croft next month (18-19 Sep) with their confidence sky high following the latest Millers Oils Ginetta GT4 SuperCup races which saw Elite double its Teams' Championship lead advantage and now sees Adam Smalley heading the GT4 Pro Driver's standings.

From a team perspective, race weekends do not come much better; 1-2 in qualifying, 1-2 in two of the three races, a total of six podium finishes and two fastest race laps. That said, such was the team's scintillating form at Thruxton (28-29 Aug), it would have been no surprise to have seen Elite claim nine podium placings in all three races.

Smalley arrived at Thruxton trailing by 36pts in the championship standings but heads to North Yorkshire with a 12pt advantage. He claimed his fourth pole-position of the season for Race 1, going on to record his sixth and seventh wins of the season before netting second place in the reverse grid Race 3 having started sixth. Saturday's race victory made history for Adam, who was awarded the "Millers Oils Star of the Weekend", having previously won at the Hampshire circuit in Ginetta Juniors, GT5 and now GT4.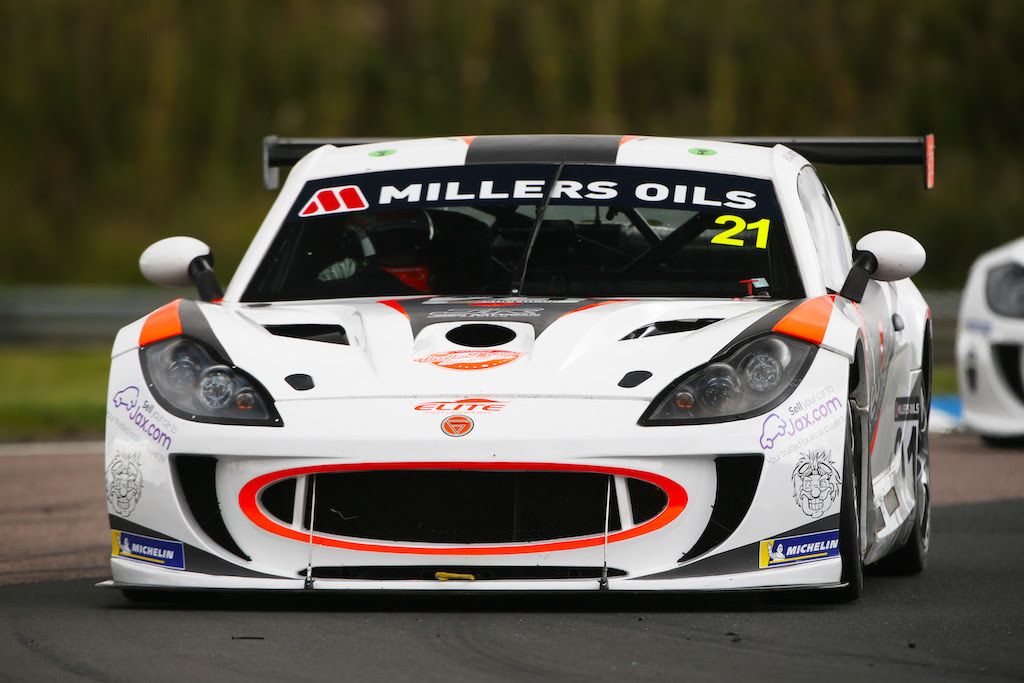 Josh Rattican has now finished on the podium eight times after finishing second to Smalley in Races 1 & 2. Josh, who was denied his first pole of the season by a mere 0.007secs, tried absolutely everything to snatch the lead from Adam and claim a second win of the season but despite the intense pressure, was unable to do so. In the third race, Rattican had contact with another car and retired on the opening lap. He remains third in the standings.

Tom Emson, overall fastest in the combined test sessions on Friday, claimed a solid sixth in Race 1 and was on course for a repeat in Race 2 but was tagged into a spin in the closing stages, Tom recovering well to 10th. In Race 3, "lady luck" finally smiled on Emson who chalked-up his fifth podium of the season with a hard-earned third place – Tom, fourth in the championship, challenging Smalley for second place at mid-distance in a four-car dice.

* The GT4 G55 SuperCup Ginetta is powered by a Ford 3.7 litre V6 engine producing 355bhp.
Tom Emson (GB)

Age:

19
Born:

Ashford, Kent, England
Lives: Etchinghill nr Folkestone, Kent, England
Car No:

27

Qualifying Position: 5th
Race 1 Result: 6th

Start Race 2 Position (Race 1 finish position): 6th
Race 2 Result: 10th

Start Race 3 Position (Partial reverse grid of Race 2 result, positions 4 to 6 places drawn): 9th
Race 3 Result: 3rd

Latest Millers Oils Ginetta GT4 SuperCup Position/Points: 4th, (288-points)
Josh Rattican (GB)Age:

17

Born/Lives: Sheffield, South Yorks, England
Car No:

21

Qualifying Position: 2nd
Race 1 Result: 2nd+FL

Start Race 2 Position (Race 1 finish position): 2nd
Race 2 Result: 2nd

Start Race 3 Position (Partial reverse grid of Race 2 result, positions 4 to 6 places drawn): 5th
Race 3 Result: DNF

Latest Millers Oils Ginetta GT4 SuperCup Position/Points: 3rd, (319-points)
Adam Smalley (GB)

Age:

20
Born/Lives:

Poulton-le-Fylde

, Lancashire
Car No:

54

Qualifying Position: 1st
Race 1 Result: 1st

Start Race 2 Position (Race 1 finish position): 1st
Race 2 Result: 1st+FL

Start Race 3 Position (Partial reverse grid of Race 2 result, positions 4 to 6 places drawn): 6th
Race 3 Result: 2nd

Latest Millers Oils Ginetta GT4 SuperCup Position/Points: 1st, (380-points)